Jasper Jones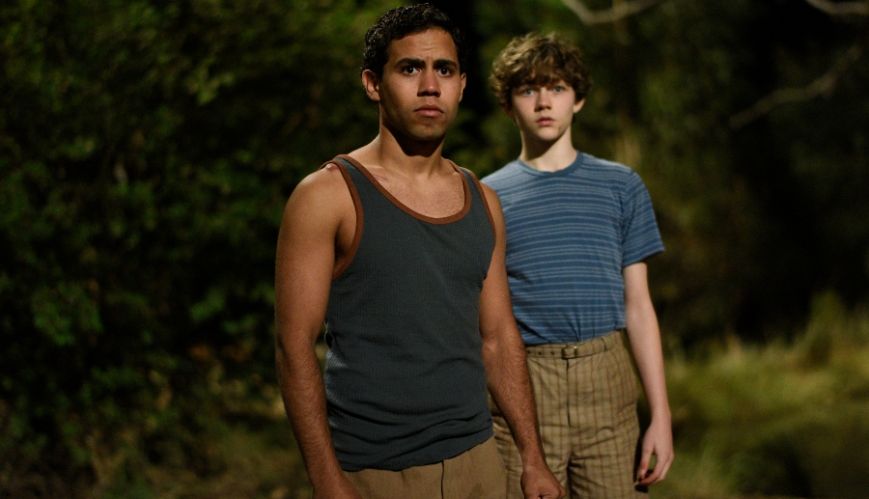 Jasper Jones
7 March 2017
Moments into the new young-adult feature Jasper Jones, the audience is confronted with a quote from American author Mark Twain: "Courage is the resistance to fear, mastery of fear – not absence of fear." From that moment on, the sentiment becomes the guiding light for the film's 14-year-old hero.
That teen soon learns, as will many of his Christian contemporaries, that beliefs only really become brave when they transform into actions.
Jasper Jones is based on the award-winning novel by Fremantle-based author Craig Silvey. Readers and viewers alike wake with Charlie Bucklin in the deep of night to hear a persistent tapping at his window. It turns out to be Jasper Jones (Aaron L. McGrath), a mixed-race young man regularly suspected of everything that goes wrong in the rural town of Corrigan.
Charlie is bookish by nature and isn't a particular friend of Jasper's, but his night-time caller is desperate. Charlie is his only hope because the young teen looks deeper than the colour of someone's skin: "I thought you'd believe me because you're an outsider like me, and you're smart."
And Jasper needs every ounce of belief Charlie can muster because the young man's girlfriend is hanging from a tree and everyone is sure to suspect him.
Together they set about trying to solve the mystery before Corrigan's bigoted townfolk take matters into their own hands.
Jasper Jones is set to become a favourite for teachers hoping to introduce high-school students to the many facets of
prejudice. Levi Miller plays Charlie, a boy pilloried for being too stay-at-home. Charlie's best friend, Jeffrey, is an Asian boy whose family bears the brunt of the town's ill-feeling towards the Vietnam War. Hugo Weaving plays "Mad Jack" Lionel, a man suspected of murderous intentions because of his military service.
Corrigan seethes with secrets, including the hypocrisy of the local police sergeant and the night-time wanderings of Charlie's mother Ruth, brought to life by Toni Collette.
As the mystery of Jasper Jones unfolds, Charlie becomes the bearer of truths powerful enough to shake his town's complaisance, and set his friend free. However, each revelation also tests our hero's moral fibre: what will he do with the information he's uncovered?
Mere private support is an anemic thing, too weak to help anyone. As the Bible puts it, "Faith without works is dead". Charlie
learns that true courage involves choosing to translate his beliefs into action, however weak or fearful he might feel.
There is a truth here that Christians of Charlie's age will do well to grasp. They, like him, will find themselves living in an age that will be shaped by prejudice, though it will have less to do with race.
Australians of every skin colour are uniting on the belief that Christianity is at best ignorance, at worst bigotry. To continue to believe will take one form of courage, but to act on that belief – to declare that belief – will require another order entirely.
Jasper Jones reminds us that acting is the better thing, even if the actor feels weak, or the actions seem pointless. It's not bravery until it involves a risk. In the years to come, the courage of our convictions will be measured not by what we hold in our hearts, but what we hold in front of others.
Jasper Jones was released on 2 March and is rated M.