Fighting Mac and his Sunshine Song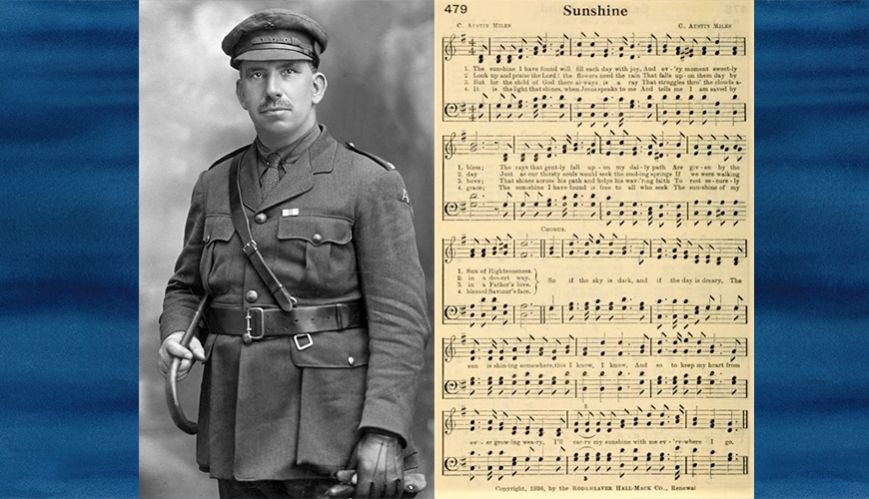 Fighting Mac and his Sunshine Song
The 'Sunshine Song' was used by 'Fighting Mac' McKenzie in chapel services and concerts, and he would have the troops heartily singing it on the march during World War One.  
By Cecil Woodward   
William 'Fighting Mac' McKenzie distinguished himself in every role as a Salvation Army officer. His time as chaplain to the 4th Battalion AIF during World War One was no exception.  
One aspect of this service that became permanently identified with him was his use of the 'Sunshine Song'. In concerts that he organised, in chapel services, and even on the march, Fighting Mac, as he was affectionately known, would have the troops heartily singing these words.  
The impact of his down-to-earth personality and his singing remained strong in the lives of those he served alongside. So, when in 1933 Commissioner William McKenzie was welcomed in Sydney as the newly appointed territorial commander, his former military commander, Brigadier General Iven Mackay, introduced him by reading the words of the padre's song, 'Sunshine', which the audience immediately joined in singing, led by Commissioner McKenzie.  
The paper recently streamed online by the Brisbane Chapter of The Salvation Army Historical Society considered the question, "What was the origin of Mac's 'Sunshine Song'?"  
Many referred to it as 'the padre's song', so it has been assumed that it was his composition. But to trace its origins required delving into the developments in evangelical Christianity in the late 19th and early 20th centuries.   
This was the era of such notable evangelists as Charles Finney, Dwight L. Moody, and Salvation Army co-founder William Booth. Alongside these powerful proclaimers of the gospel were prolific hymn writers and soloists such as Fanny Crosby, Philip P. Bliss, Alfred H. Ackley and Ira D. Sankey. Their predominant style followed a pattern of verse, chorus, verse, chorus, etc. Sankey said this style offered two contributions to the message of the evangelist: an emotional connection and memorability.   
The sheer volume of hymns being written resulted in a publishing boom of new volumes and revised editions. For example, Sankey's well-known 'Sacred Songs and Solos' was updated in seven editions between 1873 and 1907. Charles Austin Miles edited or co-edited 37 volumes between 1900 and 1939. Often such volumes would include new compositions by the editor.  
In 1908, C. A. Miles edited a volume entitled 'The Voice of Praise'. Number 32 in that volume was a four-verse hymn with a chorus – its title, 'Sunshine'. This is the chorus that Fighting Mac made his own and used to bring hope to 'his boys' as they faced the horrors of battle on the Western Front.  
For the full article, see Cec Woodward, 'Fighting Mac's Sunshine Song: Facts and Myths', The Australasian Journal of Salvation Army History, Vol 7, Iss 1, 2022. 
Cecil Woodward is a retired Salvation Army officer residing in Queensland and is a member at large of the Historical Society committee.