George Hazell - a life of significant influence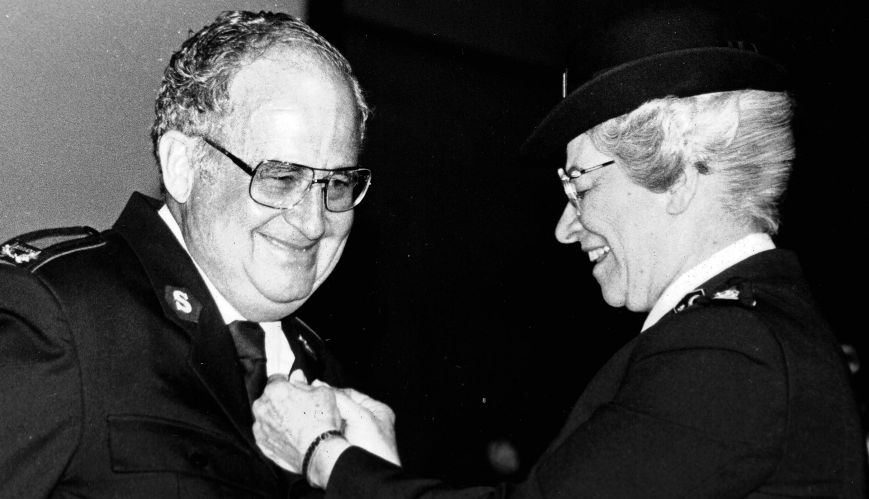 George Hazell - a life of significant influence
General Eva Burrows presents George Hazell with the Order of the Founder in 1993.
By Major David Woodbury
George Hazell (OF), of Parramatta Corps in Sydney, was promoted to glory on Friday 29 July, aged 91, leaving behind a significant legacy that has influenced hundreds if not thousands of Salvationists around Australia. He was awarded The Salvation Army's highest honour, the Order of the Founder, in 1993 for his work with young people over many decades. George was also responsible for setting up the Army's Heritage Centre for the former Australia Eastern Territory. The Thanksgiving Service for George's life is being live-streamed on Tuesday 9 August at 2.30pm. The link is: salvationarmy.org.au/parramatta/funeral
---
Born on 19 January 1931 at Auburn, Sydney, George Henry Hazell was the third in a family of 11 children. George's parents, George Henry and Jane Phyllis Hazell, ran a fish-and-chip shop at Concord in Sydney's west and were forced out of business in 1931 due to the depression. To keep the family together, George Hazell Snr went door-to-door selling fish before eventually starting a new fish-and-chip shop at Hornsby. These businesses were always purchased with residence attached to cater for the ever-growing Hazell family.
Although having a limited education, George Snr had a strong entrepreneurial insight and quickly saw ways of promoting his business. George recalls that his father bought a truckload of potatoes at a bargain price during a glut. He told his children they could tell one friend that the fish-and-chip shop would give away free chips on Wednesday. When Wednesday arrived, the police had to be called to control the crowd of schoolchildren who invaded the shop. George also recalls that his father was always very generous to needy families.
Formative influences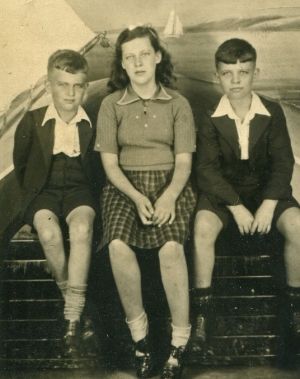 George (left) with his sister Phyliss and his brother Norman. 
Although George's father and grandfather had previous contact with The Salvation Army, it was at Hornsby that the family established firm links and George and his siblings became involved in directory, Sunday school and senior meetings. George recalls that one of the early influences in his life was his young people's sergeant-major, Mrs Leaney. He was impressed with the passion with which she carried out her ministry to young people.
George also came under the influence of a very dedicated Scottish schoolteacher, Mrs Malcolmson, who quickly saw the possibilities in both George and his brother Norman. She was so committed to their education that she visited George's father to persuade him to let his sons benefit from a university education. Knowing how his limited education had impacted his life, George senior agreed with her, and both George and Norman went on to earn university degrees. Norman later became a noted solicitor, while George became a schoolteacher and eventually headmaster at several schools in the Parramatta area. For the rest of his life, Norman remained in touch with Mrs Malcolmson as a mark of respect for her influence on the family. It was also Mrs Malcolmson's influence that was to spark George's interest in history.
During the blackest day of World War Two, George Snr felt it would be safer for his large family to live out of the city, so he leased a small property at Merrygoen about 100 kilometres north-east of Dubbo. When George was 11, he and his brothers and sisters got their first taste of rural life. So as not to lose touch with The Salvation Army, the children were enrolled in the Postal Sunday School and often conducted meetings in their own home. His brother Norman lived in Dubbo, where he attended high school and forged links with the Dubbo Corps.
Later, George Snr bought a property five kilometres outside Dubbo and, because it was too small to be financially viable, also took on a mail run. This enabled George and the family to establish links with the Dubbo Corps and become part of the corps family. Here George came under the influence of two officers who were to impact his life – Captain Abraham Unicomb, whose caring and mentoring role was significant in moulding George's character, and Captain Bram Lucas, who impressed George with his wisdom and knowledge. At Dubbo, George commenced his high school education and became a senior soldier in the Dubbo Corps. He recalls that one Sunday morning, he was handed a piece of paper to sign and was then sworn in as a senior soldier that evening.
Young People's work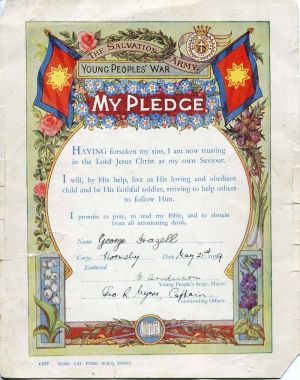 Among George Hazell's most treasured possession is his Junior Soldier pledge signed in 1939. His attachment to the pledge embodies his life-long dedication and commitment to educating young people.
In 1948, the family moved back to Sydney to the beachside suburb of Manly, where they lived a few blocks from The Salvation Army hall. Once again, George senior purchased a fish-and-chip shop with a residence attached. Here George became involved in young people's work and was influenced by Captain Peter Lucas, brother of one of his Dubbo corps officers. The following year saw George enrolled at university to follow his life's calling as a teacher.
Throughout these years, many Salvationists had tried to teach George to play a brass instrument but to no avail. This was a blessing in disguise as George turned his attention toward ministering to young people. He firmly believed that his lack of musical ability was significant and that the whole of his ministry to the young may never have eventuated had he become a bandsman. At Manly, George encountered another young people's sergeant-major, Eric Weeden, who always set a high standard for his teachers and from whom George learnt the necessity for detailed preparation of teaching material.
Teaching career


After graduating from university in 1951, George entered his first year of teaching as a relief teacher at various schools in and around Sydney. During this time, George Snr sold his fish-and-chip shop at Manly and moved to the Parramatta area, where he set up a motor spare parts business. Here George linked with the Parramatta Corps and was commissioned as a corps cadet guardian. George retained links with the Parramatta Corps for the rest of his life.
At Parramatta Corps, George was impacted by Fred Chambers, a converted drug addict and alcoholic. Although remaining a Roman Catholic, Fred regularly attended The Salvation Army and was always one of the first to give his testimony to God's saving grace. In a conversation with George following one meeting, Fred said, "Your testimony is better than mine because when God saved me, he saved the remnant of my life, but when he saved you, he saved the whole of your life." That conversation had a significant impact on George. It affirmed his calling to work with children and help them avoid the same tragic mistakes that Fred had made.
As a corps cadet guardian, George was eligible to attend the 1956 International Corps Cadet Congress in London. While visiting founder General William Booth's birthplace in Nottingham, his interest in Salvation Army history was stimulated, eventually becoming very much part of his contribution to Salvation Army life in the former Australia Eastern Territory. Following his return from London, George was appointed to teach at a small rural school at Woodglen on the New South Wales and Victorian border. George recalls that there was no Salvation Army nearby, so he learnt to be a good Anglican. In 1959, a change in direction occurred in George's life when he was appointed to teach a particular class of gifted boys at Hurstville. During this time, he returned to university to finish his Bachelor of Arts degree and earn a Diploma in Educational Administration.
Junior Soldiers program


Around this time, George was appointed as a divisional young people's envoy in the Sydney West division and took even more interest in ministry among young people. In 1973, in discussion with the territorial young people's secretary George noted the need for better information on how ministry among young people in The Salvation Army operates and suggested that an in-depth survey be conducted to acquire facts and ideas.
So committed was George to the concept that he took long-service leave to work full-time on the project, assisted by Betty Hazell and Colleen Morton. George's concern was that not many junior soldiers actually became senior soldiers. He was convinced that a mentoring program was needed, and with the help of Betty and Colleen, a new junior soldier program was devised. It was both popular and effective and spread beyond the Australia Eastern Territory. It was adopted in the Australia Southern, New Zealand, Fiji and Tonga and United Kingdom territories, translated into Chinese for Hong Kong and into Spanish for Latin America.
Perhaps his ministry to young people helped George maintain his quirky sense of humour. Colleen Morton, who worked closely with George, recalls that if something was of value, it was referred to as being worth its weight in old War Crys; and if, when editing young people's material, she found something that could be said in fewer words, George would say, George Carpenter would be proud of you, referring to the literary prowess of the Army's fifth General.
Salvation Army history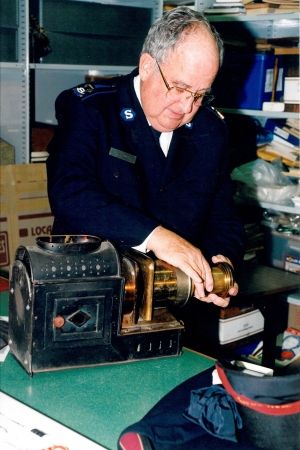 Envoy George Hazell with an early projector at the Salvation Army Heritage Centre in Sydney that he helped to establish.
In 1978, George became the headmaster at Oatlands Public School in Sydney, followed by similar appointments at Westmead and Roselea public schools. In 1981, George retired and decided to complete a doctorate in history, basing his thesis on Salvation Army work with young people. While doing his doctoral research, he sorted through Salvation Army records then housed in a cottage at Bexley North. This led to George agreeing to a request from Territorial Headquarters in Sydney to oversee a permanent heritage centre. He also received frequent invitations to assist young people's work in the wider international Salvation Army.
In 1993, George was invested with the Order of the Founder by General Eva Burrows. The inscription noted that George Hazell "has enthusiastically involved himself in young people's work, investing time and expertise in the promotion of youth programs on both a territorial and international level". George recalls that his greatest sense of satisfaction is "when I see someone I dealt with as a child doing what they ought to do". Those who have worked with George will quickly tell you that everything he did had to be within the framework of Salvation Army history and be so child-focused that even the youngest would understand.
George lived the rest of his life in Sydney and attended Parramatta Corps. He maintained a consultancy role with the Australia Eastern Territory's heritage centre. He regularly wrote for various Salvation Army publications, including Hallelujah! and Pipeline magazines.
This article first appeared in Hallelujah! magazine, Volume 3, Issue 4.