Gosnells Corps celebrates a century of service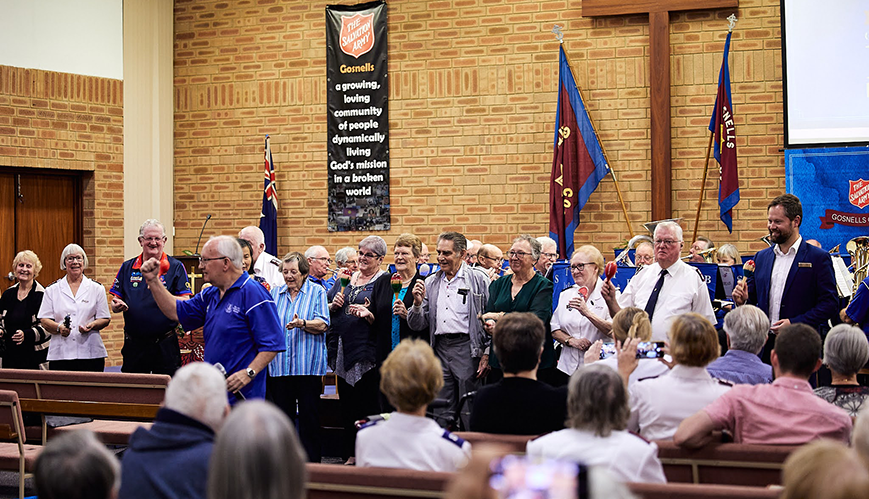 Gosnells Corps celebrates a century of service
Past and present members of Gosnells Corps join in a song of celebration, backed by the Silver Threads band, as they celebrate the corps' 100-year anniversary. Photo by Joel Gibson.
By Jessica Morris
Throw your timbrel in the air and fire another volley! Gosnells Corps in Perth has just celebrated 100 years of living out the mission of The Salvation Army!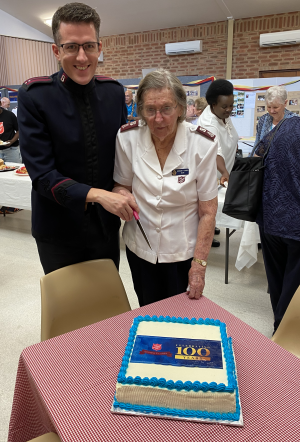 Gosnells Corps Officer Captain Ben Hollis cuts the celebratory 100th Anniversary cake with one of the corps' longest-serving members, Major Margaret Ackroyd. Photo: Lisa Bernard.
The historic corps in Perth's outer south-east celebrated the past and looked towards a bright future as hundreds of people gathered over the three-day anniversary event last weekend. 
"We are thanking God for the past and praying for the now," said Corps Officer Captain Ben Hollis. "We thank God that Gosnells is still here. And we pray into the future and ask, 'God, what do you want us to do in the next 100 years plus?'"
Like many corps, Gosnells has weathered good and bad seasons. In its early years, it was a thriving family corps with a big brass band, multiple candidates and spirit-filled worship. Today, the spirit remains as strong as ever with 40-50 attendees a week, and it's because stalwarts have embraced the call to become a multigenerational congregation, said Ben.
"As a younger single male officer, I worried about coming in to lead this congregation of mostly older people," Ben admitted.
"My role is to harness people and skills and what they have to offer. It means sitting down and listening to all their great stories and to heartache as well. To think about where we are now, and how it used to be in its heyday."
To the great delight of the corps, Ben is now engaged – and has acquired about 40 "new grandparents". It reflects the community spirit of Gosnells Corps – once you join this family, you are always invited back to the table. And people are still joining the corps, even if it looks a little different than it used to.
A corps member views the photos of Gosnells' history that were on display over the weekend. Photos: Ben Hollis.
Corps secretary Mavis Clarke has been a part of Gosnells Corps for 34 years and says it's the people who have kept the corps 'alive'. Many of them were honoured during Saturday night's celebration service, when former officers and congregants, some who have been part of the corps for up to 80 years, shared their reflections.
"Everyone cares about each other at Gosnells. Our people are wonderful, they step up," says Mavis. "One man is 92 and uses his gopher [scooter] to put flyers about corps events into people's letterboxes. Another man the same age sits at Gosnells market every week collecting. And we have another volunteer who goes to the shopping centre and collects on Saturday mornings!"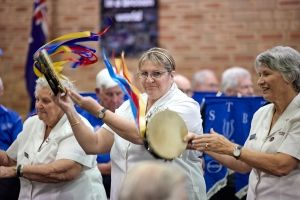 A timbrel display was a feature of the Saturday and Sunday services at the Gosnells anniversary celebrations. Photo: Joel Gibson.
The centenary event melded the old and the new. Lifelong attendees were joined by some young families that have recently joined the church. Former officers Captain Margaret and Major Clyde Colls led the Sunday meeting that started out with some old songs before finishing with some newer ones. The meeting concluded with a meaningful altar call.
"A few years ago at a corps review, we were all worried about the fact we are all older," said Mavis. "I had this great feeling – I'm sure it was God speaking to me. He said, 'Yes you're older, but you won't die out – more older people are coming in.' And we are seeing retirees coming in. We see some young people come, and we have two corps cadets. I don't feel so worried now."
A banner at the back of the hall sums up Gosnells' approach to mission: "A growing, loving community of people dynamically living God's mission in a broken world." Welcome to Gosnells Corps – with 100 years down and many more to go, they carry the old and new of Salvation Army history in their hands and hearts. Congratulations!