Gripped by the grace of God (Part 2)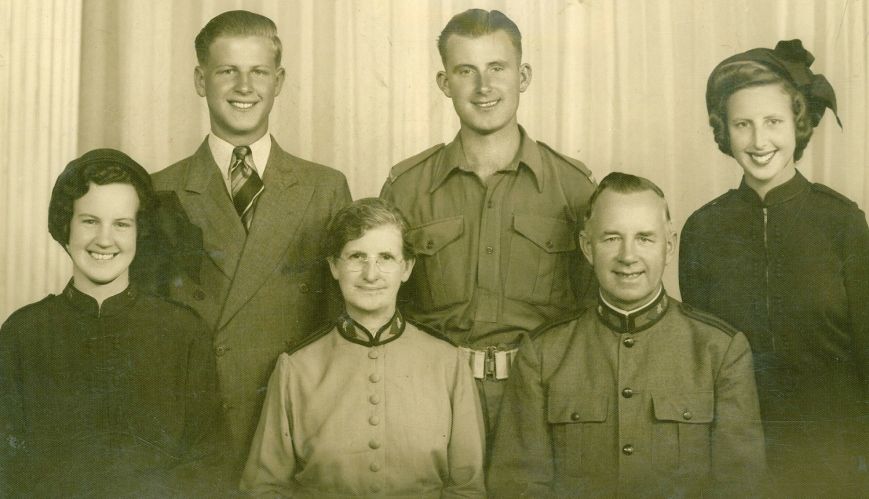 Gripped by the grace of God (Part 2)
The Walker family reunited on their return to Australia after being interned in a Japanese prisoner of war camp.
---
Concluding his two-part series, Major DAVID WOODBURY says for George Walker and his family, a firm belief in God's grace was to be their safeguard as the clouds of war began to gather.
---
George Walker's return with his family to China in 1936 was a courageous decision. The region was volatile, and skirmishes between China and Japan had commenced in 1931.
On 7 July 1937, full-scale war erupted, and during 1938 it was decided that the Walker's eldest son, Wilbur, should return to Australia. To hamper the invading Japanese, the Chinese forces cut the dikes on the old channel of the Yellow River, releasing a huge flow of water that flooded the countryside around Tientsin.
Floodwaters crept into lower-lying areas of the city, and Salvation Army officers, under George Walker's command, were active in rescue work in the districts of Shengfung and Su Ch'iao, providing accommodation for 25,000 refugees.
This tragic event changed The Salvation Army's public image from an aggressive evangelical organisation to a competent social relief company in a brief space of time.
Working in what was then a British-controlled area of the city, George set up camps where the refugees helped build their own accommodation and took responsibility for running the centres.
Basic mud huts, designed and organised by George, were fabricated by refugees, each housing a family for many months during the emergency. George proved to be a natural leader with authority over these people: he spoke their language, and his sympathy and sincerity were transparently genuine.
Housing around 12,000 men, women and children, the camps catered for all aspects of the daily life of the refugees, with hospitals, schools and food supplies carefully arranged and maintained. Jessie Walker took a keen interest in the work of the hospitals, helping to maintain the necessary supplies and assisting the doctors and nurses in practical ways with 109 babies born during this period.
A spiritual ministry to the refugees resulted in all families returning home with a Bible in their possession. In 1939, Jean finished school and returned to Australia.
By April 1941, with World War Two raging around them, George and Jessie Walker were transferred to Shanghai, which, at that time, contained the world's largest prison, holding up to 8000 prisoners.
This became a special ministry for George, who frequently had the opportunity to pray with a condemned man before his execution.
Prisoner of war
During his time in Shanghai, George endeavoured to get the support and assistance of the Japanese army which occupied the city.
Such support was essential for the ongoing ministry of The Salvation Army. However, on 5 November 1942, everything changed when Japanese authorities arrived at George and Jessie's quarters, near the Yang Terrace Men's Hostel.
They informed George that he was to be arrested and interned for the duration of the war. He was given just minutes to pack a few belongings, wrap them in a blanket and sling them over his shoulder before being marched off by the military police.
Jessie and the children were forbidden even to wave goodbye. In seeking to secure his release, George wrote to the camp commandant, pointing out that the focus of his ministry in the city was to the poor and destitute, particularly orphaned children.
In response, the commandant, having heard of George's previous radio broadcasts, requested that he broadcast for the Japanese. Despite constant interrogation and threats, he steadfastly refused his captors. Men in the camp were often taken away and subjected to torture.
Some never returned, and those that did were exhausted and speechless. Despite the conditions, George and other interned ministers regularly held worship services and Bible studies.
On 29 January 1943, Jessie and their two younger children, Joan and Howard, were arrested and sent to a camp at Yangchow, 200 miles away. Having previously contracted typhoid, Jessie's health began to decline.
In July 1943, they were transferred to Pootung camp, across the river from Shanghai. There was minimal communication between George and his family during the years of internment.
During a rare visit by his wife and children to his camp in 1944, George was shocked to see how emaciated his wife had become. Jessie was so ill she was transported on a stretcher for the visit. In June 1945, the prisoners were informed that they were transferred to a camp in northern China.
Two months later, George heard the sound of an approaching aircraft and saw food parcels and American soldiers descending by parachute. In the days that followed, thousands of Japanese soldiers in the area surrendered to the four Americans who had arrived by parachute.
Freedom at last
In September 1945, George was reunited with Jessie, Joan and Howard. George sought to re-establish Army ministry in China, seeking out Brigadier Su Chien-Chi, who had helped keep The Salvation Army operational during the war.
When peace was declared, he was privileged to "break" the flag over the Peking headquarters and lead the thanksgiving service. Later that month, George, Jessie and the two children returned to Australia and were reunited with other family members, including Wilbur, who they had not seen for seven years, and Jean.
Appointments as territorial spiritual campaigner and divisional commander in the North Sydney and Newcastle divisions followed. George gave strong leadership and clearly demonstrated his concern for his officers and soldiers through genuine pastoral care.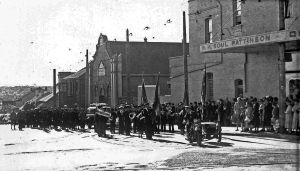 The funeral cortege of brigadier George Walker leaving Dulwich Hill Temples in Sydney in 1952.
During his time in Newcastle, George became seriously ill with a heart condition and was promoted to glory on Easter Sunday 1952. His last words to a fellow patient in a nearby bed were, "Brother, the Lord is risen".
Jessie survived him by 30 years and was promoted to glory on 7 June 1982, from Macquarie Lodge in Sydney. Many years later, Wilbur reestablished relationships with many of the officers his parents had known in China before The Salvation Army was proscribed by the communist government.
When God calls a man to his service, he does not promise a life of ease. What a man makes of his life in God's service is largely dependent on his response to God and his reliance on God's grace. George Walker never sought greatness for himself.
But in choosing to serve God and others – no matter where it was – he became a great man of God.