Heroes of the faith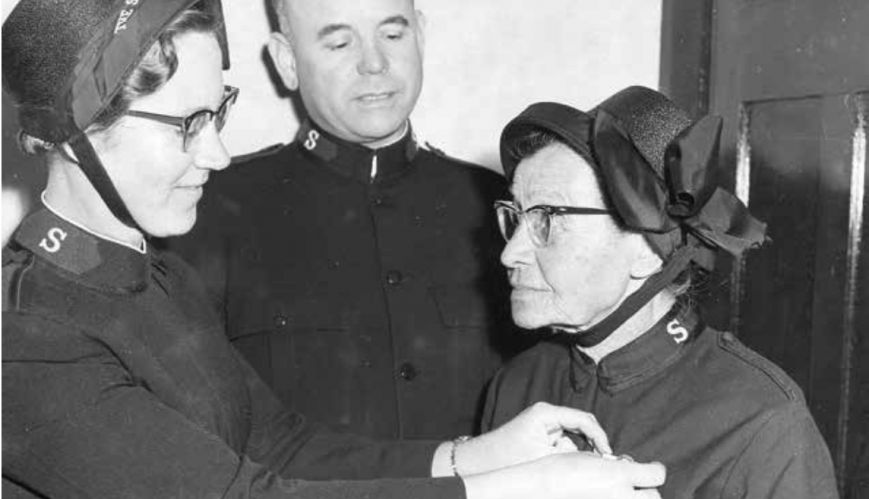 Heroes of the faith
Ada Milford, of Sydney Congress Hall Corps, receiving her long-service award from Major Bernice Cairns. Ada served as the Young People's Treasurer from 1916 until she was 90 years of age.
---
For well over a century, people have been The Salvation Army's greatest asset, empowering wide-ranging ministries and leaving an ongoing legacy of influence, writes Major DAVID WOODBURY.
---
Many factors have contributed to the success of The Salvation Army since it commenced in Australia on 5 September 1880. In its early years, The Salvation Army had little in the way of resources, and whatever funds it needed had to be raised locally. Limited personnel was available from International Headquarters in London, and it had virtually nothing in the way of immediately available property or other material resources. It was an organisation that began on a shoestring with people as its greatest asset – something that has remained constant for more than 140 years.
The Salvation Army's commencement in Australia was not initiated by officers sent from England or by a decree from General William Booth, but by grassroots individuals possessed by a love for God and fallen humanity and the burning passion often called the Army spirit.
Pioneers John Gore and Edward Saunders epitomised the quality and temperament of those who were to write the mission of The Salvation Army into the fabric of Australian society. Gore, a platelayer on the South Australian Railways, and Saunders, a stonemason, typified the individuals who were to become the backbone of The Salvation Army in Australia – working-class men and women willing to give their entire lives to God in the mission and ministry of the Army.
Lifetime commitment
From its start, the great strength of The Salvation Army lay in its appeal to and support from the commoner, many of whom could not identify with the various established churches. Here among Australia's working-class men and women, The Salvation Army found its officers, soldiers, and local officers. Its greatest resource then, as now, was people totally committed to serving God.
Envoy Eric Moore faithfully served as a local officer in several corps throughout Queensland and is seen here in the Brisbane Trade Department, which he managed for over a decade.
In that era, becoming a Salvationist meant making a lifetime commitment to serving God in The Salvation Army. The Articles of War – to which all who would become yellow, red and blue soldiers appended their name – required them, by God's help, "[to be] a true soldier of the Army till I die". This lifetime commitment was one of the great pillars on which the success of The Salvation Army rested. The fervency inherent in such a promise produced soldiers and local officers who gave away their lives extravagantly to God in the Army's mission.
This mission called for men and women who were to live and breathe its calling and values. Being a Salvationist meant a complete and inclusive lifestyle, not just attendance at a Sunday meeting. It was the hub around which their lives and those of their families revolved. The promise gave a great sense of permanency and stability to the local corps, enabling them to endure tough times, economic depressions, world wars and, at times, inadequate leadership.
Many early-day Salvationists had an uncomplicated faith. As a young boy at Auburn Corps, I saw the male voice party singing in the holiness meeting every Sunday morning. One chorus of a song they regularly sang contained words that reinforced this idea of lifelong commitment for me: "I want my life to tell for Jesus! I want my life to tell for Jesus, That everywhere I go, Men may his goodness know, I want my life to tell for Jesus." (Carrie E. Breck)
Faithful and dedicated
For these early Salvationists, their simple and devout lifestyle marked them out as different. Their abstinence from alcohol and tobacco, their abandonment of worldly trappings and their acute social conscience gave evidence of an uncomplicated and functional religion whose witness was noticed. In some ways, they were oblivious to the impact they were having on the developing nation of Australia.
Etna Keirs epitomised the 'Army spirit' as long-serving Young People's Sergeant Major of the Lidcombe Corps in Sydney.
Many Salvationists can tell of the significant impact for good made on their lives by a local officer, Sunday school teacher, corps cadet counsellor or other Salvationist. Many of these influencers have passed on to glory, and only eternity will reveal the impact of their faithfulness. Their names could well be appended to the 'heroes of the faith' listed in Hebrews chapter 11. Some may have received insufficient acknowledgement in their lifetime, but in the memories of those whose lives they touched, their name lives forever.
It is often the pioneers and entrepreneurial innovators who grab the headlines in historical articles, but it is the faithful and dedicated officers, local officers and soldiers who have given The Salvation Army in Australia its strength and endurance. Their lives spoke simply of God's goodness to them and their unswerving commitment to him and The Salvation Army.
As in many parts of the developed world, The Salvation Army in Australia faces significant challenges in the second millennium as it seeks to be both relevant to the culture in which it exists and faithful to its values and beliefs. While good leadership is important, faithful and dedicated people at the corps level are indispensable. Could it be that the survival of The Salvation Army in Australia rests not with the learned and the clever but with the uncomplicated Salvationist involved in local corps ministry?
The consistent, day-to-day faithfulness of such servants of God has been the backbone of The Salvation Army. May the Army long be blessed with those who live such lives of influence.