'Mudgee' Robertson ... the musical marvel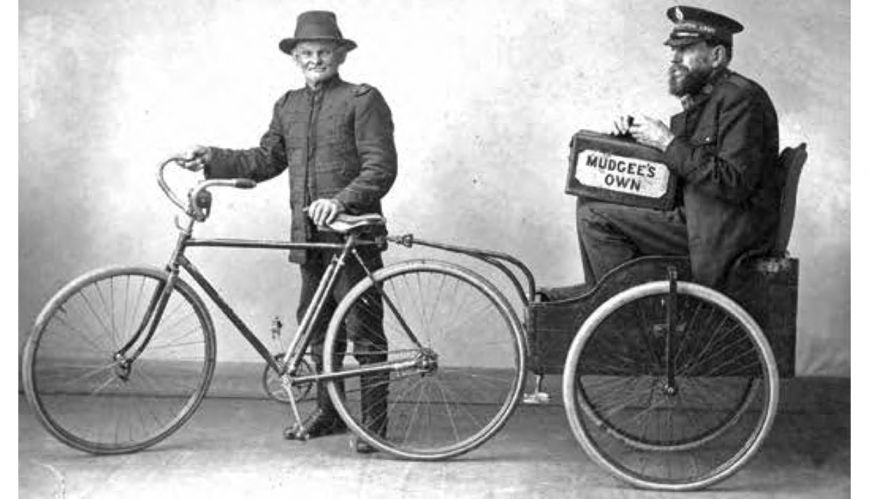 'Mudgee' Robertson ... the musical marvel
Adjutant Tom Mudgee Robertson's mode of transport was as amazing as his musical prowess. 
When General William Booth visited Australia in 1905, in the middle of his address at an Officers' Councils, he paused and called for a solo. Instantly and insistently, a cry went up: "Mudgee, Mudgee!" To the dismay of Colonel Lawley, one of Booth's staff who was ready to sing, Adjutant Tom 'Mudgee' Robertson suddenly appeared on the scene.
Without hesitation, he launched into a song popular in western shearers' huts that embodied the testimony of a converted boozer:
It left me nothing but rags on my back,
And boots that wouldn't hide my toes;
And the rim of my hat went flip, flop, flap
On the tip of my rum-blossomed nose.

It was all very unconventional, and there is no record of what General Booth thought of the rendition, but the song was heartily received by the officers present and gave a glimpse of the character and versatility of the popular officer Tom 'Mudgee' Robertson.
Tom 'Mudgee' Robertson with his beloved cornet case that went everywhere with him. Photo courtesy of The Salvation Army Australia Museum. Photo colourised by Sandy Turnbull
Years later, Minnie Carpenter, the wife of General George Carpenter, an Australian who became the Army's fifth General, wrote about Tom Robertson. She came from the same corps as Tom – Mudgee, in the Central West of NSW. She wrote about the early days of the Army in Mudgee, where meetings were often held in an old wool store. One Sunday afternoon, she slipped into the meeting and noticed a new face – a tall, gaunt, fierce-looking man. She soon found out his name was Tom Robertson. He was just out of his teens but "was middle­-aged in his appearance and in hopeless sinfulness".
Tom was soon converted at one of these meetings, and it was not long before he enlisted as a cadet at the Officer Training College in Melbourne. There he found another cadet with the same name, so he simply added 'Mudgee' to his and was known as that from then on.
An eccentric ministry 
Soon after he had become a lieutenant, while listening to a man playing an instrument outside a circus tent to draw people in, Mudgee resolved that he would play like that. He put his mind, fingers and mouth to the task and learned to play a comet. He did this by practising every morning. He rehearsed tunes from the Australian Band Journal, known as the 'Black Book', until he could play numbers one to 48 fluently, from memory and without pausing. Not content with that, he went on until he could play five and a half octaves on his ordinary three-valve cornet.
As well as being a great cornet player, Mudgee possessed considerable powers of showmanship and accompanied his playing with all kinds of antics. He would commence by playing his cornet while standing on the floor of the hall and rise to successive heights, simultaneously ascending to higher octaves on his cornet. He would add some drama by pretending to break down along the way. Then, in triumph, standing on a chair on the highest tier of the hall and running his hand through his hair, he would give a flawless performance.
His musical performances, however, were not restricted to Salvationists. He would often regale the public with his eccentric abilities, often holding his own 'open air' as a 'lone fighter'. He would stand on a street corner, play his cornet in his right hand, beat a drum strapped high on his chest with his left hand, and have a kerosene torch stuck through the straps behind his shoulders. Once a crowd had gathered, he would launch into a gospel message.
The history book at Boonah Corps in southern Queensland recounts another occasion illustrating Mudgee's ability to grab a congregation's attention. It was recorded that in 1921 he rode his horse up the front steps of the Boonah Corps building, into the hall and onto the platform. There, he preached a sermon from the saddle.
Practical evangelist
But Mudgee was not just a performer; he was a faithful soul-saver. His antics had a purpose: to get people in and to get people saved. His preaching had results, as many people were converted through his ministry.
This practicality was demonstrated at one corps. While he was decorating the hall for the Harvest Festival, a soldier approached him and expressed with regret that his elderly sister was too infirm to walk to the event. There was a sulky in the yard but no horse. Undaunted, Mudgee himself climbed into the shafts of the sulky and pulled it to the woman's home. Here he managed to get her into the seat, and then he set off full pelt down the main street to the hall. After recovering from the hair-raising ride, the woman expressed her sincere thankfulness at being able to share in the festival.
During his 34 years of active service in The Salvation Army, Mudgee Robertson was stationed at over 40 corps. After completing 30 years' service, he wrote to a comrade: "I AM GLAD I AM STILL IN THE FIGHT. The hard goes have proved a great blessing to me; more now that I have time to reflect. I always did want – and still want – to endure hardness as a good soldier of Jesus ... As I read my Bible, I can't see anything else for it."
Mudgee was promoted to glory in October 1927 as a faithful soldier of Christ, whose energy and character will long dwell in the hearts and minds of Australian Salvationists.
An edited version of a story that appeared in The Salvation Army Hallelujah magazine in 2007 with extra information supplied by Lauren Martin and Dean Simpson