Out of the crucible of human suffering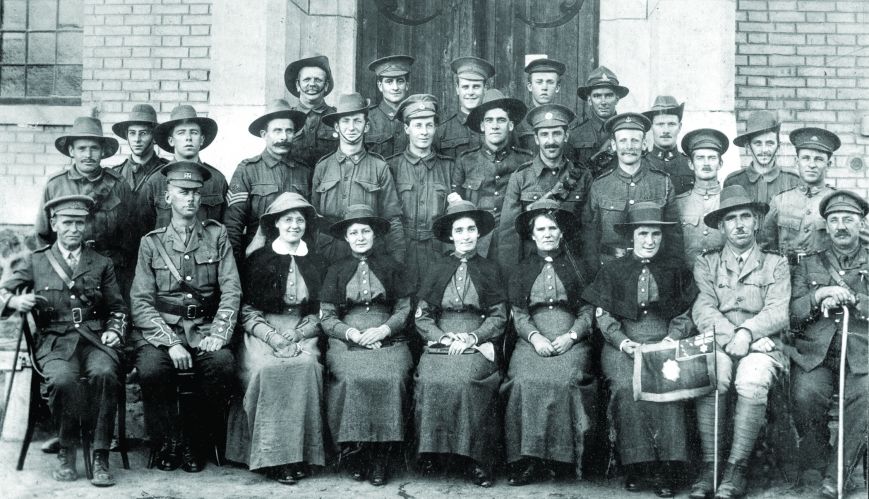 Out of the crucible of human suffering
Simmering tensions in Europe and surrounding nations resulted in Britain declaring war on Germany and its ally, the Ottoman empire, on 4 August 1914. On 5 August, then- Australian prime minister, Joseph Cook, declared: "... when the [British] Empire is at war, so also is Australia."
On 1 November 1914, the first Australian troops departed from Albany, Western Australia, bound for training in Egypt. Among the early departures was The Salvation Army's Major William McKenzie, appointed as a chaplain with the 4th Battalion, 1st Brigade, 1st Division, Australian Imperial Force.
Following their arrival in Egypt, the 1st AIF moved to Camp Mena, near Cairo, to defend the Suez Canal against Turkey. Here, the Australians commenced a period of training to prepare them for combat in the war in France. Joining New Zealand troops, they were formed into the Australian and New Zealand Army Corps under the command of Lieutenant General William Birdwood, and hence the name ANZAC was to be written in the annals of history.
At the outbreak of World War One, The Salvation Army in Australia was still a new organisation. But what it lacked in material resources it compensated for in the commitment of its people. The territorial commander of the day, Commissioner James Hay, offered a contingent of Salvation Army nurses to serve in military hospitals overseas, an offer that was accepted by the minister for defence.
Apart from the nursing sisters, the Army also supplied ambulances and drivers to the front lines in Egypt and France, and released its officers to serve as military chaplains.
By 1916, there were 13 Australian Salvation Army officers serving as military chaplains. It was quickly realised that a significant advantage of Salvation Army chaplains was their ability to quickly assimilate because of the understanding of a military system.
Many of those chaplains who met the needs of troops were in essence first-generation Christians, having come to a personal experience of God through The Salvation Army. Some had come from "earthy" backgrounds and consequently could identify closely with the soldiers.
One of the unique characteristics of the early Army was that it spoke the same language and understood the common man. No doubt for many soldiers, some of them little more than boys, there was a sense of comfort and security about a man who could identify with and relate to them, yet still have that sense of being God's representative.
Spiritual comfort
While still in training it was decided that the ANZACs should take part in a landing on the Gallipoli Peninsula in Turkey. The ill-fated attack was riddled with misinformation and poor leadership. From beginning to end it was an epitome of disaster.
A legend was born when Australian and New Zealand soldiers stormed the beaches of Gallipoli on 25 April 1915. In many ways, the campaign became a watershed not only for Australia and New Zealand, but also for The Salvation Army in Australia. When the world went to war, The Salvation Army was there.
In a scenario of great human need and suffering, men needed more than just guns and supplies. They needed a compassionate and understanding spiritual friend who would guide and comfort them in the face of death. Men like Chaplain-Major William McKenzie who was willing to endure danger and hardship alongside the young soldiers, to bring them human and spiritual comfort. 
As the fighting dragged on, and with no significant advance made to take the peninsula, the battle at Gallipoli settled down to a brutal stalemate. McKenzie was called upon to bury hundreds of fallen Australian soldiers and minister to those who were wounded and dying. He shared every danger with his men, disregarding his own safety if there was a wounded or dying man who needed what spiritual comfort he could give. Within the first 10 days of fighting, he was to bury 170 men.
Legendary journalist Keith Murdock interviewed McKenzie and in an article in the Sydney Sun, reprinted in The War Cry (Australia) on 22 December 1917, Murdock wrote: "Padre McKenzie has gone where shelling has made burial parties impossible to bury the dead. He has brought in the wounded, and lasted out the most intense shell-fire with his men, so that he might cheer them and comfort them. He has stayed afterwards to collect as much as two sandbags full of identity discs and paybooks off the dead."
The ministry and interaction between service personnel and Salvation Army chaplains at Gallipoli was to become a defining and significant dynamic in the role and future of the Army in Australia.
The courage and resourcefulness of many of the chaplains and representatives was to live long in the memories of service personnel, and in many ways go on to become folklore. Narratives of the courage, compassion, humour and resourcefulness of Army personnel was to be passed down from one generation to the next.
In many ways, ANZAC forged and moulded the nation of Australia. A century later we are only just beginning to see the impact this mystery has on the nation.
The reality is that God works in ways so mysterious that mere mortals cannot understand, and even in the crucible of human suffering his will can be manifested, although not always clear at that time. What is true for our nation is also true for us individually.
Our God, our help in ages past,
our hope for years to come.
Our shelter from the stormy blast,
and our eternal home.