Prisoner for Christ in World War Two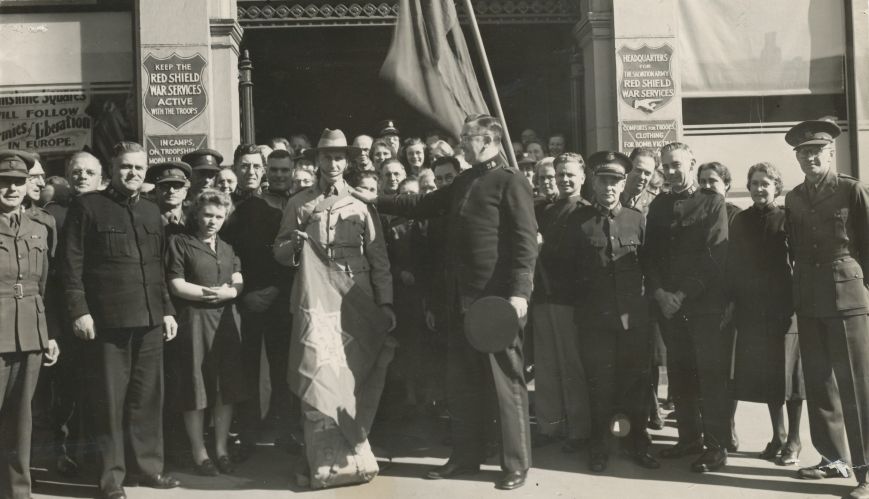 Prisoner for Christ in World War Two
Major Harold Hosier on his return to Australia after World War Two. He was a prisoner of war, became a chaplain in the camp and was given the military rank of captain. 
By Lindsay Cox
Salvation Army officer Major Harold Hosier was 48 years old when he landed in Greece in March 1941 as a Red Shield Representative (Welfare Officer) attached to the 6th Division, Australian Imperial Force (AIF). Less than a month later he would become a prisoner of war for nearly four years.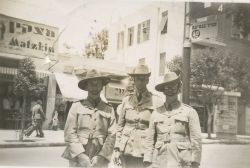 Harold Hosier (centre) served in North Africa and Greece during World War Two.
Born at Kingaroy (Qld) in 1892, Harold became a member of The Salvation Army in his teens and entered Officer Training College in Melbourne in 1914. He was commissioned in 1915 and had four corps appointments in Victoria until receiving social appointments in New South Wales and Queensland.
Just seven weeks after World War Two was declared, Harold was accepted as a Red Shield Representative and was one of the first three Salvation Army officers to accompany the 2nd AIF overseas.
He arrived in Palestine with the 6th Division in February 1940 where he immediately experienced difficulties as his supplies had been pilfered during unloading from the ship. Also, he did not have a vehicle allocated to him, causing him to depend on unit transport to visit the troops.
The 6th Division was ordered to Libya to confront the Italian army. Every motor vehicle of the division was accounted for, leaving no possibility of transport for Harold, who was desperate to accompany the men of the battalion he was responsible for. The only alternative was to purchase a vehicle from a Cairo used car dealer. A station wagon was obtained and suitably camouflaged by the military.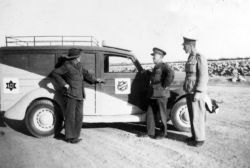 Harold Hosier (right) with the mobile Salvation Army vehicle, in Bardia, North Africa.
As the AIF prepared to attack the coastal town of Bardia, the 2/1st Battalion history records state: "At dusk, the Battalion commenced its long march to the assembly area ... Padre Hosier, from The Salvation Army, was dispensing cups of coffee and telling those who took it he would be praying for them."
On 5 January 1941, Harold's camouflaged mobile canteen entered Bardia in the dust clouds of the leading AIF units and he was handing out hot coffee to weary soldiers within seven minutes of the entry of the AIF into the captured Italian stronghold.
The nearby town of Tobruk was captured from the Italians on 22 January 1941 and Harold entered the township before the firing had finished, driving around handing out very welcome drinks and cake, and giving a cheery word to the men of the 6th Division.
Greece
From Tobruk, Harold and his mobile canteen, along with the 6th Division, were ferried to Greece where the British Expeditionary Force (BEF) was to halt the German invasion. As a point of interest, this was to be the first time Australian and New Zealand troops (Anzacs) would fight together since Gallipoli in World War One. 
By late March 1941 Harold had established a refreshment post outside Athens, where he provided coffee to Australian troops moving north. Then, blitzkrieg! The German army thundered into Greece, swiping aside all resistance and racing for the southern coast in order to cut off the Allied forces retreating in panic and disarray. As one of the great debacles of World War Two unravelled, Harold maintained his refreshment point at Athens and then used his mobile canteen as an ambulance until its destruction was ordered.
Prisoner of War
The last of the rescue flotilla left Greece on 28 April 1941. Harold was one of the thousands of AIF soldiers left behind to become prisoners of war of the Germans. Red Shield Commissioner Ralph Satchell reported: "Major Edgar of the 2/2nd Battalion offered Harold Hosier a seat on the last plane out of Greece. Hosier refused to leave the 30 soldiers he was with and was last seen down on his knees helping a wounded digger."
Major Harold Hosier's Prisoner of War identification card.
Harold Hosier was interned in a prisoner of war camp at Corinth along with 7000 Allied POWs. He was later transported to Stalag VIII-B, a large prisoner of war camp at Lamsdorf in Silesia. From there he wrote to his wife: "When in a prisoners' camp in Greece a Y.M.C.A. man and myself had some wonderful services, over 2000 men attending, we had a choir of 50 men, and special classes with spiritual results. In the prison camp here in Germany we have two services on Sunday, a Bible reading and discussion groups, and prayers every evening."
The German commandant made Harold the prisoner's chaplain and afforded him the military rank of captain (hauptmann) and, until he was repatriated back to Australia in November 1944, he helped look after the spiritual and physical needs of his fellow prisoners. 
Upon his return Harold was appointed to The Salvation Army Australia Eastern Territory Social Department. During this time, he helped start the Prison Aid Society in Brisbane and was its first president. Brigadier Harold Hosier retired in 1957, but continued active involvement with the Prison Aid Society for a further 12 years.
Harold was promoted to glory in 1987 after a life of spiritual and temporal ministry. Many men who had been deprived of their freedom, judicially or as prisoners of war, would attest to his exemplification of 'Heart to God, Hand to Man'.
* Lindsay Cox is manager of The Salvation Army Australia Museum