You are here:
Home › Army Archives › Wartime Origins Of The Flying Padre Service Part One
Wartime origins of the Flying Padre Service - Part One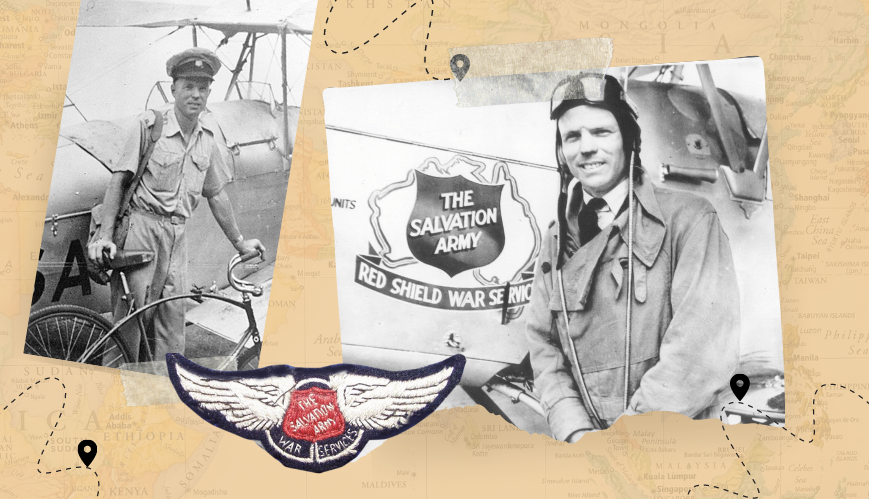 Wartime origins of the Flying Padre Service - Part One
Brigadier Vic Pedersen was the first flying padre for The Salvation Army in northern Australia. Before he was appointed a padre in 1945, he served as a member of the Red Shield War Services – and his work led to the creation of the vital service, which is still active today.
By Jessica Morris
The Flying Padre and Outback Services is part of the bread and butter of The Salvation Army in Australia. Since 1945, flying padres have served in the aftermath of war, floods, cyclones, and drought, travelling to some of the country's most remote locations by air to care for people.
Brigadier Vic Pedersen was appointed to RAAD 58 Operational Base Unit Truscott in Western Australia during World War Two. His work connecting with personnel at radar sites led to his assertion that The Salvation Army needed an aircraft for its ministry. A year later, the Flying Padre Service was born.
The service began 75 years ago as The Salvation Army served during wartime. Sadly, records about the Army's work in northern Australia between 1944 and 1974 were lost in the devastation of Cyclone Tracy. However, former Flying Padre Brigadier Vic Pedersen (MBE OF) took on the mammoth task in 2002 of curating those three decades of missing history. Through this, we are given insight into the Flying Padre's miraculous beginnings.
The Salvation Army was very active across northern Australia even before the flying padre's operations took off. But in 1944, Brigadier Vic Pedersen entered the scene. He was appointed to serve 500 Australian military personnel at the RAAD 58 Operational Base Unit Truscott (WA), the closest part of Australia to the then Japanese-held territory in Timor and Java. With no chaplain on-site and an additional 1000 military based nearby, Vic was responsible for delivering Christmas hampers to permanent and temporary personnel across multiple radar sites. He was soon conducting Sunday services, and when a Liberator aircraft crashed in early 1945 at Truscott, killing 11 airmen, the need for greater service was clear.
As Vic recalls in his documents, "Commanding Officer Senior Leader Barry said, 'Vic, you are our chaplain; you are to conduct the funerals.' Vic stepped up, helping his peers grieve. And soon afterwards, a chaplain was appointed to Truscott, leaving Vic to oversee welfare and church services at radar stations.
With the assistance of Commissioner Dalziel, Brigadier Vic Pedersen acquired an ex-RAAF Tiger Moth VH-ASA as the first aircraft of the Flying Padre Service. It was dedicated at Essendon Airport on 24 September 1945, after WW2 had ended.
On one particular trip, Vic travelled 160km down the coast to a radar station and was forced to shelter for three days while a storm blew over. On arrival, he found a letter from then Territorial Leader Commissioner W.R. Dalziel enquiring about his work, to which Vic replied, "If we had a light aircraft, I could have come home in an hour."
The divinely inspired path to The Salvation Army Flying Padre Service was set, and just before Vic could travel to Melbourne to meet with Commissioner Dalziel, everything came together ... sort of.
"In Melbourne, Commissioner Dalziel called [me from] a garage with a flat tyre and there met Mrs Fitzgerald, the leader of a group of women called the Red Shield Units of Service. They finance the purchase of equipment for Red Shield Work," Vic writes.
"'What do you need now?' was [Mrs Fitzgerald's] opening remark. 'An aeroplane,' [I said].' 'We'll buy it,' [she replied]. I arrived in Melbourne a few weeks later and discovered that buying an aircraft in wartime was easier said than done."
When Vic arrived in Melbourne, the plan was in motion, and they had their eyes set on purchasing an ex-RAAF Tiger Moth – the only aircraft available in 1945. While the Army purchased and readied the aircraft for use, Vic spent his time down south visiting the families of the men who had passed away in the Liberator crash.
Before the aircraft was ready, peace was declared. But that didn't stop The Salvation Army from dedicating the aircraft – a VH-ASA, for God's service. And on 24 September 1945, at Essendon Airport, it was dedicated by Commissioner Dalziel in front of all Red Shield personnel.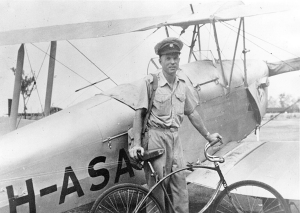 From 1946, Vic would also travel with a folding bike, enabling him to reach even the most remote locations after landing his aircraft.Soon, Vic was in the air, and the first journey of The Salvation Army Flying Padre Service was in motion. But on returning to Truscott and the surrounding radar sites, he soon found his service wasn't needed. Instead, he conducted services in Wyndham, Broome, and Derby in northern Western Australia. He recalls using many Red Shield songbooks and playing the English concertina.
During this time, a request came in for Vic to transport a Mrs Heggie and her five-year-old son, Bruce, to the Presbyterian-run Kunmunya Mission. Situated 480km from Broome, the plan was to reunite them with Reverend Jack Heggie. It should have been a simple trip, but the journey was marred by 3000m of fog below them. When Vic conducted an emergency landing on the wrong side of a hill, they were left stranded in the Australian outback with two pints of water. The VH-ASA was immoveable.
Check in next week for part two of the story about how God provided 'streams of living water'.
All photos courtesy of The Salvation Army Museum, Australia. Visit the Flying Padre Services exhibit at The Salvation Army Museum in Melbourne.