When Bankstown 'bombarded" for the Lord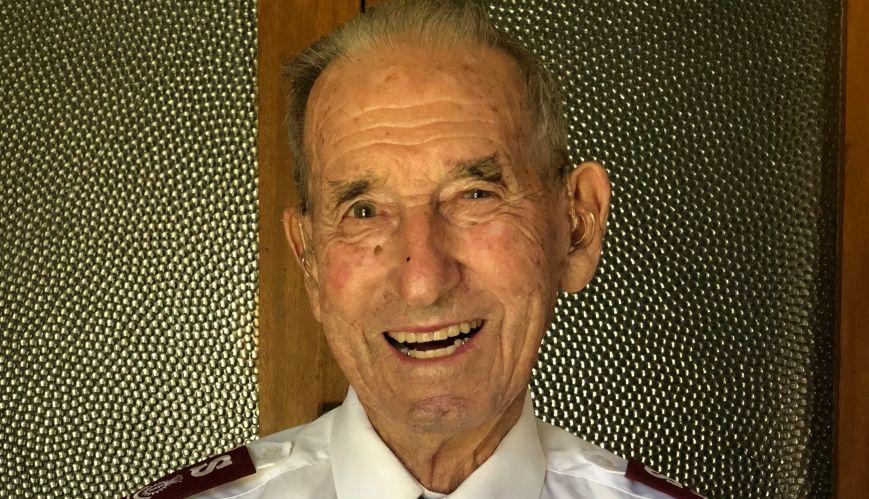 When Bankstown 'bombarded" for the Lord
My mother grew up in an orphanage. Her parents separated when she was a baby and her father put her in the orphanage, which happened to be a Salvation Army home in Adelaide. She later came to Sydney with her father.
Olive Grace Meinrath was her name. She married my father in 1911 and they came to Bankstown to live. I believe that my mother was in the group of Salvationists in Bankstown whom the comrades of (nearby) Auburn would visit and hold meetings for on Sundays in residences of the soldiers. She was one of the first soldiers in Bankstown.
I was the youngest in the family and I arrived in 1922.
We went to all the usual things in the Army and in those days, of course, everything was in the Army. You had meetings every night. You had band practices and songster practices and there was always something on a Saturday night in the form of social evenings, which brought everybody together. Then, of course, Sunday was morning, noon and night. From seven o'clock in the morning for knee drill, then junior soldiers, then a 10 o'clock meeting. In the afternoon we went to directory and then you had the open-air meeting and the night meeting.
We always walked everywhere; there was no transport. Even when I was playing in the band you had to walk to the open-air. We used to do what they call "bombarding", which was the playing of tunes all around the place. We would go to residential streets, just strike up and play. You'd preach at the same time and the collectors were going around and handing out pamphlets.
The Army had a very good name because by that time World War One was over and the influence of the padres in the war was outstanding. Men in the pubs and the streets would swear by them, so you were never short of a good hearing. It was really encouraging. And, of course, there wasn't any television in those days.
As a kid, the Sunday night was always the meeting of the day. It built up and everything pointed to the sermon at the end
of the meeting, when the officer made an appeal. The prayer meeting would go for about quarter of an hour or half an hour; sometimes as long as the meeting. Everybody was concentrating on the appeal and the choruses were relating to the appeal and quite often that's when the decisions would be made.
My passion as an officer has always been to see people coming to the meeting and getting to know the Lord. I've always been a "backroom boy"; I don't like publicity, but we help people when they need help, we encourage people and we pray.