A ministry of interruption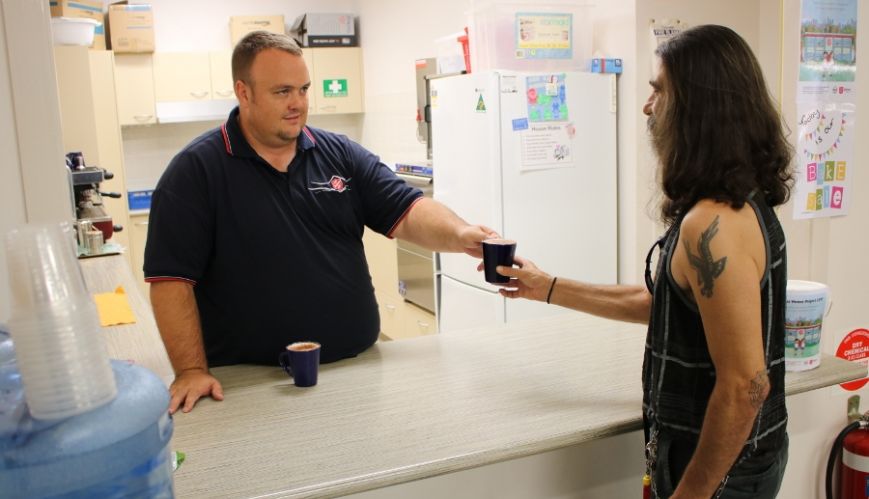 A ministry of interruption
28 April 2017
Wes Bust isn't fazed by frequent interruptions to his already busy schedule as a corps officer. He loves it.
"Who knows," he says, "the next person to walk into our building or make a phone call could become the next Billy Graham (international evangelist)."
Wes and his wife, Debbie, are Salvation Army Corps Officers at Ballina on the NSW North Coast. He is a lieutenant. She is a captain.
They have been at Ballina since 2013. Their ministry, says Wes, is deliberately "a ministry of interruption".
It fits well with The Salvation Army national mission statement titled Creating Faith Pathways: Taking a holistic approach to the human condition that values spirituality; graciously sharing the Good News of Jesus and growing in faith together.
"We all have a 'to do' list," he says. "I rarely get through mine every day. I see each person who comes through the door as a God-ordained interruption to that 'to do' list. What we do here isn't our ministry; it's God's ministry. So, I think when you look at what you do in that way, it changes the context of how you respond to the next knock on the door or phone call. You don't see it as an interruption, at all."
Wes and Debbie's "ministry of interruption" evolved a few months into their Ballina appointment. The corps was selected for a pilot Doorways (welfare) project – a new way of doing welfare. They made Doorways a core ministry. It shaped all of their decisions about engaging with their community.
"We agreed that as a corps, it wasn't enough to hand out welfare assistance to people coming through our doors. We wanted people to find Jesus," Wes says. "We wanted to be intentional about relationships. We aren't ashamed to show people that we are Christians. We want to show Jesus to people coming to us for help. If we don't, then we are no different to government agencies."
Ballina has a full-time Doorways case worker, who is often the first to meet clients arriving for assistance. She is, says Wes, a Salvationist and "real evangelist".
She looks for and takes opportunities to tell clients about the hope that she has and that they, too, can find. Wes and Debbie spend time with clients, too – usually around the corps coffee machine.
"These people are not here because everything is great in their life," Wes says. "If you are going to help, then you need to get to know them, surely. It's not about them being part of your program; it's about getting to know who they are and getting to know their story. Once you know their story and they know you care enough to listen to their story, they start to make a connection; you start to build a relationship. And that relationship builds as you share the hope of Jesus with them. Who better to mend their brokenness than the one who is their creator!"
Wes and Debbie also deliberately build relationships with local business and other agencies – the baker and donut shop owner who donate food items at the end of every day; other support agencies and government departments. Centrelink, Housing NSW and Community Health are just three groups that are given space within the Ballina Corps building each week to meet clients.
"The government workers observe the volatile situations we sometimes face and how we handle them," Wes says. "They see our 'love the person' approach.
Through that, they begin to make connections to discover why we handle things differently. So, yes, we're about helping people in need, but also showing them Jesus."
Bill Simpson is a contributing writer for Others magazine.
Read more about the mission statement Creating Faith Pathways.