Australian Territory leaders under the spotlight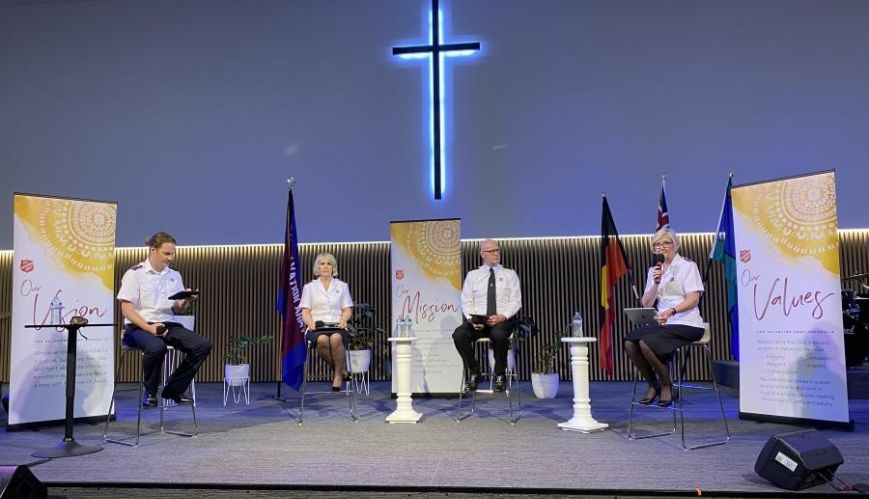 Australian Territory leaders under the spotlight
23 February 2021
Captain Matthew Moore (left) compered the first State of the Territory live-stream, with Commissioners Janine and Robert Donaldson and Colonel Winsome Merrett answering questions. 
By Lauren Martin
The Salvation Army's national leadership has answered questions from frontline Salvos during a live-stream State of the Territory event that covered topics such as restructure, finances, inclusion and the chaplaincy review.
The event on Sunday 21 February featured Territorial Leaders Commissioners Janine and Robert Donaldson and Chief Secretary Colonel Winsome Merrett. It was hosted by Captain Matthew Moore at Box Hill Corps in Melbourne and live-streamed across the territory to hundreds of Salvationists. It followed a similar event on Friday 19 February for officers and employees.
In his opening remarks, Robert thanked people for sending in questions but said it was "somewhat disappointing to have received some aggressive questions. That's not who we are."
About 100 questions were received, focusing on the future of corps, the administrative burden on the frontline, faith pathways and the financial position of The Salvation Army.
Finances
Winsome told viewers that the Australia Territory was continuing to transform into one national movement following the merger of the Eastern and Southern territories in 2018.
"I acknowledge that for each of us, the road has been bumpy and there continue to be significant challenges ahead of us. Today, I want to acknowledge ... that we have heard the feedback from across the territory, and we make a continued commitment to greater transparency and effective communication."
In terms of The Salvation Army's finances, and questions around money for frontline mission, she said when the two territories became one, there were savings and benefits that were identified and moved into a 'Mission Endowment Fund'. This fund was a requirement of International Headquarters as part of the restructure. "The Mission Endowment Fund is like an investment," she said, "It has to be built." Over time, when the fund reaches a certain level of savings, the interest will be directed to frontline missional initiatives.
"My hope and prayer for The Salvation Army this year is growing missional alignment across the movement," Winsome said. "resulting in more people having a living encounter with the Lord Jesus Christ while they are being assisted."
Future of corps
The compere (Matthew) said some questions raised concerns about the lack of next-generation officers and Salvos and asked Janine what The Salvation Army was doing to address it.
She agreed that statistics did show a decline in soldiership and people entering officer training.
"The future is in reclaiming integrated and holistic mission," Janine said. "And corps are a big part of that. Local Mission Delivery is a model that we have chosen to achieve fruitfulness."
She celebrated corps and Salvationists who showed incredible initiative and creativity during the COVID-19 pandemic.
She also acknowledged the word 'corporate', which has increasingly become more prominent within The Salvation Army in recent years: "That's a word that has been, for many, a painful word. It has caused tension and fear and frustrations. It feels like that word means that we have lost our heart and we have not.
"The Salvation Army exists to glorify God. We are a Christian movement. There are responsibilities, however, that as a Christian movement we need to do well. We need to have the highest standards. This especially applies to the area of child safety. How do we balance this? We have to meet our obligations, we have to meet community standards. But let's add to that the power and the glory of God!
"Can I suggest we lean into that difference and build a culture that prizes both?"
Restructure
When asked if there would be more restructures, Robert said that while the organisation would continue to adapt, there would not be any more major restructures of the same magnitude of the coming together of the two Australian territories.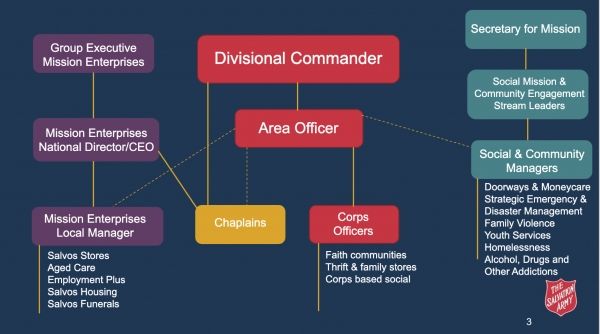 The organisational structure of the Australia Territory was shared during a presentation at the State of the Territory events.
"I think what Australia has attempted in the last few years has been quite remarkable and whilst there's lots of frustrations and wrinkles to iron out ... I actually believe that Australia will set a new model for The Salvation Army in the western world," he said.
He acknowledged that The Salvation Army "didn't get the communication right" around the result of the chaplaincy review, and apologised, saying lessons had been learned as a result. He went on to explain the reasons behind the decisions taken.
"At the point of joining the two territories, more than one in every four of our officers was a chaplain. Too many of these were working in an isolated situation. Where chaplaincy remains, we are working to really focus that, so there is a strong connection to local corps and other mission expressions. We want, in the end, through that, for more people to come to Christ. We must be connected for us to achieve that."
Inclusion
A question was asked around what progress had been made to ensure that The Salvation Army was genuinely an inclusive movement. Robert acknowledged that The Salvation Army (along with other churches) was quite polarised when it came to views on human sexuality. "Quite frankly The Salvation Army is struggling in this space," he admitted.
He said international leaders had been meeting this month to discuss human sexuality and issues around the LGBTQIA community and same-sex marriage.
"At this time, Australia does not have the freedom to work towards any policy or practice change within The Salvation Army as a church, so we are not able to consider paths that are divergent from the international view.
"It is a really important topic for us. Theology is not set in concrete, and we need to wrestle with the issues of today and do it well and in a caring and compassionate way."
Further transparency
The live-stream State of the Territory events were the first of four planned for 2021, to answer questions from the frontline in an open and transparent way. Members of the Australia Territory leadership team will also be taking the opportunity to travel, as restrictions permit, to visit corps and mission expressions and speak with Salvos face-to-face.