Balga a 'bedrock of support' during COVID-19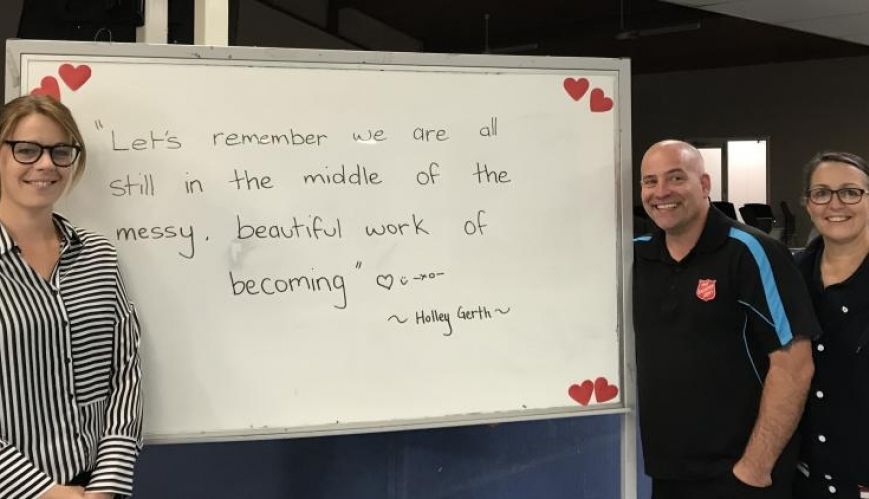 Balga a 'bedrock of support' during COVID-19
16 June 2020
Balga Child Care Director Jo Ineson (left) with Balga Corps Officers Captains Darren and Megan Aitken and the positive-message whiteboard they set up during COVID-19.
By Lauren Martin
When COVID-19 hit and shops and services in Western Australia started to close down, Balga Salvation Army found itself in a unique position to increase its support to local families through two essential services – the Balga Early Learning Centre and Child Health Centre.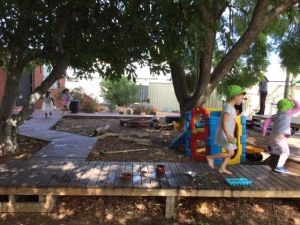 The Salvation Army Balga Early Learning Centre remained open during the COVID-19 pandemic.
Balga is located in north-west Perth, nestled in the heart of a cluster of suburbs where low income and disadvantage are the 'norm' – an ideal location for a low-cost childcare centre.
Centre director Jo Ineson said when the reality of the COVID-19 pandemic became apparent earlier this year the team at the wider corps made supporting their community a priority.
"Our families are very vulnerable. We are a low-socio-economic suburb, we have lots of complexities and there are significant barriers for the families [here]. So, everything we do is based on empowering and equipping our families," Jo said.
"As well as keeping our services open [during the COVID-19 pandemic], it was very much on our minds as to, 'how do we maintain our relationships with our families?'"
Staying positive
Corps Officer Captain Megan Aitken came up with a simple idea that proved very effective. A whiteboard was set up at the front of the centre with a 'Thought of the Day', which many parents stopped to read and make comment on.
"As the parents have walked in, I overheard them talking to each other," said fellow Corps Officer Darren Aitken. "I've heard them say, 'I look forward every day [to] walking through the door and seeing the new message – it's just inspiration for the day."
Those simple, inspirational messages were enough to put a smile on the faces of most parents, many of whom were dealing with a job loss or a cut in working hours. One mother commented that the whiteboard "provided positive messages, which was the nicest feeling at 7am in the morning!" And another said it "made me smile every day and we talked about the messages."
Flora says having the Balga Salvation Army Early Learning Centre remain open during the COVID-19 pandemic was a real blessing for her to be able to continue work and feel supported.
That small change to the daily 'drop-off /pick-up' routine, with parents pausing to read the whiteboard, often allowed Balga team members to go deeper with many of the families.
"I think we went through a two-week period where almost every family in the service had a really significant job loss or a really detrimental impact [from COVID-19] and they would come and tell us about it and we were able to walk alongside them," said Jo. "It was like, well, let's just talk through this and see what we can do – we can keep your children here, we can keep this bit of your life going and normal, and we can keep your stress levels down. Your life might be really difficult at the moment, but we are still here, and we care."
The corps was able to provide wrap-around support for families through its Doorways service, which was also still operational throughout COVID-19. While this was no different to what would have happened prior to the pandemic, according to Jo, the conversations that led to that wrap-around care weren't as frequent: "During normal times, a lot of those conversations wouldn't happen."
Easing the stress
For Flora, who is the sole income earner in her household, The Salvation Army maintaining a presence was crucial during COVID-19. "During COVID my working hours dropped by over half which meant my wages were drastically reduced," she said. "This put my family under extreme financial difficulty to the point I had no money to buy food or pay bills. I also have an underlying illness that requires regular hospital visits and treatment, with medication that costs a lot of money. I did not know what I was going to do to feed my family, buy my medication and pay my outstanding bills."
Through her relationship with the Balga Early Learning Centre, Flora was referred for assistance to Doorways which she said took away "a lot of the big worries."
"I honestly don't know how I would have coped without the ELC," she said. "Reading the whiteboard gave me hope on the worst days."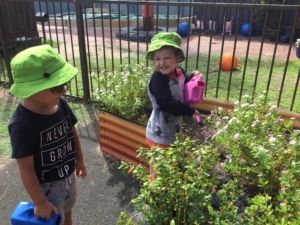 While Balga Corps' 'Little Things Garden Club' was placed on hold during COVID-19, families were supported with deliveries of garden packs and at-home activities.
At-home support
Another way Balga Corps was able to support its community during the COVID-19 social-isolation restrictions was through its 'Little Things Garden Club', which is a playgroup attached to the corps' community garden. While the playgroup stopped meeting, the corps' community garden coordinator kept in touch with families almost every week, delivering garden packs, play-based activities and special Easter and Mothers Day packs.
Jo said it's difficult to put into words the impact of the ministry throughout COVID-19: "It's hard to describe because we didn't do anything different to what we normally do every day, but I think it's just that bedrock of support that we can provide for the community, that no matter what's going on, we are here, we are always the same, and we do it for Jesus. We have seen greater outcomes, more interaction with parents and the children, and we have seen God working in miraculous ways."