Barbecues, beaches, and bushwalks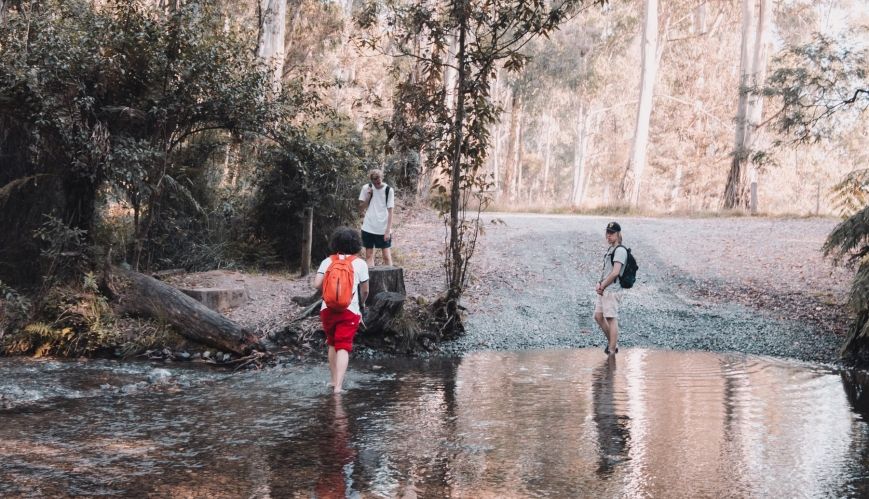 Barbecues, beaches, and bushwalks
26 January 2022
Bushwalking in Toolangi, Victoria. Photo by Pat Whelan on Unsplash.
By Faye Michelson and Simone Worthing
Thousands of barbecues will be firing up in parks, beaches, and backyards around the country today as people celebrate Australia Day.
So what's on the menu? In a nation that has one of the most ethnically diverse societies in the world, a fair percentage of those sizzling hotplates are bound to be cooking more than steak or skinny supermarket sausages. Spicy, curried, halal, vegetarian, kosher, vegan – that diversity of cuisine symbolises modern Australia, a land of many people groups celebrating what Australia has to offer. And part of what is offered on 26 January is a reason to pause and think.
There is so much to be thankful for in our nation. We have freedom – an entitlement not to be taken for granted – which gives us the right to challenge our government, speak out about injustice, have an education, receive health care, and worship freely. In a world ravaged by COVID-19, we live in functional communities, despite the dysfunction this virus has wrought.
We live in a country with thriving urban centres and great natural beauty for anyone to enjoy. How delightful is it to walk along a stretch of sand or in the speckled sunlight of a bush track? Australia Day is a public holiday where we can take time to enjoy this great land and the people who share it with us.
Australia Day is also a day where many people from around the world, who have chosen to call Australia home, make the Australian citizenship pledge and become Australians. This day holds special significance for them, is often the final step in a long and often traumatic journey and is a time of celebration and hope.
But it's also a day to acknowledge that the date chosen to celebrate Australia Day is sometimes recognised as 'Invasion Day', or 'Survival Day' by Aboriginal and Torres Strait Islander people. The facts are indisputable. When Captain Arthur Phillip, commander of the First Fleet of 11 convict ships from Great Britain, raised the Union Jack at Sydney Cove on 26 January 1788, he took over the land of Aboriginal peoples.
Another fact is indisputable – Australia Day is no celebration for the many thousands of people in our community who will still go hungry, be homeless, endure domestic violence or face the consequences of addiction.
While the subject can be sensitive, as we enjoy our barbecues, beach swims, and bushwalks, perhaps we can spend just a few minutes on our national day to think about our collective past, present, and future.
We have a shared past, however painful, with our First Nation Peoples that we should acknowledge, learn from and not repeat. We have a present that offers many opportunities but also holds many injustices for us to acknowledge and respond to, however overwhelming they may seem. It's even a day, perhaps, for personal reflection, a quiet questioning of attitudes and beliefs, a time to consider how God fits into our lives in this hectic, ever-changing and complicated world.
And as for the date – there's a great deal of hurt and anger around marking 26 January as Australia Day. Someday that may change to a date that doesn't have the distracting ambivalence we currently have to navigate, but it's what we have for now. So let's make Australia Day a time to collectively look to the future while acknowledging the past, being mindful of the present, and being motivated to create a different future. We could start by having that conversation around the barbecue, at the beach or in the bush.