Beechworth ... small corps with a big heart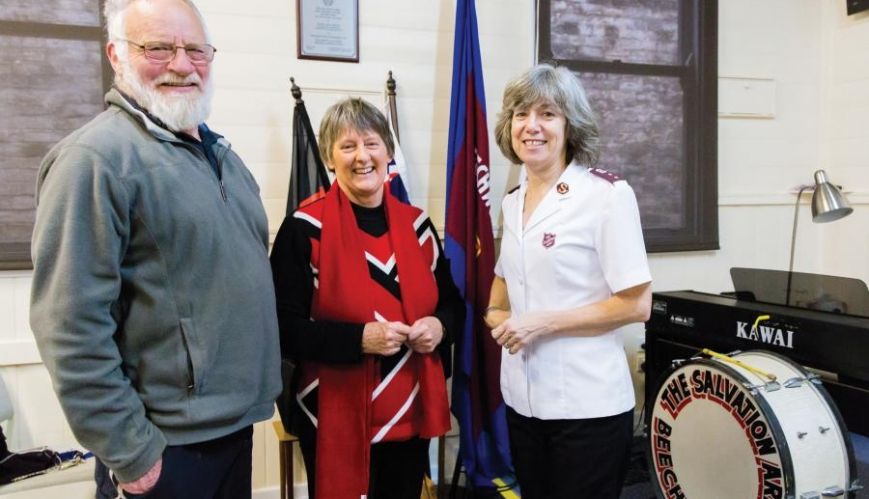 Beechworth ... small corps with a big heart
12 October 2018
Captain Pauline Middleton with two of her dedicated volunteers, Jim and Helen. Jim is the manager of community welfare and Helen plays the piano in church. Photos: Carolyn Hide
By Bill Simpson
It's a very small corps in a very small village in Victoria's historic north-east high country.
The compact weatherboard worship centre that seats maybe 60 has an entrance straight off the main street, through an opening in a small picket fence.
An equally compact Thrift Shop sits alongside the worship centre.
Beechworth has only one active "soldier" – the Corps Officer, Captain Pauline Middleton (left).
Even so, just like in the bigger cities and towns of Australia, Captain Middleton and her team of community helpers are expressing the Army's mission and vision.
Where there is hardship or injustice, Beechworth Corps is doing what it can to live, love and fight alongside others to transform its part of Australia one life at a time with the love of Jesus.
Beechworth is a remarkable story in The Salvation Army. It has only four soldiers on the roll.
Three are inactive, leaving Captain Middleton as the only "uniform".
But there are 10 adherents and 40 recruits/friends/supporters – all of them active.
Basically, Beechworth is a corps of community people, led by a Salvation Army officer, serving their community. "As far as The Salvation Army vision and mission are concerned, it's what we do every day," Captain Middleton says. "With us, people always come first."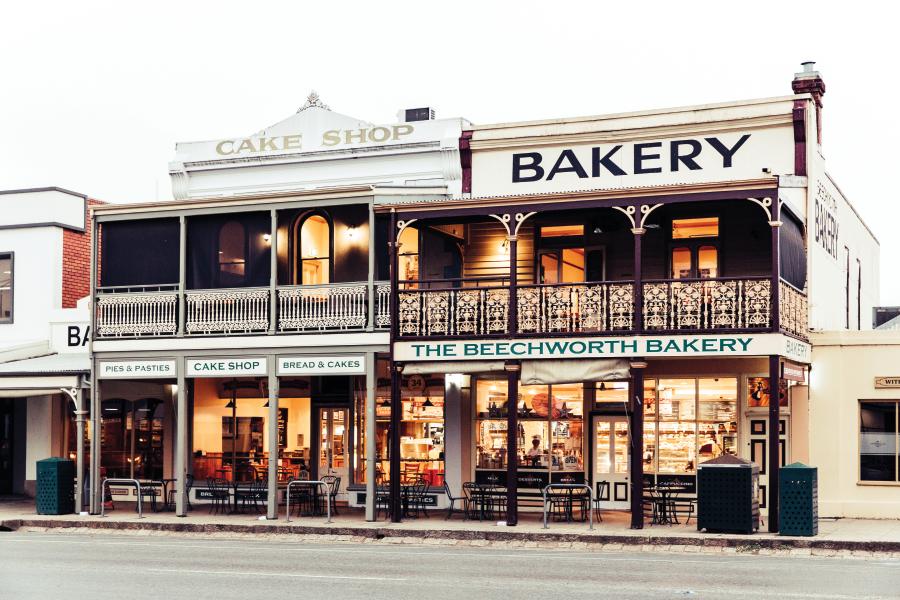 Beechworth, the town, is a delightful place, ringed by equally stunning villages with names like Stanley, Wooragee, Yackandandah, Myrtleford, Mt Beauty, Denerang, and Bright.
It's almost 300km north of Melbourne, 30km to the east of the Hume highway and about 50km to the south of the NSW border town of Albury.
A little over 2500 people live in and around the village. The area was first the home of Aboriginal people and was known as Mayday Hills before changing to Beechworth in 1853.
That was around the area's famous gold-rush days, which attracted people from various parts of the world, principally China, England, and other areas of Europe.
Its impressive and still-standing 150-year-old prison, right in the centre of town, was the "home" on several occasions of legendary bushranger Ned Kelly.
The equally impressive Beechworth Courthouse – also still standing – was the scene of Kelly's murder trial and sentencing to hang in 1880.
Another of its more notable residents was senior police inspector Robert Burke, leader of the ill-fated Burke and Wills expedition from Melbourne to the Gulf of Carpentaria in 1860-61.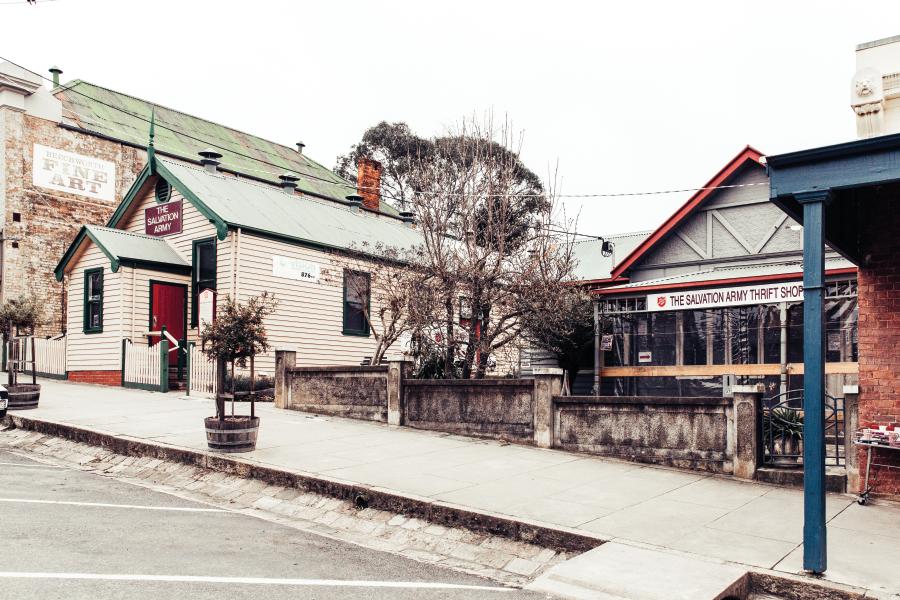 Both men – and others – lost their lives in the attempt. Beechworth has monuments and festivals to celebrate Kelly and Burke.
Ask any tourist who has visited Beechworth to identify their favourite attraction and they will almost unanimously name the local Beechworth Bakery shop – or the honey shop.
army presence
The Salvation Army has had an active presence in Beechworth since 1884, just four years after the officially recognised start of the Army in Australia.
Captain Pauline Middleton has been the Corps Officer since January 2010, 12 months after graduating from The Salvation Army training college in Melbourne.
She comes with a troubled background, but grateful, just the same, for her upbringing.
For personal family reasons, she prefers not to identify where she has lived, except to say it was in Victoria. Her father had mental health issues.
At 22 months, she was left by her mother at an orphanage. Two months later, her maternal grandparents took her home to their place and raised her as "their own", legally adopting her when she was four.
"I was very blessed that my grandparents took me in," she says. "They were strong Anglicans, I went to Sunday school and church regularly. They gave me a wonderful life."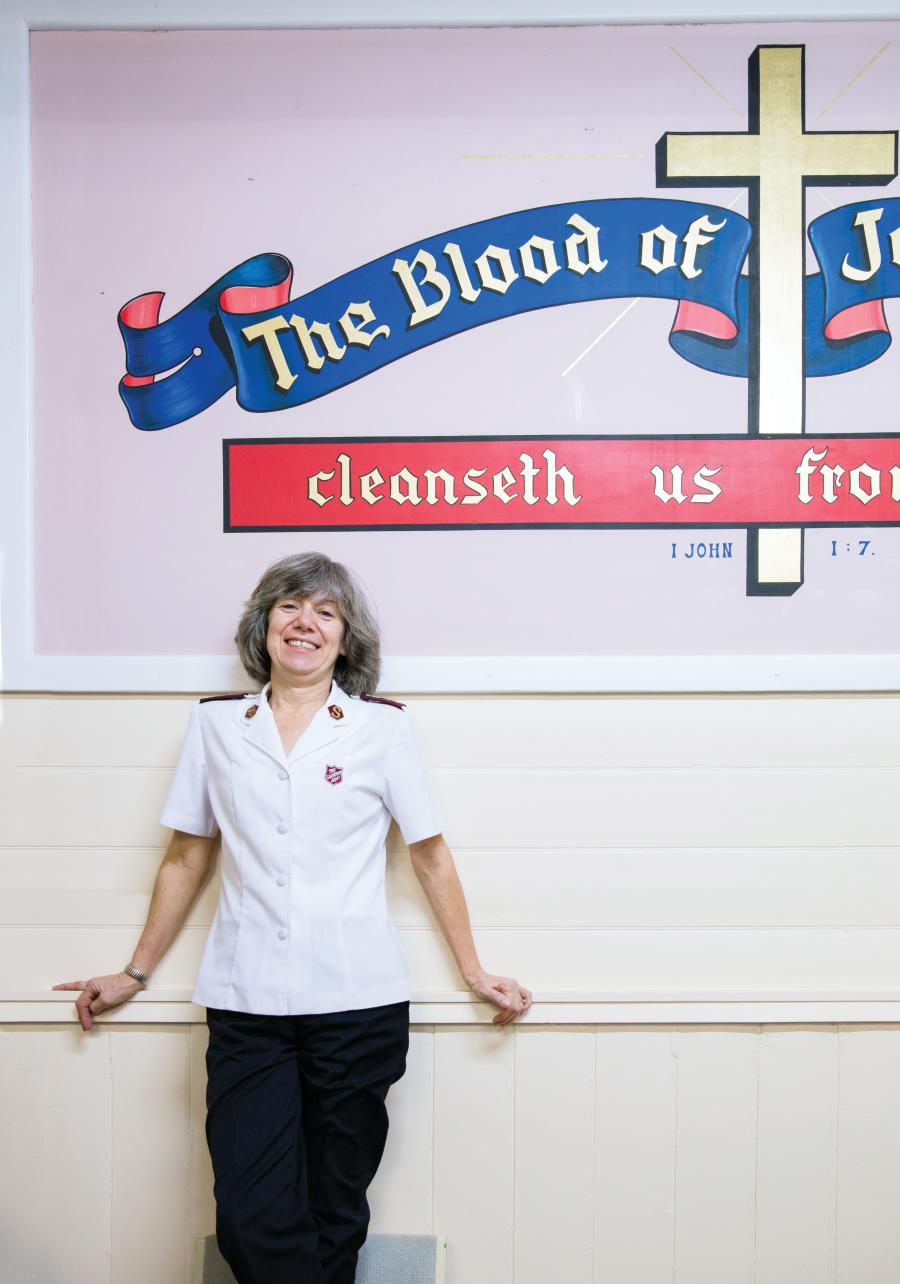 Pauline (pictured right) left home at 18 and moved in with her boyfriend. They married a few years later – in 1983 – and had two children.
The marriage survived for 20 years. In 1987, living in government housing with her two children, The Salvation Army "arrived" on her doorstep with a street meeting and Sunday school recruitment campaign. She was happy to have her children attend Sunday school.
"My Dad (grandfather) pestered me to get my kids done – as in christened. In the Salvos, it is known as being dedicated," she says.
"At The Salvation Army, I heard songs that I heard at the Anglican Church. I knew then that God was in this place (The Salvation Army).
"I gave my life to the Lord in 1989 and became a soldier in 1990. I had to wait until God delivered me from a foul mouth before I could become a soldier. And he did."
She was accepted into The Salvation Army Officer Training College in 2007, graduating at the end of 2008.
Her two children had serious drug issues as teenagers. Her son died in 2010, aged only 24.
She has a three-year-old granddaughter from her daughter and is remarried. Her second husband, Andrew, is with her in Beechworth.
valuable volunteers
Community is how it is in Beechworth. Talk to anybody in town and they will tell you that Beechworth is the kind of place where everybody helps everybody.
Country people, a local told me, are not big on becoming members of much, but they are big on giving a helping hand.
Jim Kenney is volunteer manager of The Salvation Army's community welfare in Beechworth.
Jim was volunteering with a community-based organisation until 2000, when he switched to the Salvos. He was looking for a church, his wife Helen told me.
"I said, look Jim, if you find a church and stick to it, I will come with you. He stuck with it, so I went, too. They needed a piano player. I play the piano, so Jim and I have been coming ever since.
"It's our church. Nobody ever tried to make us soldiers. They just welcome us as one of them. It's nice."
Ask Jim how many days he does his welfare and he will tell you, "Friday, Saturday, Sunday and Monday ... and often Tuesday, Wednesday and Thursday. Whenever somebody needs something," he says.
There are no rigid availability rules in this corps. They provide food, furniture, clothing, help with bills – even wood to help with heating homes in winter, when overnight temperatures go below zero.
The annual welfare budget is around $100,000, funded mostly by the corps Thrift Shop.
Beechworth doesn't have a Salvos Stores or Family Stores shop. The shop is staffed by volunteers – people from the community. The local Lions club sends volunteers. Prisoners on day release from the local jail volunteer. Centrelink sends in unemployed people on work programs. People from other community groups volunteer, too.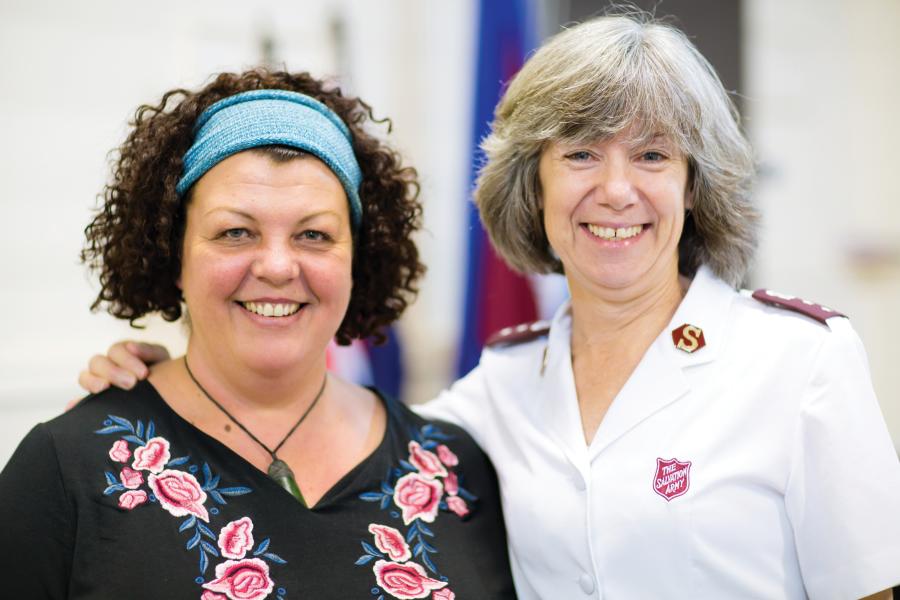 "This is a Beechworth community effort," Captain Middleton (pictured right with local coffee shop owner Paula) says. "We wouldn't be able to do what we do without the community."
People around Beechworth think highly of Captain Middleton and The Salvation Army. They agree that the community provides a lot of assistance to The Salvation Army, but they are quick to tell you that The Salvation Army does a lot for the community.
As well as running a corps and its associated services, Captain Middleton is also chaplain at the local prison, spending time with inmates who need her counsel, and their families when times get tough.
She also visits a local aged care facility to encourage residents. Community lunches are held every week after a Sunday morning worship service and on Fridays.
Everything they do at Beechworth Corps has the word "community" in front of it. "People always come first here," Captain Middleton says.