Biography captures a compelling life story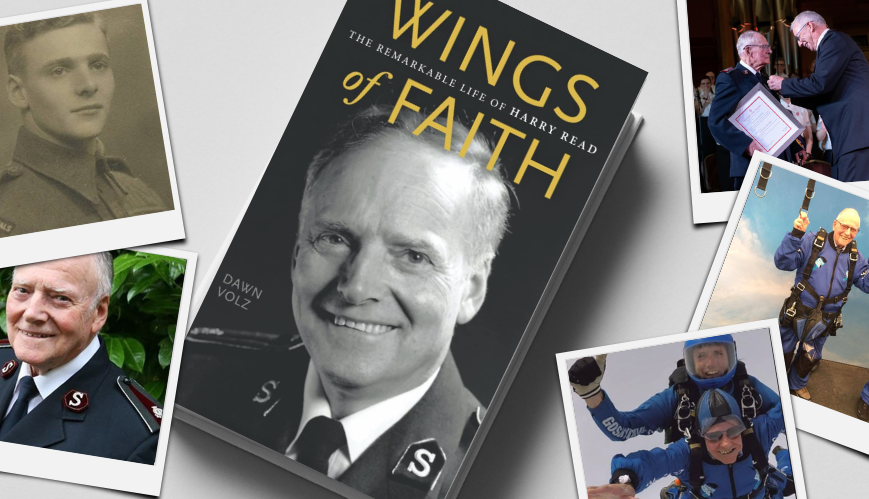 Biography captures a compelling life story
9 June 2022
In the biography Wings of Faith, author Dawn Volz shares the remarkable story of Commissioner Harry Read – from his service during World War I to his skydive into Normandy at age 95.
Interview by Jessica Morris
Commissioner Harry Read was a beloved and respected Salvation Army officer during his time on earth. Capturing worldwide headlines with his tandem parachute jump at age 95 to commemorate the 75th anniversary of D-Day, his character, accomplishments and love for Jesus marked him as an extraordinary man.
In the months before his promotion to Glory in December 2021, author Dawn Volz had begun to pen a biography of his life. Titled Wings of Faith, it was released in May this year, with all proceeds going to The Salvation Army's Anti-Trafficking Department in London. Others talked to Dawn about what inspired her to write Wings of Faith and to deep-dive into the life and times of Commissioner Harry Read. 
What prompted you to write this book about Harry Read?
Harry's jump in 2019 at the age of 95.
Wings of Faith was written to honour Commissioner Harry Read and document his compelling life story. The biography recounts Harry's impoverished childhood, his service as a wireless operator in the British Army, parachuting into Normandy aged 20 on D-Day in 1944, and his dedication as a Salvation Army officer during a lifetime of service. Harry's tandem parachute jump with Britain's Red Devils at age 95 on the 75th anniversary of the D-Day Normandy Landings made worldwide news. My hope is that readers will be encouraged, blessed and inspired as they read about Harry's remarkable life and vibrant faith.
When did you first encounter Commissioner Read, and what stood out to you the most about him?
I became aware of Commissioner Harry Read in 2013 when reading an interview with him by Major Stephen Court in the online Journal of Aggressive Christianity. Seeking Harry out on Facebook, I discovered he was an accomplished poet, with many of his Facebook friends suggesting he should produce a book of his inspiring poems. As I was at the time the Assistant Literary Secretary of the Australia Southern Territory, I suggested to the Literary Council, under the leadership of Captain Mal Davies, that Salvo Publishing could well do this, which met with unanimous agreement. So began an email friendship as Harry and I worked together on Heart Talk: The Give and Take of Communion with God, during which I discovered him to be an inspiration in so many ways – a man of deep faith with an amazing work ethic, engaging wit and wisdom, and an irrepressible love of life.
Commissioner Harry Read and author Dawn Volz worked together on his 2013 book Heart Talk: The Give and Take of Communion With God, giving Dawn greater insight into his life.
Can you describe the process of researching/interviewing and curating this story. How long did it take?
Never one to blow his own trumpet, it took years of encouragement and coaxing to convince Harry that his was an inspiring story that needed to be told. Recently retired, last year I was able to immerse myself in writing his biography and began mapping out just how to do that. I decided to document his life sequentially, and for around nine months there were many hours of telephone interviews, emails and FaceTimes, with Harry's prodigious memory providing details of his long life. I also researched Salvation Army books, magazines and online histories, plus accounts of various Army events and the changing world during those years. Harry's son, Major John Read, and daughter, Major Margaret Ord, were very helpful in providing information and reading the manuscript, as did Major Ken Lawson, one of Harry's contemporaries, and former Literary Councillor Major Doug Kollmorgen.
It is no small feat to chronicle someone's life story in a single book. What was the most challenging facet of this process?
The most challenging aspect was to sift through the copious amount of interviews and information and present Wings of Faith in a highly readable way. Each of the 22 chapters began in rough draft form, with relevant anecdotes, research and information from Harry's family and friends eventually pieced together into a coherent account of his inspirational life. Many drafts were to ensue before the final version of the chapter was ticked off. 
People know Commissioner Read as the man who jumped from the sky. What else did you discover about him that surprised you?
One of the first things that surprised and delighted me was Harry's warm friendliness, engaging wit and complete lack of pretension. He was a prayer warrior, setting aside considerable time each day in what he terms a "spiritual partnership with the Heavenly Father" and to intercede on behalf of the many people on his long prayer lists. As a nonagenarian, he had self-propelled energy and a determination to live every day to the full.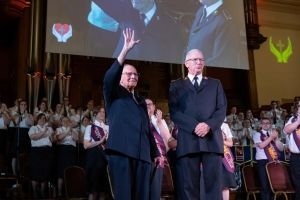 Commissioner Harry Read received the Order of the Founder from General Brian Peddle in 2019.
Faith was a pivotal part of Commissioner Read's life which we saw him practise as a Salvation Army officer. How did God uniquely use Harry during his lifetime?
Harry's dedication to God and The Salvation Army was epitomised by his many years at the International Training College (now William Booth College) in various appointments – including training principal – during which thousands of cadets were inspired by his influence; his time as director of information services in London; and international leadership with his wife Win in Canada, Australia Eastern Territory and as British Commissioner. During retirement, he led a Bible study at his home corps of Winton Bournemouth and wrote Words of Life, the Army's international daily devotional book, for 10 years, followed by his Facebook ministry to almost 5000 followers. Harry's extraordinary life of service was celebrated during the presentation of the Order of the Founder by General Brian Peddle in 2019.
As The Salvation Army moves forward, what can we learn from the life and faith of Commissioner Harry Read?
Commissioner Harry Read's life was testament to his abiding faith and love of God. He dedicated his courageous and caring heart, poetic gifts, empathetic nature and abundant energy to living out his faith, testifying that "to be part of Jesus' mission for a needy world is a highly privileged vocation". Harry was promoted to Glory aged 97 on 14 December 2021, bequeathing an enduring example to countless numbers of people because of his exemplary life and Christian witness during more than 70 years of service as a Salvation Army officer.
Wings of Faith is available now on Amazon.com (hard cover, paperback and ebook,  with all proceeds going to The Salvation Army Anti-trafficking Department in London. Click here to purchase a copy.