Bob Hawke and the book about the Salvos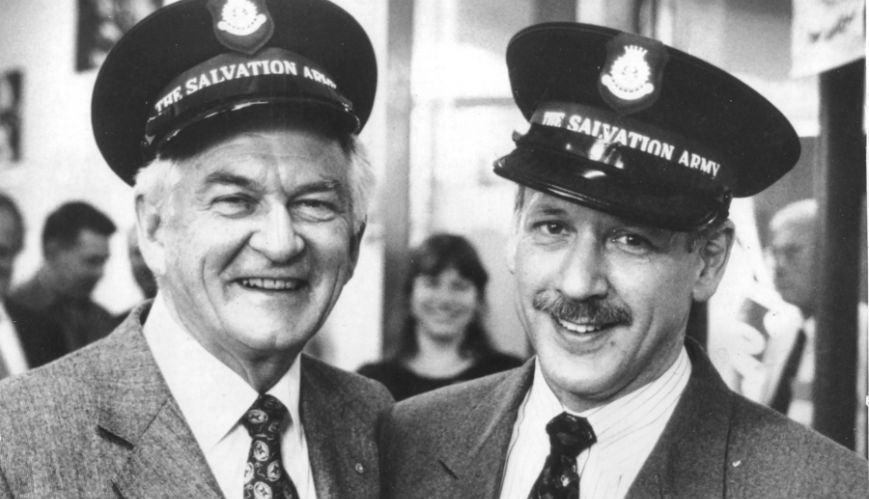 Bob Hawke and the book about the Salvos
24 May 2019
Former Prime Minister Bob Hawke (left) and John Cleary share a light-hearted moment at the launch of Salvo in 1993.
In 1993, religious commentator, author and Salvationist John Cleary published a book on the history of The Salvation Army in Australia. It was called Salvo! and was launched by no less a figure than Bob Hawke. In recognition of Mr Hawke, who passed away earlier this month, Others has delved into the archives and dusted off the audio of the former Australian prime minister's 17-minute speech at the launch, which turned out to be a glowing reference for the work of The Salvation Army.
John Cleary reflects on that occasion and provides the context to how such a prominent figure in Australian political history came to launch his book. John writes:

"I was a young student at university when I first became aware of Bob Hawke. I overheard a conversation between two of my friends in the Christian Union talking about the background of the fiery advocate for the Australian Council of Trade Unions (ACTU).

"I learned his father was a minister in the Congregational church. But even more interesting, Bob himself had been a Christian activist. His journey to agnosticism began whilst attending an international Christian conference in India. His understanding of the Gospel was challenged when he found he could not reconcile the apparent contradiction between the comfort he and his Christian colleagues were enjoying in their well-appointed hotel, with the suffering and poverty evident in the streets just outside.

My first personal encounter with Bob Hawke came some years later. In the late 1970s, having progressed to President of the ACTU, Bob Hawke sought to enter federal politics. He was soon to become the Member for Wills, my local electorate at Coburg in Melbourne, where we met on several occasions. At that time I was working for the Hamer Liberal Government in Victoria, looking at issues related to youth unemployment. In this capacity I also encountered Bob's wife, Hazel, who was working with the Brotherhood of St. Laurence in Melbourne on similar issues.

When it came time to launch my book Salvo! in 1993, a friend suggested that the now former Prime Minister Bob Hawke may be interested. We sent him a copy, he read it and responded positively. It was a genuine thrill to have both Bob and Hazel Hawke at The Salvation Army's Foster House in Sydney for the launch and, as those who were there can attest, he had read the book thoroughly and was quite genuine in his affection for the work of The Salvation Army in being true to a gospel embracing 'heart to God and hand to Man'.