Breaking the busy cycle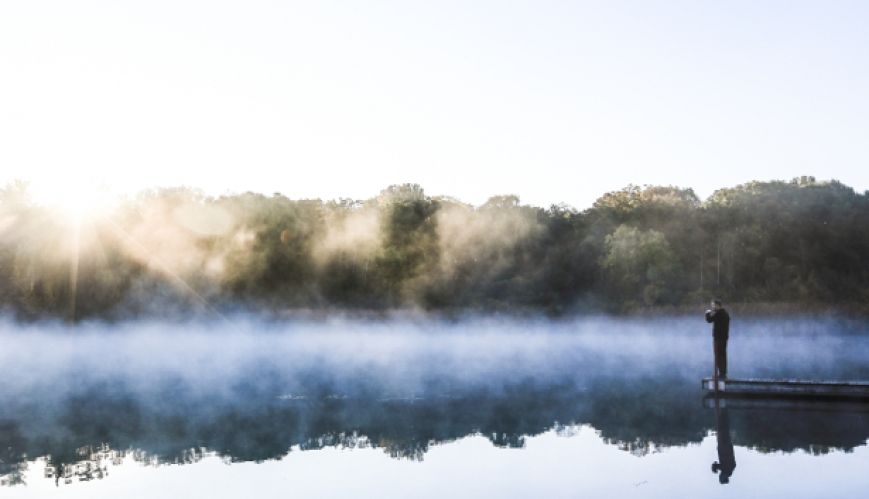 Breaking the busy cycle
24 July 2016
There is enormous pressure to perform, achieve and to "get somewhere" or "do something". Many in the Church feel this same pressure to get things done for God, to be busy, and to be all things to all people – sometimes at the expense of our own spiritual well-being. After all, the need is great and it often seems the workers are few.
There are many people in need and we, in The Salvation Army, pride ourselves on being here for those who are homeless, hungry, in prison, experiencing addiction, etc. We are often engaged in ministry in areas that would otherwise be neglected or overlooked. This is what we are called to do. And this can be exhausting. There is always something more to be done, someone else to help, extra paperwork to be filled out. Our time with God in private and communal worship sometimes becomes just something else that needs to be done, or even worked at.
As Pete Scazzero says in his book, Emotionally Healthy Spirituality, we get to the point where we realise "Something is desperately wrong" (p.7). Somehow we have been sucked into living by the values of this world instead of Kingdom values. People ask us how we are going and we often say, "I am so busy." It almost becomes a badge we wear so that people will know we are doing our part – but it doesn't answer the question of how we are going. Perhaps we don't dare to truly consider that question, let alone come up with the answer.
We know (and others recognise) that we are not going well when we are so tired that we lose patience with the very people we are trying to help, when we become so task-oriented that we fail to notice Christ in the person standing before us, and when we overreact to small slights or differences of opinion. We are definitely not going well when opening the Bible or going to Church feels more like a chore than a joy. Something is wrong when we realise we spend more time asking God to bless what we are doing than listening to what he actually wants us to do.
God has not called us to an either-Martha-or-Mary lifestyle. This is what we sometimes think: some of us are Marthas, and some of us are Marys. He has called us to follow him. He spent time in ministry with all sorts of people and he spent time withdrawing from the crowds, from the ministering, to spend time with his Father. And he spent lengthy periods of time with his Father, (Luke 5:16; Mark 1:35) and, in fact, began his public ministry with a lengthy period of "retreat" – 40 days in the desert.
Taking time out
This is what retreating is all about. Jesus regularly stepped aside from ministry to simply "be" with his Father. If anyone was under pressure to "do" more, to "perform", to "meet expectations", it was Jesus. He didn't heal every sick person in Palestine at that time, or raise every dead person back to life. He didn't solve every problem and fix everything. There was certainly a lot more he could have done – but he didn't. He knew who he was and what his purpose was. I believe that spending lengthy periods of time with his Father helped him to be so sure of this.
Sometimes I am asked, "If I go on a spiritual retreat, what will I get out of it?" In some ways, this is a valid question – retreats cost money and time, and for many people these things are in short supply. If money is to be spent, and time found to go on retreat when there are already too many things to fit into the time we have, then our feeling may be, "It needs to be worthwhile".
Perhaps it is a little like having a "date night" with your spouse. It may be enjoyable but at the end of the evening, other than simply having a good time, you may wonder if you have "got anything out of it". But these regular times of connection and intimacy certainly strengthen a marriage relationship and deepen the joy each partner experiences in the other.
It isn't about getting anywhere, achieving anything, doing anything. It is about simply being with my Father. One way to strengthen the depth and intimacy of that relationship.
The whole of Scripture is a love story. It is the story of a gracious, compassionate Creator God wooing the ones he created into authentic, deep and lasting relationship with him. While relationship certainly involves a degree of "doing" (ie. loving actions, kindness, practical help, support, etc) at the heart of relationship is simply the desire to be with each other. This is the heart of Jesus' words when he says, "I am the Vine, you are the branches ... abide in me" (John 15:4-5).
Intimate connection
We are so easily lured into the trap of thinking that who we are depends on what we do, how well we do it and how well we meet the expectations of others. We still so easily seek our self-worth in achievement, approval or acquisition. Spending time away from our everyday lives gives us the opportunity to realise that we are valued and significant simply because we are loved and cherished by the Father whether or not we achieve, meet the approval of others or attain anything significant.
When I cease from activity (for a short time), I am free to simply enjoy being with my Father and listening to him without distractions and interruptions getting in the way – and without having to do my best or be better. Retreating is a gift that God gives us in order to clear our heads, refresh our spirits and rest our bodies. When we are away from the clutter of our lives we are free to hear his voice more clearly and simply rest in him.
We are called to follow Jesus and to live in union with him. This means doing whatever we can do maintain and deepen the intimate connection with him. For some it might mean a half-day a week set aside for prayer and reflection, for others it might mean a day each month, or a weekend or week each year. Some, like Jesus, will prefer to get up long before dawn and spend hours each day in communion with the Lord.
It doesn't really matter how we do this as long as we are finding ways to live out the truth that he is the Vine, we are the branches and we are to abide in him, instead of being so consumed with our busyness and our activities that we barely pay attention to the One we are serving.
Psalm 23 reminds us that he longs to lead us by still waters and green pastures and to restore our souls. It is an invitation and a gift.
Spiritual retreats being offered in NSW 
Major Wendy Watts, NSW Divisional Spiritual Life Development Officer, will be leading a spiritual retreat from August 22-24 at the Mercy Spirituality Centre, in Toronto, near Newcastle. It is open to all officers, soldiers, employees and friends (male and female) of The Salvation Army. For more information contact wendy.watts@aue.salvationarmy.org
Major Lynn Whittaker will facilitate retreats at the Mt Schoenstatt Shrine & Retreat Centre, Mulgoa from August 22-26 and August 26-28. For more information contact lynn.whittaker@aue.salvationarmy.org