Breaking with tradition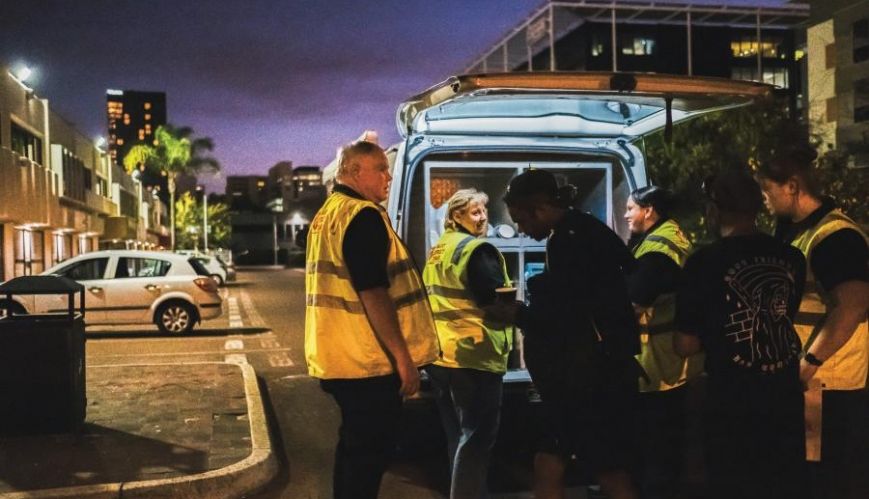 Breaking with tradition
15 February 2019
Peter Barker has found a balance in life as a soldier of the Perth Fortress Corps, being a member of the corps street outreach team and as a member of the band. Photos: Joel Gibson
By Bill Simpson
In his own words, Peter Barker was as traditional as they come.
He proudly wore the uniform of the Perth Fortress Corps band, thinking it provided prestige – making him seem more important, maybe, than others who didn't wear the uniform.
The Salvation Army was his life. He loved the Army traditions. His great-grandfather, grandfather and father were Perth Fortress pioneers before him, linking the Barker family with the corps almost from its inception in 1891.
Peter has attended Perth Fortress since he was born, almost 60 years ago. His son Matthew, daughter Lauren, and grandson Eli, aged two, are carrying on the 125 years-plus Barker connection. Peter's been a member of all of the junior sections.
He's been a songster and band member since he was "old enough to join". He's been band sergeant and secretary. He's also been corps sergeant major, youth group leader and "done anything else that needed doing".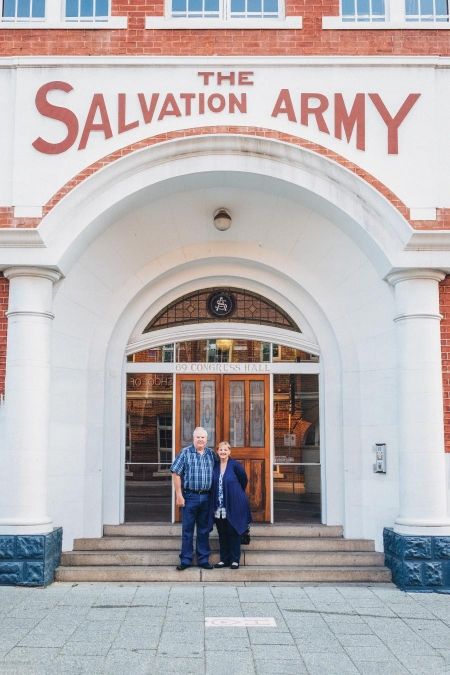 Peter and Derryle Barker outside the Perth Fortress Corps building. Photo: Joel Gibson
"I remember the days when we spent all day Sunday at the Army – from the time the sun came up until well into the night," he says. "It was exhausting, but that's what we did in those days – knee drill [prayer], band street ministry in the morning and night, two meetings, Sunday school, corps cadets; the lot.
"And, as part of our tradition, the band wore festival jackets. We thought we were something! I was as traditional as you could get. We all were." But then, something changed. About 20 years ago, his wife Derryle became ill – very ill.
Peter chose to step out of the band and scaled back his involvement at the corps. "I pulled right back. I had a sick wife and two young children," he says. "I could no longer be at the Army all of the time. It was then that I realised that I didn't need to be at the Army all of the time. I took a stocktake, I suppose, of how we at the Army did things. What I saw was that our lives were not balanced; all we ever did was Army stuff. Personally, I was all about banding.
"We wouldn't allow people to play in the corps band if they also played in a community band. Why did we do that? That had to change. It eventually did – and for the better." Peter's reflection of himself and his corps was a catalyst for the changing face of Perth Fortress.
"I play in a community band now and it's a great opportunity to minister to other members of the community," he says. He became a volunteer firefighter, again to connect with the community and make a community contribution.
"As I looked at my community involvement, I realised that the community is who we in The Salvation Army were called to serve and I think in many ways we were spending a lot of time serving ourselves," he says. "I respect that many of us probably thought we were doing the right thing. But it wasn't always about the community."
Five years ago, Peter's daughter Lauren volunteered to assist a relatively new evening street outreach service in inner-city Perth aimed at connecting with the homeless community. Peter was encouraged by her experience to get involved.
"At first, I thought it wasn't for me; that they didn't want old people like me doing that," he says. "I filled in for my daughter one night and then I realised, hey, this is exactly what I have been reflecting on – we need to be in the community. And I have been involved ever since. For me, the last few years have been about getting out of our building and into the community where we are meant to be."
Peter, his wife, daughter, son and daughter-in-law Rachel continue to be part of the street outreach service volunteer team that feeds Perth's homeless from a Salvation Army van three nights a week. "I spend time sitting in the gutter with homeless people trying to lift them up," he says.
Peter is known in the homeless community as "the old grey-haired man". Others joined Peter and his team on Perth streets on a Friday night. It was cold, wet and windy. Peter knew where the homeless would be and drove the van to them.
A young man crossed the street to the van. He talked to Peter about food. The young man was just out of jail. He asked Peter if he could use a phone to call his father. Peter handed over his mobile. The man talked to his father, asking that money be put into his bank account to get him re-established. His father refused. The young man called his mother and an agreement was reached. "It's not just about food and a coffee," Peter says. "The young man needed more than that. We played a part. I am happy that we could help and did."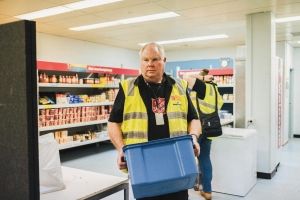 As we drove on, Peter said there was a lady he would like me to meet. "Her name is Jill," he said. "She sets up her bed in the same place in front of an office block every night. She never asks for much, but I like to call in to see her to make sure she is okay." She was okay the night we called to see her. "Hello, Peter," she said. "Just something small tonight, thanks." They chatted for a few minutes and Peter moved on. "There isn't anything else we can do for Jill. That's how she wants to live. We let her know we're here for her."
Back at the corps office, Corps Officer Major Paul Hateley explains that people like Peter are changing the face of Perth Fortress Corps. "We can't be dismissive of our past mission efforts," he says.
"Nor should we. The old corps saw what it was doing back then as mission. I respect that. "But what it was doing, for example, in terms of playing music on the streets was legislated against by the civic authorities. We no longer had an automatic right to play on the streets. We had to pay $80 for a permit every time, so we stopped doing it. But that mission wasn't replaced. We became self-serving instead of community-serving. That went on for some time – too long."
It had to change. "So, a deliberate program was implemented to move us from self-serving to serving the community," continues Major Hateley. "It has been a painful process for many. It wasn't the Army they were used to. Nobody likes being told that what they are doing is no longer effective. They believed that they were still being faithful.
"New programs and initiatives began to be birthed. Messy Church and Mainly Music began. We have teams serving breakfast to the homeless in parks around the city. We now have closer ties with The Salvation Army's homeless hostel (The Beacon). And we continue to serve the homeless three nights a week on the street.
"It didn't mean that we had to replace band and songsters – not at all. They still play a very important part. But we did need to engage more with the community. That's what's happened. "Serving our community is part of the DNA of The Salvation Army and that's what we strive to do in a more active and effective way."