Building a strong voice for young people in the territory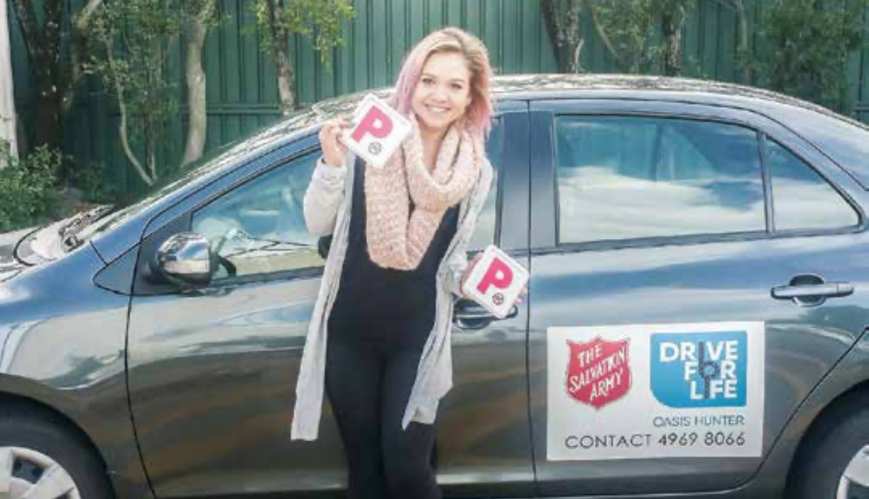 Building a strong voice for young people in the territory
18 February 2020
The Drive for Life program for young adults aged 16 to 25 is one of the many successful programs The Salvation Army Youth Services offers.
By Nicky Gangemi
What comes to mind for you when you think of The Salvation Army Youth Services Youth homelessness? Helping youth in crisis? Casework? These things are true, but Youth Services is so much more.
Youth Services offers a whole range of programs that respond to the needs of young people. They can come in the form of tailored programs including driver training, homelessness services, life and living skills, mental health and drug and alcohol support programs, specialist schools and educational and training options. Youth Services also includes programs that help young people engage with their community and build independence, including social and recreational activities.
Natalee O'Brien, General Manager for Youth Services, says: "The Salvation Army offers a diverse range of options for young people that is not easily summarised. Our aim is to provide support across a continuum of care that works from early intervention all the way through to crisis assistance."
Natalee's role in the new national structure is overseeing the department across the country and working with state managers and services as well as general managers of other mission expressions. She is also extremely passionate about advocating for the youth voice to be heard across The Salvation Army.
"With the creation of the Youth Services stream, we have a real opportunity to build a strong youth voice. Young people are very intelligent, independent and resilient and have so much to offer our future direction. We need to capture their voice well and ensure they are heard."
The Youth Services stream is building a new national model of care. This model aims to ensure standardisation of practice and a clear framework that is built upon the mission, vision and values of The Salvation Army.
"We want the same levels of quality practice everywhere, so whether you walk into a service in Perth or somewhere in Queensland, you will get The Salvation Army model of care, but the service is still relatable to the specific local community it is in.
"We are working on building our own key performance indicators for our services. We have expectations that we have to meet for the government and the community, but we want to create our own internal indicators that go beyond those expectations. We want to set our expectations higher. We are asking ourselves, what is the best that we can offer young people, and how do we get there?"
A strong focus for the stream as it shapes its model of care and builds programs is client participation. Natalee wants to ensure that youth involvement is integrated into the process; from the initial co-design through to tendering for and writing programs. This high level of youth participation is something Natalee sees as integral to the continued effectiveness and growth of Youth Services. It has already been successful in some areas, such as The Youth Group Advocates Program (Vic.).
Stakeholders in this program have been involved in focus groups and interview panels for new staff, as well as the design of the physical spaces where programs are delivered. This involvement allows for a strong youth perspective to be heard. "It is fabulous where this participation and inclusion is occurring," says Natalee, "and we want it to continue happening."
To allow the youth voice to be heard across the whole organisation, the Youth Services stream is working hard to get connected to many other Salvation Army expressions. There have been some great wins in this area.
The Youth Outreach Service Lawnton School (Qld) is in partnership with the local corps. The students and corps members share the premises and resources but, more importantly, they share life with each other. Elderly corps members regularly engage with students, which has led to strong, positive relationships. Some corps members are mentors in the Drive for Life program and have helped students to get their licence. Students with small children actively participate in the corps' Mainly Music program, and some assist with the program.
Ingle Farm Youth Services (SA) is co-located on-site with the local corps. This has meant that the Youth Ministry team and Youth Outreach Team have developed a strong partnership that allows them to engage in a holistic manner with the young people within the local community.
Area Leadership Teams are helpfully facilitating collaboration, which allows for stronger understanding between mission expressions and the opportunity for the growth of new localised partnerships.
Natalee says research shows that "education, employment and training is the key to breaking the cycle of disadvantage for young people. These programs provide a great opportunity for young people to identify pathways for their future and to re-engage with their communities". Being available for youth and providing them with the highest levels of care and support is what Youth Services is really all about.
Nicky Gangemi is a resource writer with the Territorial Mission Support Team.