Cadet profile: Anna Kim and Daniel Jang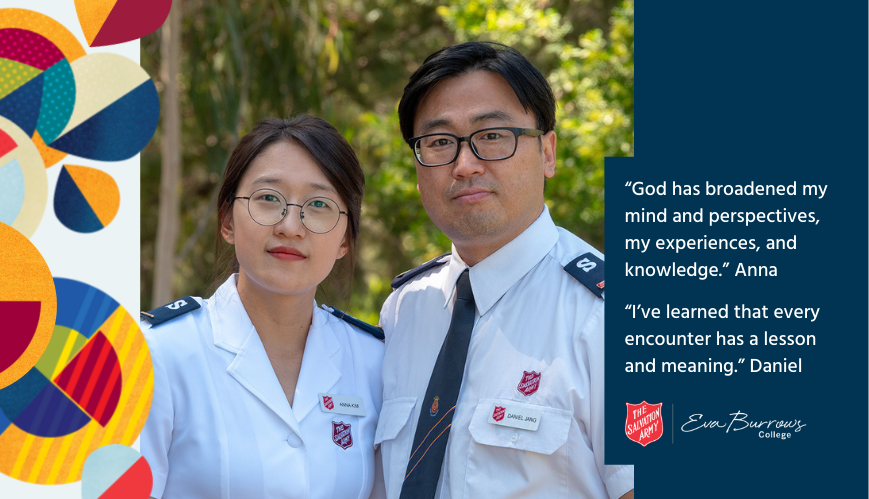 Cadet profile: Anna Kim and Daniel Jang
27 November 2021
Meet Anna Kim and Daniel Jang, Messengers of Grace
How did you know you were being called to officership?
Anna: I think there were not any particular moments that I had received a calling from God. God gave the signs continuously to my husband, and slowly, I changed my mind about my decision in becoming an officer. 
Daniel: I majored in theology and social welfare and worked in both fields. I always had a zeal for the gospel dissemination and comfort, mercy ministry. My friend was working at The Salvation Army Social Welfare Centre and told me about The Salvation Army, and I became sure that my dreamed ministry was in The Salvation Army. 
What has been challenging about your training?
Anna: There were many challenging times during my training, such as the differences of Australian culture and Korean culture, the way of education, new environment, and the pandemic. But the biggest challenge was the language barrier.
Daniel: I was born in South Korea and most of my career was there. So, I had to study in English and to struggle to find a way to develop ministry in English. I think this experience made me go to the next level.
Has it been different to your expectations?
Anna: I did not have many expectations when I first joined Cadetship. Everything was quite new for me; I just tried to adjust and have been embracing the journey. But I had never expected that a pandemic would happen during my training time.
Daniel: I expected to have my spiritual, technical, and broader perspective grow before going to college, and I think some part was done, some parts are still growing.
What has been the most rewarding part of your training?
Anna: One of the most rewarding aspect of my training has been knowing God deeper and learning more about him.
Daniel: Since I immigrated to Australia, I have been serving the Korean community almost all of my time. Through officership training I have learned the skills to do ministry for the whole of Australia, not just the Korean community.
How has God stretched you during the past two years?
Anna: Before I entered into cadetship, I didn't know much about the world or others. However, during these past two years, God has broadened my view in seeing others and the world through his lenses. God has also broadened my mind and perspectives, my experiences, and my knowledge. 
Daniel: I have experienced good encounters over the past years. Through that experience, I have met people from various cultural backgrounds. That experience allowed me to go beyond the limits of being a Korean. I have a perspective to work for the kingdom of God, for the salvation of all people.
What is one important lesson you have learnt?
Anna: The most significant lesson that I have learnt throughout my training was that God loves me just as I am. God blesses me because of who I am, not because I am good or do hard work for church. 
Daniel: God's plan is to always promise good fruit. God wants me to grow continuously. I learned that every encounter has a lesson and meaning.
Where have you been appointed during your cadetship?
Anna: I was placed at Whittlesea Corps (Vic.), Hobsons Bay Corps (Vic.), Dandenong Corps (Vic.) and Bankstown Corps (NSW).
Daniel: I was placed in Hobsons Bay and Dandenong corps, and social programs at Brunswick Refugee and Asylum Seekers Centre, Melbourne 614 Project Team (all in Victoria)