Celebrating the special role of grandparents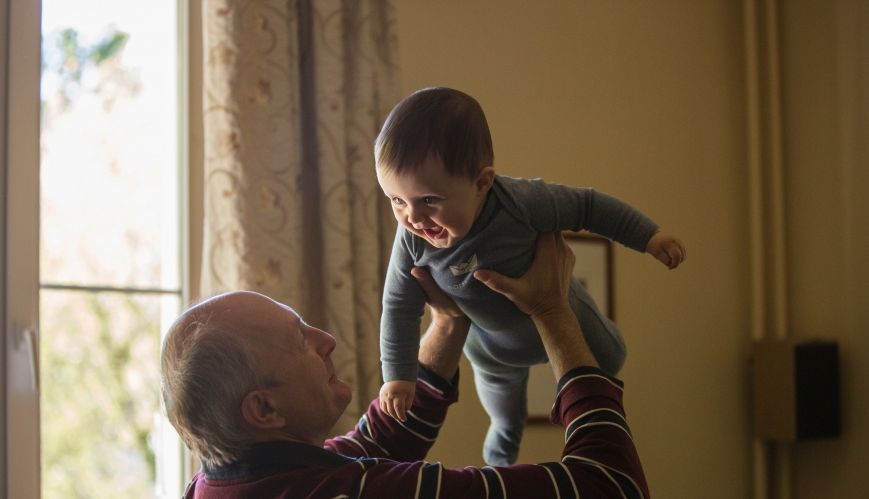 Celebrating the special role of grandparents
31 October 2021
National Grandparents Day highlights the special relationship between the generations. Photo by Johnny Cohen on Unsplash
Compiled by Simone Worthing
---
National Grandparents Day will be celebrated this year on 31 October. The day is dedicated to honouring grandparents and the special role they can play in families and communities. It also helps children become more aware of the strength, information, and guidance that older people can offer, and some of the unique challenges they may face. Below, we hear from a few grandparents about what they love about being a grandparent and some of the unique ways they fulfil their role.
---
FULL CIRCLE
Carolyn and Bruce love being an active part of their grandchildren's lives.
Carolyn
I like to think that being a grandparent brings your own parenting full circle. To see the children you've raised now raising their own children, in a sense, completes the cycle. And if I'm totally honest, it does provide a little sweet revenge when I see my son having the same comical conversations, quizzical complications, and occasional cross words with his daughter that I had with him two decades ago.
It's great to be the 'fun' adult in the room, to spoil your grandchildren, to buy the loud toys and to say yes to one more piece of chocolate, knowing full well you won't suffer the ramifications of such an indulgence.
But being a grandparent is not just filling your grandkids with sugar and handing them back to their unsuspecting parents. Being a grandparent is an extension of unconditional love. You love your grandkids and would do anything for them because you love your own children and would do anything for them.
As grandparents, you get to experience it all – the good, the bad, and sometimes the ugly. But what a privilege. Where mistakes may have been made in raising your own children, as a grandparent, you get to make amends by having a positive impact on helping to raise the next generation. It's like a second chance to do it all over again – only better. You go, Grandma!
---
FAMILY AND ELDERS
Shirli and Chris and 'most' of their grandchildren.
Shirli
When Aboriginal people refer to their family, they mean their extended family. This might include parents, children, aunties, uncles, cousins, and grandparents, and it goes beyond genetics.
We are intertwined with our grandchildren because traditional ways and cultural expectations value and support our involvement. When our families regularly gather, there are multiple generations. This is normal to us. Having a house full of family and grandchildren is seen as an honour and privilege. As grandparents, like our parents and grandparents before us, we are here to serve not only our family, but also our community as Elders, holders of wisdom, cultural knowledge keepers and as teachers.
As grandparents, and in our stage in life, while our extended family have work or other commitments, we are seen as being a source of stability and support to provide a sense of belonging, safety, and security to our 'grandchildren'. Respect for grandparents is instilled in children from a young age, which results in us forming very strong bonds. Our most heart-warming moments are when our families gather, and there is this natural synergy of love, belonging and overall well-being of all who gather.
---
FROM A DISTANCE
Wendy and Rodney and their grandchildren.
Wendy
We love being grandparents. The challenge is doing this from a distance. Facetime has become our best friend.
We speak with our family often – each of the grandkids interacts with us 'when they want to'. Right from an early age, they knew our voices and faces and would interact with us via the screen. We have joined them on the trampoline, for a tea party, blown on hot scrambled eggs, have 'sat' on the table while they do crafts, played games, gone down the slippery dip with them – all via Facetime!
Just recently, I taught myself to crotchet and, one by one, the grandkids put in their order for a blanket. As I made each loop, I thought of the grandchild this was being made for and prayed for them. When I handed it to them, I told them that they had been prayed for as I worked on the blanket and, as they snuggled under the rug, to remember that 'Mimi' had prayed for them.
When we are home in Australia for holidays, we really try to make the most of our time with the kids, including celebrating 'everyone's' birthday. We look forward to retirement when we can be physically in the same country as our precious kids and grandkids.
---
SEIZE THE DAY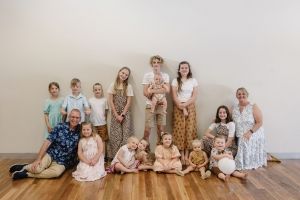 Sandra and David enjoying fun times with their many grandchildren.
Sandra
Several years ago, while holding my new grandson and obviously enjoying every moment, my daughter, who was looking on, asked, "Do you love your grandchildren more than you love us?" Of course, my answer was a no, but I wondered what was different about a grandparent's love?
I went on to explain that when my kids were little, I was concerned about all that had to be done and about what was next. With my grandchildren, I have realised that time goes so quickly, and before you know it, they are all grown up. I have learnt to seize the day, to enjoy each moment and to love these 15 deeply. Other things can wait!
---
JOY AND FUN

Helen
I am honoured to be the grandmother of seven beautiful grandchildren. The joy grandchildren bring to your life is amazing. They have filled my life with such happiness, and the respect they show me is beautiful to see and experience. I have tried to be a godly influence. I see that influence returned to me by my grandchildren, and I thank God for his place in their lives.
Bill
My wife's more practical role with our grandchildren has given me the freedom to be more of a fun grandfather. Our seven grandchildren are now all teenagers, but during their younger years, I was able to spend time telling them stories I made up on the spot, with them as the main characters. They howled with laughter and excitement.
Now that they are teenagers, I listen intently to their stories about how life should be and, sometimes, suggest solutions. I'm not sure they agree with me anymore. I'm still working on that.
---
GIVING AND FORGIVING
Barry and Raemor love spending time with their grandchildren.
Raemor
I love playing and doing things together. I love spoiling them a little – okay, a lot – but not in a way that will not be good for them. I love seeing them grow and develop, and enjoying them without all the hard bits! I hope to show by my life that being a Christian is not about don'ts and 'thou shalt nots' but about love and joy, giving and forgiving.
TEACHING THE 'WHY'

Barry
I love that my grandchildren keep me grounded in the present and bring me an insight to the future. They keep me balanced between the past and future – and they teach me what is wrong with my computer! I hope to help them have an understanding of the 'why' behind the important things that we need to 'do', so that they might make informed and better decisions.
---
FROM THE GRANDCHILDREN

They do lots of things for us, like taking us for fun outings. They're always fun. They're always willing to have us. – Archie, 7
They're always, like, so thoughtful. They're much more patient than Mum and Dad. – Joel, 10
My grandfather tells me stories about his life. I love that. – Rebecca, 11
They spoil us. They care for us. And they appreciate us. – Ben, 12
I value their sense of humour, their care and concern, their intelligence and their curiosity. – Zoe, 19
My grandparents mean a lot to me because they care for me, help me when I am hurt, look after me and pray for me. They are special because they are the kindest and the most caring grandparents, and they do fun activities with me. – Mark, 10
My grandparents are both the best people in the world. My grandpa is super funny and always finds ways to make our visits fun. My grandma makes the best food and we do fun creative projects together. Even though she lives far away, my other grandma spoils us and cares for us no less than the others. My life is richer because I have my grandparents in it. – Nika, 14