Changing lives the heartbeat of Collaroy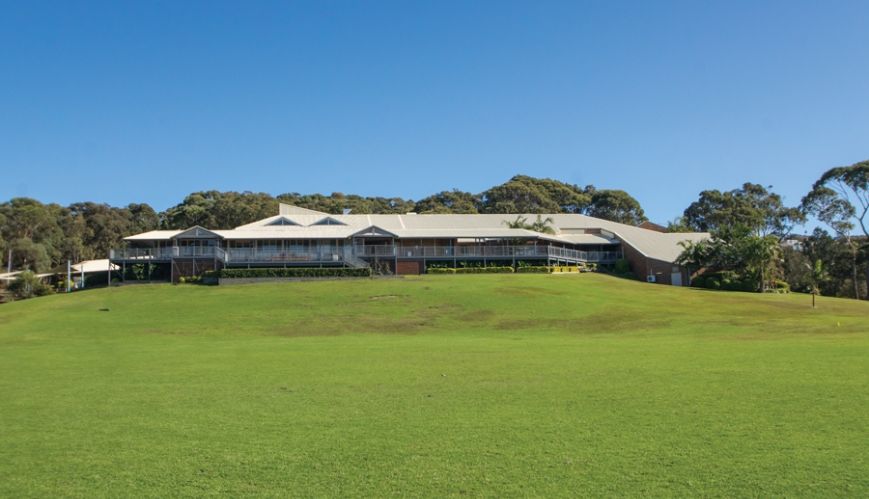 Changing lives the heartbeat of Collaroy
7 October 2016
It wasn't until Richard Javor accepted Jesus into his life that he began to see God's bigger picture for him as the manager of The Collaroy Centre. Richard's business objective was clear when he became manager – provide a high-quality accommodation and catering service for The Salvation Army, taking advantage of the spectacular views of Sydney's northern beaches.
While putting this objective into place, God gave Richard another view.
"After talking to people and getting to understand what The Salvation Army was about, I realised what I'd been searching for my whole life was here, but I couldn't put my finger on it. Before I knew it, I found that my values and my beliefs lined up with Christianity," he says.
On becoming a Christian, Richard suddenly realised he could make his job a platform for reaching people for Jesus. "Over the first year-and-a-half I realised this was more than a job. This was about providing people with an experience, an exposure for people to see Christianity. Starting a relationship with Jesus is one of the most important things you will ever do with your life."

Developing missional opportunities was now a priority for Richard, and this is where the role of the centre's Mission Executive, Sherrie Cocking, is vital. Sherrie runs many of the centre's missional programs for people of all ages.
One of these missional programs is the popular Single Mums Camp, where mothers of pre-school-aged children are invited to attend a five-day camp for free. A similar free camp for grandparents, who have custody of their grandchildren, is also held annually. This camp is designed to give these grandparents a break and gives up to 30 families a holiday.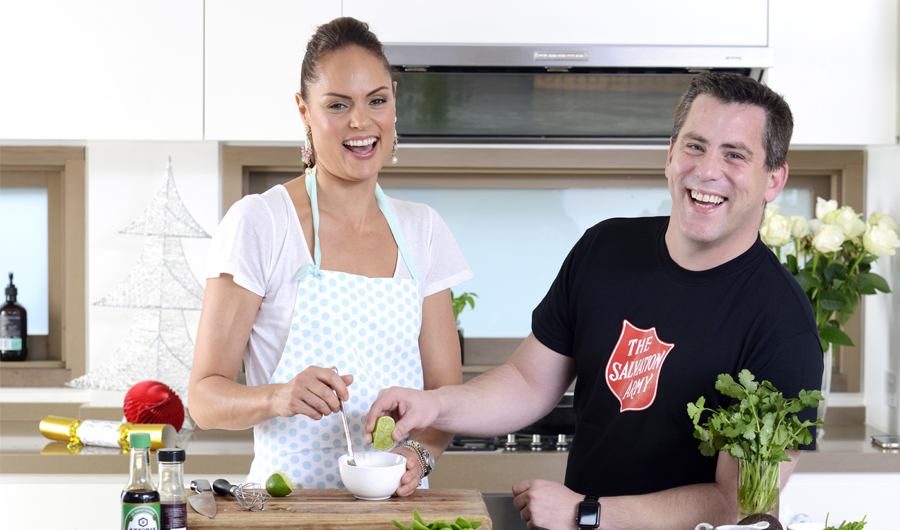 Collaroy Centre manager Richard Javor with celebrity nutritionist Zoe Binglye-Pullin, a big supporter of The Salvation Army's work. Photo: Adam Hollingworth
The centre also sponsors a number of church camps for corps that aren't in a financial position to host their own retreat. Raymond Terrace Corps leader Tracey Iles recently brought a group of 40 people to the centre for a weekend retreat. "The Collaroy staff has a very big part in God's puzzle, changing people's lives," she says. "We had people saved that weekend. We had people searching now that weren't before. Without that opportunity they wouldn't be in that position right now. I just want to say a very big thank you to The Collaroy Centre."
The centre is also very involved in the local community. It hosts a free Christmas carols event, its staff collect for the Red Shield Appeal and the centre offers emergency accommodation during times of crisis, like when the damaging storms hit Sydney's northern beaches area hard in June.
"The centre is more than just a place of business," Richard says. "We're a business to support the greater Salvation Army. This isn't about us filling our bank account; it's about delivering the mission priorities of the greater territory."
Richard is not alone when it comes to finding hope through Jesus at The Collaroy Centre. There are countless stories of lives being impacted through the love of Christ.
The Collaroy Centre has between 110-160 staff, depending on the season, who are dedicated to the mission of The Salvation Army. The centre can sleep 440 people on site at one time and has up to 20 activities on offer, including 3D cinema, laser tag, rock climbing, drop pole and much more. For more information or to book a stay at The Collaroy Centre, go to collaroycentre.org.au or phone (02) 9982 9800.
Mums camp turned Joanne's night into day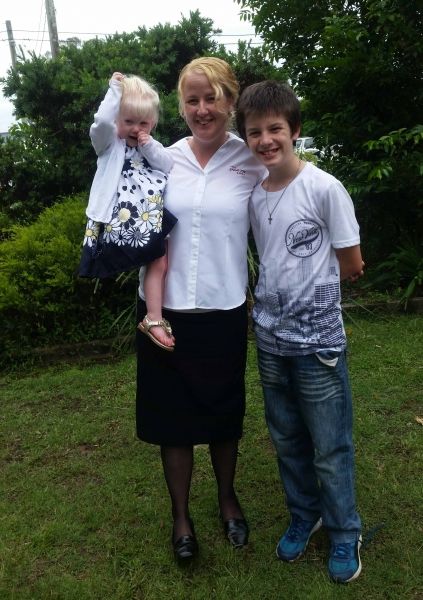 Joanne Cockle with her two children, Ethan (13) and Grace (3).
Joanne Cockle says she was in a very dark place when she arrived at the Single Mums Camp at The Collaroy Centre 10 years ago. Recently separated from her partner, she and her two-year-old son had moved in with her father, but life was a struggle and she was depressed.
Needing welfare assistance, Joanne had gone to a Salvation Army centre. She remembered the time her family received help from the Army when she was a child. "When I was 11 and my parents were separated, The Salvation Army gave my mum some Christmas presents so that was why I knew to go to The Salvation Army for food when I was struggling," she says.
Someone at The Salvation Army recommended the Single Mums Camp to Joanne. Broken and hurting, Joanne decided she had nothing to lose, so decided to attend even though she didn't know what to expect. What she found was something she had never fully experienced. "Looking back, that was the first time I really felt loved," she says. "The women there, they really just loved on us. And we did learn a bit about God's love without realising it."
She also said it was a great opportunity for her to have a rest while her son was being looked after. "It was a beautiful location that I wouldn't have been able to afford on my own."
After the camp, life took a few more wrong turns, but Joanne knew a seed had been planted. She moved to the NSW Central Coast and was invited by a friend to attend Long Jetty Corps. "When I got there I felt like, 'Oh, I'm home'. I just felt like that was where I was meant to be," she says of that experience four years ago. Joanne says she began to experience God's deep love every day and her faith grew to a point where last year she was enrolled as a soldier.
Joanne and her two children – Ethan (13) and Grace (3) – are very involved at Long Jetty Corps, with Joanne running a discipleship course. She also recently finished her Diploma of Community Service and completed her work placement at The Salvation Army's Dooralong Transformation Centre. "I just want to pass on what I know about God to others. I hope they too can feel loved on like the way I was," she says.
Joanne says she owes her faith journey to the experiences she had at The Collaroy Centre. "The seeds that were planted at the camp were watered at Long Jetty. I really do feel like God's led me to where I am today and part of that journey was definitely the Single Mums Camp."
The week that changed Aleasha's life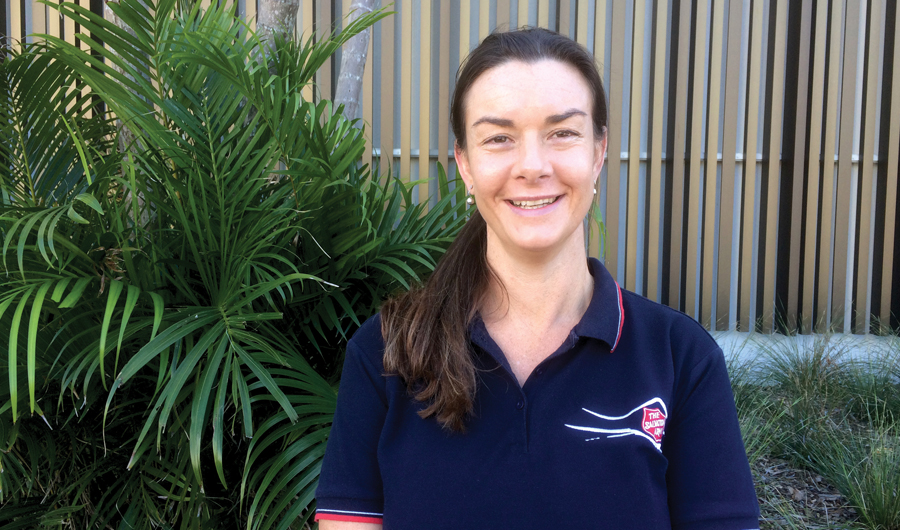 Aleasha Yaxley gave her heart to Jesus at the Single Mums Camp, a week that she says changed her life.
When Aleasha Yaxley was invited to attend the Single Mums Camp at The Collaroy Centre, all she could think about was the free holiday on offer. Little did she know that it would be a week that would change her life.
Aleasha had come into contact with The Salvation Army at Tweed Heads. She had been addicted to drugs, particularly "ice", for eight years. Her life became, in her own words, "dysfunctional". A series of unhealthy relationships, one of which resulted in her giving birth to a daughter, had led her down a dark path.
By the age of 32, Aleasha was getting help from the kind people at Tweed Heads Salvation Army, but life was still a battle. "I was living in two worlds. That world of church and also in addiction," she recalls.
It was during this time that Aleasha knew something needed to give, and so she jumped at the chance to attend the Single Mums Camp with her four-year-old daughter, Taleah. At Collaroy, she heard the gospel message and gave her life to Christ. "I didn't intend to do any of that, I just wanted to go to camp. Get away. But now, years later, I realise that was the greatest thing I got from camp."
Aleasha went back to Tweed Heads a changed woman. She started attending a program called Celebrating Recovery at Tweed Heads Corps and slowly overcame her addiction. Clean now for over two years, Aleasha is giving back. In 2014, she began working for the Army's welfare assistance program, Doorways.
"Now that I'm in this job I see them, especially females, coming in here and they've got a lot going on and I just want them to know there's more for them in life," she says. "I want them to know God's helped me and that he can help them, too. So now my motivation is to connect with people and help them through their journeys. And to let them know they are loved. And to also tell them about God."