Children's and youth ministry expands to whole families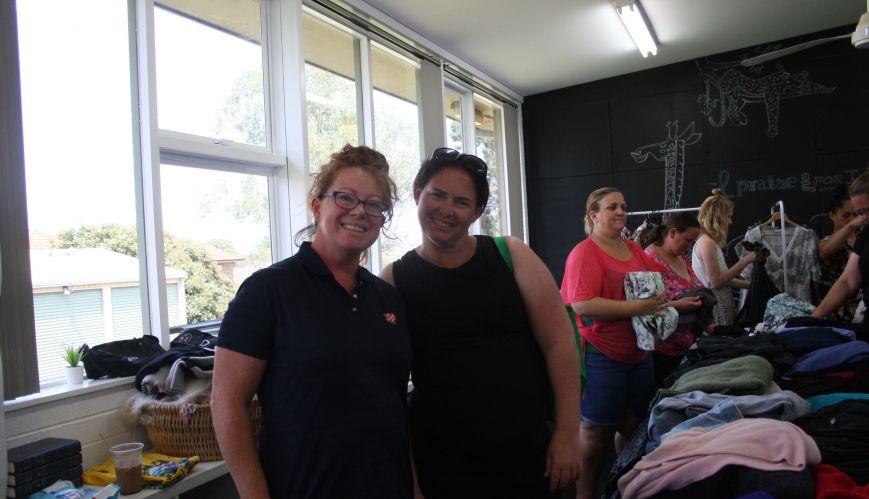 Children's and youth ministry expands to whole families
19 March 2021
Auxiliary-Lieutenant Lorelle Vince helping mums find the perfect outfit at the free op-shop, which was part of the Greater West Salvos' Mums Morning Tea.
By Lauren Martin
While 2020 was a year of shutdowns for so many things, it was a year of expansion in The Salvation Army Greater West youth and children's ministry. As 2021 dawns, the team, headed by energetic soldier Carissa Ainsworth, is excited to delve deeper in relationship with local families.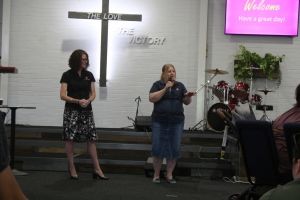 During the Mums Morning Tea, Carissa Ainsworth and Major Marilyn Smith shared with the mums about how much they love their kids that come to the Belong Youth Ministry each week.
Youth, Children and Families Ministries Coordinator for Greater West Salvos in Sydney's west, Carissa Ainsworth did not get one jigsaw puzzle done during the 2020 COVID-19 lockdowns. Nor did she learn a new skill or craft. The mother of two girls spent most of her lockdown out and about, her essential work seeing her delivering care packs to the children and young people connected with the various Greater West ministries she oversees, and, in doing so, meeting their parents.
"I've spent so much time visiting all these families and getting to know them," she said, describing hours and hours of socially-distanced chats in front yards and on verandas. As restrictions eased towards the second half of the year, Carissa felt God telling her to go deeper. "I felt a calling to take the next step and bring them together and bring them into the church space somehow."
Morning tea with a difference
So, she organised the 'Mums Morning Tea' event. Not your standard get-together with a few women, some tea and coffee and maybe a finger-bun from the local bakery; no, this was an event that brought together women in a way that blessed all involved.
"We had about 40 mums from the community come," she said. "It was about bringing these women together and helping them to feel valued and worthy and know that God loves them, and we love them."
As well as enjoying a decadent morning tea, guests heard a short devotion from one of the church ministers. There was a coffee van out the front as women arrived on the youth and kids bus, and an 'op-shop' of good quality donated clothing that the women could browse through. Moneycare did a short presentation, and Auxiliary-Lieutenant Debbie Bartlett from nearby Blue Mountains Salvos did a talk on dental health, with expertise drawn from her previous role as a dental nurse. All participants received new toothbrushes and toothpaste.
"Also," says Carissa, "we joined with an organisation called 'Support Girls Australia' – they do professional bra fittings and then they donate bras, underwear and sanitary products to women in low socio-economic areas."
The event was a 'hit', with one participant, Cheryl Dodds, saying it was a "great little 'do'," with Carissa going "above and beyond." All the women who came received an invitation to bring their whole family to the corps Christmas Dinner that unfortunately was cancelled at the last minute due to the COVID-19 outbreak in Sydney before Christmas.
Friendships blossoming
Carissa Ainsworth with Cheryl Dodds during a Studio 10 Christmas Special on Channel 10 in 2020.
Cheryl's friendship with Carissa blossomed during 2020 when the mother of three teenagers was facing difficulty during the COVID-19 lockdown. Her husband lost shifts at work and the family struggled to put food on the table, accessing several low-cost and free-food services to make ends meet. Home-schooling was near impossible due to a lack of technology. "The kids didn't have laptops, they only had their phones," she said. "They were using their phones and their data to try and get their schoolwork done. I had my daughter doing an assignment, it took her 13 hours to do it on her phone. The stress on the kids was unbelievable."
When Carissa heard about the hardships Cheryl's family – and so many others like her – were facing, she swung into action. She used her contacts within The Salvation Army and the local community to source several laptop computers to assist young people without technology to get their schoolwork done during the lockdown.
"She saved the day!" says Cheryl. "Nearly every week Carissa was checking on the kids, and every few weeks she would give them a gift bag – she's gorgeous. It had little things for them to do and magazines in there, and deodorant and things.
"We would have good little chats, little half-hour chats – that's how I've gotten to know Carissa. She's a friendly face to talk to about my problems in confidence, and I know she will keep it to herself and say her honest opinion. She just lifts you."
Going deeper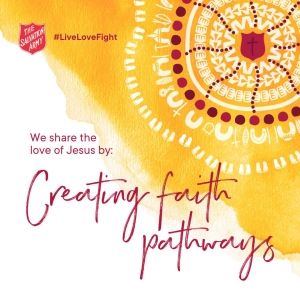 Cheryl is excited to come alongside Carissa and her team in 2021 to assist the Greater West Salvos' focus on families. "I have always said to her if you ever need help, it's not a problem." Her children, too, are stepping up into leadership roles within the Salvos. In September 2020, Cheryl's son, Cody, formed part of a Salvation Army youth leadership team that travelled to Tenterfield in north-west NSW to run a holiday camp for children in the community, in conjunction with the local corps.
"He enjoyed it so much. He's really looking forward to doing another one," said Cheryl. 
Carissa says stepping out in faith and following God's leading during the uncertainty in 2020 has been an exhilarating experience. "God is definitely saying, 'this year is about family' and to continue with what we've been able to do."
And while the large morning tea event was a huge hit at the end of 2020, she has plans to establish more smaller groups of women meeting together in their local communities. "I want to meet the women where they are at, to go deeper with these women and be more intentional, and to do that, I need to go smaller."
Carissa knows now that her ministry is more than just programs for youth and kids, it's about the whole family. "COVID has turned my ministry upside-down – what I do and how I represent God in the community in a more practical level, like doorstep, by doorstep, by doorstep."