Christmas arrives early in outback communities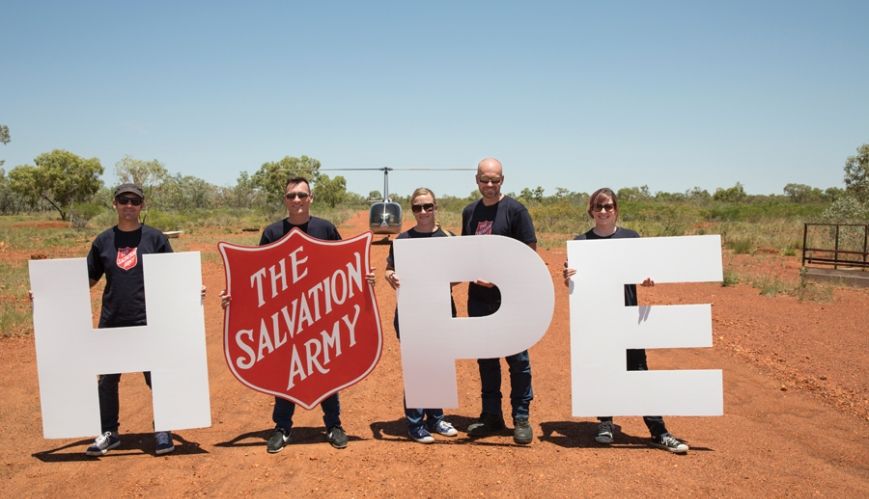 Christmas arrives early in outback communities
16 December 2016
The Salvation Army and country music artist Adam Brand have helped to spread a little early Christmas cheer to children in outback Queensland. Flying padres, Lieutenants Simon and Natalie Steele, travelled to the communities of Dajarra and Camooweal with Brand and Mt Isa Corps Officers, Lieutenants Brad and Helen Whittle, in a helicopter laden with presents for the children.
In both locations, the visitors were eagerly received by the excited children at the local schools. The children were given an opportunity to select two presents; one for themselves and another to give to a family member or friend. Brand led a time of singing, including Christmas carols, at both Dajarra and Camooweal, and the story of Jesus' birth – the true meaning of Christmas – was shared with the kids. Brand also led a quick singalong with locals at the Dajarra hotel.
Dajarra children jump aboard the back of the truck with Adam Brand to promote The Salvation Army. Photo: Ellie Woodfield.
Returning to Mt Isa, the Salvos contingent and Brand hosted a free community event at the Civic Centre. About 150 people enjoyed a a free sausage sizzle and performance from Brand, who chose to ditch the sound system and instead join locals on the grass for an intimate impromptu concert.
The visit generated local media coverage, with Brand telling The North West Star newspaper that he felt honoured to be part of the Salvos "family" for events such as these. "The Salvos called me and asked me to come spread a little pre-Christmas cheer and meet some communities and I couldn't resist," he told the newspaper. "I really believe in what they do.
"There is no way to sugarcoat it, there are a lot of Australians doing it tough and that is where The Salvation Army comes in at its strongest. They just go out there and help those who need it, so it is a great initiative. It gives those who could have had an ordinary Christmas, a reason to smile and I think we should all invest in that."