Christmas that truly cheers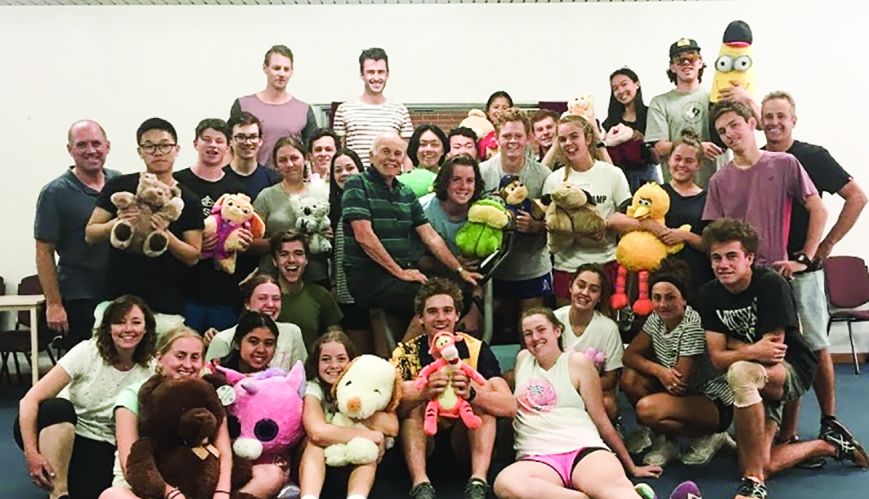 Christmas that truly cheers
29 November 2019
A group of Year 12 students from a local high school help The Salvation Army to sort donated toys at Geelong.
By Paul Knight
When I started at The Salvation Army, we had what we called the soft toy mountain. It was massive, like a pyramid in the middle of the warehouse," says Stuart Foster, General Manager of The Salvation Army Community Services.
The memory of that image drives Stuart to focus on positive outcomes, adding that "we want to see people lifted out of poverty and out of disadvantage".
The Salvation Army wants to give more than physical gifts at Christmas. It is looking to connect with people to share the fullness of life that Jesus came to bring.
"For people to ultimately achieve the goal of independence from welfare, they need to be able to depend on their community," says Stuart. "Healthy communities give people the ability to live to their potential."
Salvation Army corps around the country can be those healthy caring communities that show God's love for people. Christmas can be a lonely time with financial and family tensions for a lot of people.
Stuart says there are three lessons we can all take note of about effective holistic community engagement at Christmas:
1. Clear internal communication between fundraising, community engagement, corps and volunteers, to keep all our efforts focused on furthering our organisational mission.
2. Education through telling stories about things that truly make a difference. Thoughtful, informed giving and action allows the window of opportunity at Christmas to open into lasting transformation for families.
3. Transparency that helps people understand why the best intentions are not always the best ideas. The public responds to having goodwill directed to where it will have the most benefit. People become more involved and more connected to the substance of The Salvation Army's mission.
Around the country, there is a heartening consensus about what positive outcomes look like, and abundant creativity in reaching them.
At Gladstone in North Queensland, the streets are blocked for the Christmas in the City event. The brainchild of Lieutenants Chris and Kay Ford, it now features combined churches. Christmas Cheer is woven into that event, connecting it to the public celebration of the Christian message of Christmas.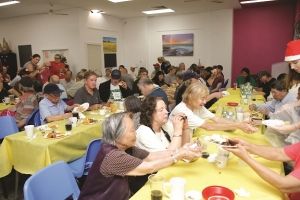 Sydney Streetlevel Christmas party
Andy King, Doorways Manager in North Queensland, explains that corps there use Doorways data to proactively contact potentially vulnerable people. He is particularly delighted that the chef for the Christmas Day community meal at Faithworks Salvos in Townsville is someone who initially came to Doorways in need.
Wollongong Corps in NSW ensures that all the Christmas Cheer contact is with corps volunteers – over 40 of them. Their community cafe is used to extend the opportunities for connection.
They encourage parents to bring teenagers, giving them choice over gift cards for their favourite outlets. Corps Officer Major Rebecca Inglis conducts registration interviews, and they are often significant conversations where personal and family issues way beyond Christmas come up.
Aubrey Anderson, Manager of Doorways Geelong, Victoria, tells about deep collaboration, with all the regional corps flourishing into multiple outcomes. "The commitment we all made is to embed the corps in the community of care," says Aubrey.
Perhaps most satisfyingly, "... it has had a profound effect on my five-year-old, her understanding of the joy and magic of Christmas, and how important the gift of hope and connection is at this time."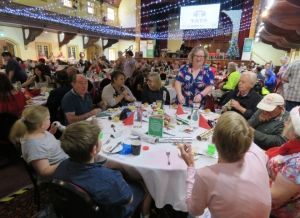 Launceston City Community Christmas event
In Burnie, Tasmania, a caring Salvationist assists the program each year, building a discreetly caring trust within the community. More than 400 families access the program. The Wishing Tree launches have become Christmas celebrations in their own right, with cake, carols, Santa and talks by Corps Officer Captain Mark Smith linking to the message of Christmas.
In South Australia, the desire to collaborate led to planning a sausage sizzle and carols night. This is a ministry of all mission expressions, and is held at the Encounters Conference Centre. It is a celebration of the Christmas message on neutral ground, reaching out to those not comfortable entering a church.
Mandy Dehnel, Casework Manager at Doorways Perth, simply loves helping people have enough for the dignity of hospitality. Christmas, celebrating God's abundant grace, shouldn't be the cause of stress about whether there is anything to offer visitors.
"That's [these stories] what drives me," Stuart concludes, "the people we have working in our services, hearing stories about how we are affecting change. There is hardship in there, and sadness. But there's also the reward of lives turned around and journeys shared. There is so much passion out there for improving our communities."
Paul Knight is Senior Writer, Mission Resources, The Salvation Army Australia Territory.