Courage in the midst of grief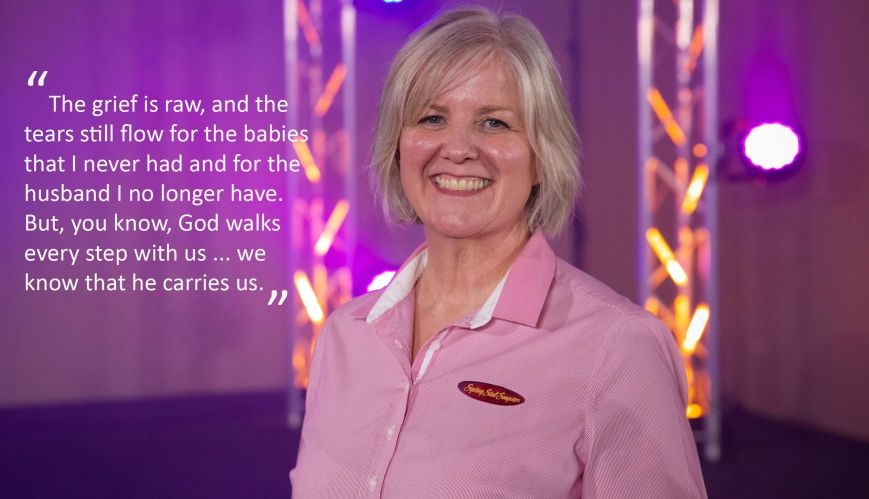 Courage in the midst of grief
22 September 2022
After the tragedy of losing five babies and her husband, Chris can still smile through the pain and grief, knowing that her loved ones are with Jesus and she will be reunited with them in eternity.
By Bill Simpson
The grief of losing five babies and then her husband only 18 months ago remains raw, but Chris Plumridge says her faith in God helps her cope.
Chris is a member of The Salvation Army, like four generations before her. She is a member of the Sydney Staff Songsters, and, after many years at Sydney Congress Hall, Parramatta and then Penrith corps, Chris now worships at Wollongong.
She was born in Hamilton, New Zealand, and moved to Palmerston North with her parents and brother when she was 12.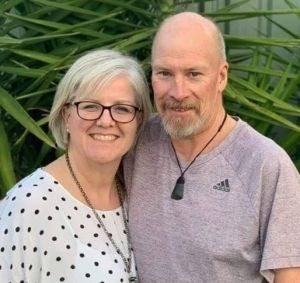 Chris and Gavin Plumridge.
In November 1989, Chris married Gavin, an identical twin and part-Maori Salvo from Wellington (NZ). They began life together at Palmerston North, dreaming of a house with a white picket fence and a family based on the New Zealand average at the time of 2.1 children.
Their first home didn't come with the white picket fence. But that was okay. They soon realised, though, that the dream of a family may not be realised, either.
They investigated adoption and IVF. There were seven IVF attempts over seven years. The first two attempts were unsuccessful. The following five resulted in miscarriage each time.
"Throughout it all," Chris says, "we knew that God was with us and that despite our heartbreak of just wanting to be parents, God had plans for our lives. We just had to keep trusting him." 
They kept busy with their lives. Chris worked at her local corps at Palmerston North. They decided to stop the IVF process and consider "a change of scenery". That took them to Sydney.
Chris came first with a job at Sydney Congress Hall Corps. Gavin followed six weeks later with a separate job opportunity in transport logistics. Chris later transferred to The Salvation Army's Eastern Territorial Youth Department, then the Music and Creative Arts Department, and finally Officer Training College, before its operations were transferred from Sydney to Melbourne. She joined the Sydney Staff Songsters.
Today, she is a Personal Assistant to the Principal at Penrith Anglican College.
Unwavering belief
In 2016, Gavin was diagnosed with Myelodysplasia Syndrome (pre-leukaemia). But, at the time of diagnosis, there was no need to panic, they were advised. It could, potentially, be many years – if ever – before his condition would develop into full-blown leukaemia.
It took only three years for that to happen. In February 2020, Gavin had a bone marrow transplant and returned home after six weeks in hospital as COVID-19 emerged in Australia.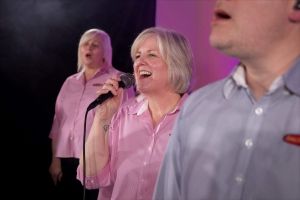 Chris loves expressing her faith through singing with the Sydney Staff Songsters.
"To say that Gavin was courageous is an understatement," Chris says. "Yes, there were tears. There was frustration; there was pain. But, being a stubborn Maori, Gavin fought hard and, once again, through it all, we knew that God would never leave us.
They had "an unwavering belief" that God was in control and had the power to heal Gavin.
Gavin went back to work, putting in full-time hours and loving life. But he started to relapse around November of 2020. Chemo injections and blood and platelet transfusions were no longer effective. By January 2021, Gavin and Chris were told life expectancy was less than three months.
Just after 1am on 16 April 2021, Gavin's life on this earth ended. In Chris' words, "Jesus took him home, instantly and powerfully healed; whole and free of pain and sickness." His workmates packed his hospital room to support Chris and show their respect for Gavin as he took his last breath.
Safe in Jesus
Chris is now a member of the Wollongong Corps, where she publicly shared her story this year.
"Time and time again over the last few years," she says, "God has shown me the promises in his Word that he will never leave us and that we don't need to fear because he is always with us.
"He has also placed amazing people in my life from here (Sydney and Wollongong), New Zealand and around the world, who have supported, encouraged and loved me throughout an incredibly difficult time.
"I lean on Jeremiah 29:11, where God promises that he has plans for us. They are good plans.
"The grief is raw, and the tears still flow for the babies that I never had and for the husband I no longer have. But, you know, God walks every step with us, and, at times, we know that he carries us.
"God loves Gavin, he loves me, and he loves each of you. My heart is full of joy that I am loved, that Gavin is now living his best life, and that my life is fully planned by a perfect, loving and faithful God.
"I don't know what my future holds, but I do know and believe in the One who holds my future."   
How does she accept that Gavin wasn't healed physically?
"While I and many others prayed so hard for Gavin to be physically healed, I knew a peace that could only come from God; that he was truly in control and that whatever the outcome, Gavin would be well.
"And while absolutely nothing prepares you for seeing and hearing that final soft breath, I knew in that instant that Gavin was safe in the arms of Jesus."