Creating meaningful connections at Merriwa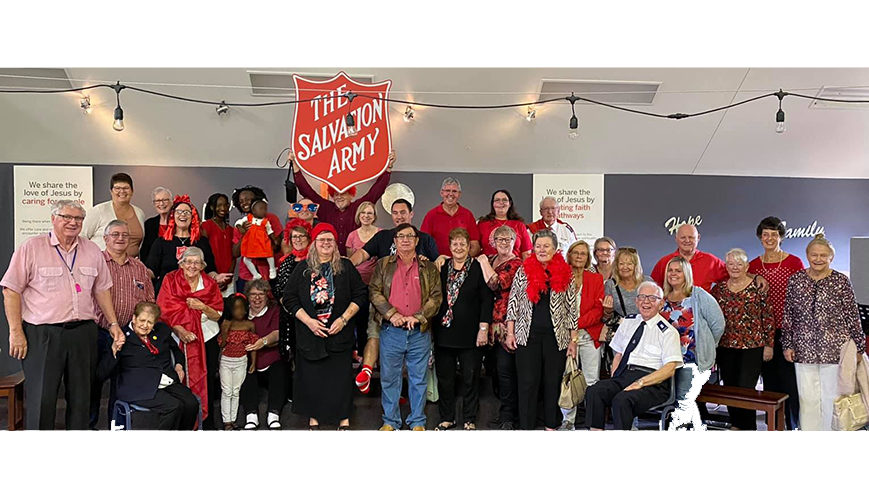 Creating meaningful connections at Merriwa
9 August 2021
The small congregation at Merriwa Salvos in Perth thrives by celebrating honesty, inclusivity and service.
By Jessica Morris
Church isn't just about programs for the small Salvation Army congregation at Merriwa, situated in Perth's northern suburbs. It's about belonging – which is why Corps Officer Major Nikki Curtis is so passionate about creating authentic and healthy relationships through their weekly huddles and Sunday services.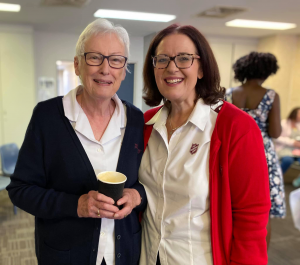 Merriwa Corps Officer Major Nikki Curtis (right), pictured here with her mum Morag Novell, says the primary ministry of the corps lies in building relationships.
In the congregation of 50, everyone is welcome to join a huddle of three or four people, allowing them to do life together – something vital with the variety of life experiences in the corps.
While more than 80 per cent of the congregation is aged over 60, the corps family also has 10 different cultures represented – mainly from Africa and Asia. It makes for a unique, almost 'messy' experience where everyone is welcome.
"Most people, when they come, say, 'I feel like I belong. I feel like I found I've come home'," reflects Nikki. "They might only stay for a month. They might stay forever. We are not perfect, but there's a culture of love and acceptance that is beautiful."
A Sunday service is always unpredictable – something that William Booth would undoubtedly gravitate towards. Stories about people arriving in pyjamas, leading their own encores (four times) and building up each other, make Merriwa a rough diamond of a corps – where the imperfections and differences highlight the vastness of people's experience of God.
"A few years ago, a man who has schizophrenia and bipolar came to church in his pyjamas because he wanted to be around people who loved him," recalls Nikki. "That is the kind of church I want. I don't care what you wear or if you're having a rough day – we are a loving community."
A listening ear
Of course, doing community with such a diverse group of people comes with challenges. And when it comes to navigating cultural differences, Nikki says the key is trying to listen and love as they remember the trauma that often informs how people relate to each other.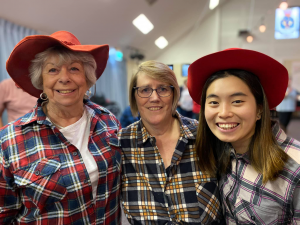 A corps family fun night at Merriwa turned into a hoedown earlier this year. (From left) Volunteer hairdresser Trish Stoner, Senior Leadership Team member and Doorways worker Linda, and Cadet Crystal Lee.
"We are trying to work out what part we play in this because the church is accepting of them, and we are not going to tell them not to come," she explains. "But their [cultural] community may ostracise people sometimes for certain behaviour."
This is where one-on-one relationships are pivotal, as corps members practise Bible-based grace and forgiveness and instil a sense of self-worth in each person they encounter. Something that is also highlighted is their Doorways community support service, which is an integral part of the church's mission.
"Every single person who is connected as a volunteer or as a regular church attender is connected in some way with a care team. We are trying to really foster relationships, so Doorways is instrumental for us," says Nikki.
The Merriwa Doorways team supports up to 120 families, and the corps hands out up to 60 boxes of fresh produce every week. In addition, volunteer Trish Stoner gives up to six free haircuts every Friday. Showers are also available, and the corps has recently been supporting some rough sleepers sheltering in the corps carpark.
It's a big job – but, thankfully, there are around 120 volunteers on hand across the corps, its Doorways service and the thrift shop. 
"Even though it's only a fraction of what we would love to do, it still does make a difference," reflects Nikki. "We're really trying to bring God's kingdom into this community. And I do believe it does make a difference."