Destined for officership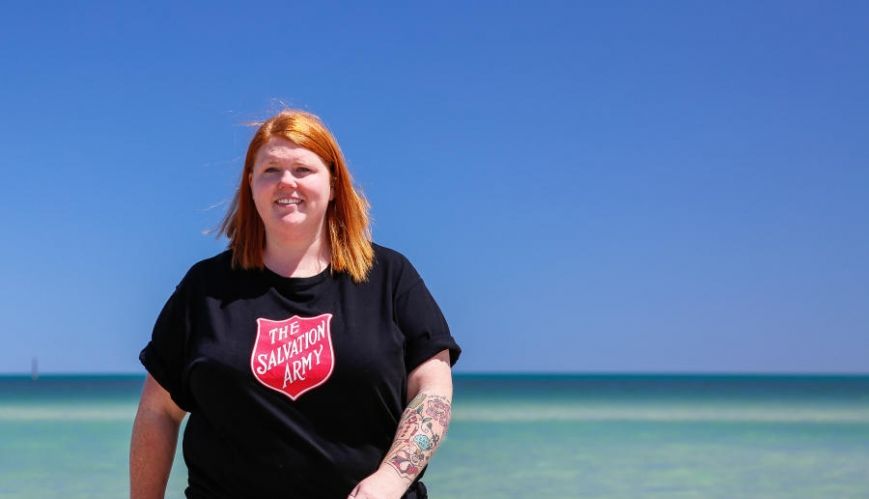 Destined for officership
14 February 2020
Renae Phillips is one of eight cadets who started their officer training at Eva Burrows College on 29 January, as the Messengers of Reconciliation session. Photos: Duan Kereru
By Bill Simpson
Don't try putting Renae Phillips in a box. She won't fit – and won't stay there, anyway. She is pretty much an individualist who doesn't agree with doing something for the sake of it. But she can work in a team environment, too.
Now 30, Renae resisted Salvation Army soldiership until just over a year ago but has entered training college this year to become an officer. She plays piano in a contemporary worship band but loves the Army traditions of brass bands, songsters and timbrel brigades, even though she is not overly keen on uniform – although will wear it when appropriate. "I love innovation," she says. "But I don't accept scrapping our tradition. We learn from previous generations."
Renae has an arm-length tattoo of Alice in Wonderland, Canada's maple leaf and a reminder of Pumpkin, her toy poodle. She also loves the Queen. She has a cupboard full of royal-themed crockery and a large framed portrait of Her Majesty Queen Elizabeth in her house. But she also has a large framed portrait of tennis legend Maria Sharapova. "I am neither a monarchist nor a republican. I just love the Queen. She is an incredible woman, regardless of her title," Renae says.
Renae enjoys the ballet, but also likes a good rodeo. She was born and raised in Adelaide but is not an AFL fan. She prefers netball. "If anybody thinks they have me pinned, well, they haven't," she says.
Accepting a call to a life of Salvation Army officership does not come as a surprise to Renae, despite taking a third or so of her life to get there. She has, she says, always known from the time she was a little girl that she would get to this point one day. Renae is a second-generation Salvationist. As a child, she attended several corps in Adelaide with her parents. By her mid-teens, with her family, she switched to a local Baptist church and got a job as a laboratory technician.
key influences
In 2014, aged 26, she travelled to Canada. Somehow, she linked with The Salvation Army Cariboo Hill Temple Corps in Vancouver, where she engaged with officers who won her respect. She was back in Adelaide a year later, linking with the city's Congress Hall Corps and getting her old job back at the laboratory.
"After six months back at work," Renae says, "a guy there said that I was made for something more than this. I knew what he meant. I knew there was something else. I have known forever – since I was a child – that I would have a ministry role, probably in The Salvation Army. When I was at the Baptist church, the youth pastor told me when I was only 18 that he wouldn't be surprised if I ended up in ministry. I knew that.
"It's strange, but even when I was in the Baptist church, I would defend The Salvation Army whenever anybody criticised our beliefs on baptism and that sort of thing. I guess that, for a while, I resisted coming back to The Salvation Army because I knew that once I did, God would put things into place. I was right; he did."
Going to Canada for 12 months, Renae thinks, was the catalyst for her ultimate decision to accept that Salvation Army officership was her destiny. New officers at the Cariboo Corps challenged her thinking. In Canada, she did things within her church and circle of friends that she didn't do back in Adelaide. She prayed with people. She felt more capable and comfortable around people.
"At home," she says, "I think I probably held myself back a bit. I always had an excuse for not acting on my convictions. I didn't think I was good enough, for example. I didn't doubt that God could use me. I doubted myself. But after Canada, I knew that I was coming home to be an officer."
time to commit
Renae settled into Adelaide Congress Hall Corps, playing piano in the contemporary worship band. Talk of combining Australia's two territories into one national territory was underway. "I knew, then, that it was time for officership," she says. "I felt that The Salvation Army was alive again; that it was going back to its roots and that I needed to make a commitment to that.
"I still believe strongly that God has a mission for The Salvation Army and that I was called not just to ministry but ministry in The Salvation Army. I believe that God raised up The Salvation Army at a time when it was needed. The Salvation Army is still needed. We have influence. We can get a seat at tables of influence where no others can. We need to be at those tables."
As the Australia One plan continued to play out, Renae accepted it was time to become a soldier as a step toward officership. She was enrolled as a soldier in October 2018 – "the same time as I got my motorbike licence".
"During soldiership classes, I thought, 'Why wouldn't I want to become a soldier; I believe all of these things'. I love Christianity, because God asks something of us. No other religion really does that. I think in our world today that a lot of people are worried about Christianity because 'it could be true'. People are aware that they are missing something, and that God may be that something. People are very angry about everything. We have an opportunity to do something about that. I have an opportunity to do something about that.
"When I look back on my life, officership has always been there, even when I wasn't in The Salvation Army. Everything points to it. In Canada, I went to The Salvation Army because I was meant to go there and hear the things that redirected my thinking. When I came home, I went to The Salvation Army at Adelaide Congress Hall because I was meant to.
"Australia One was happening and I had to be a part of that. And when I look back, I recall the impression on me of family members who were officers. As a kid, I was struck by their commitment for life. Now is my time for a commitment for life."
Bill Simpson is a contributing writer for Others magazine.