Diversity and Inclusion Team on a mission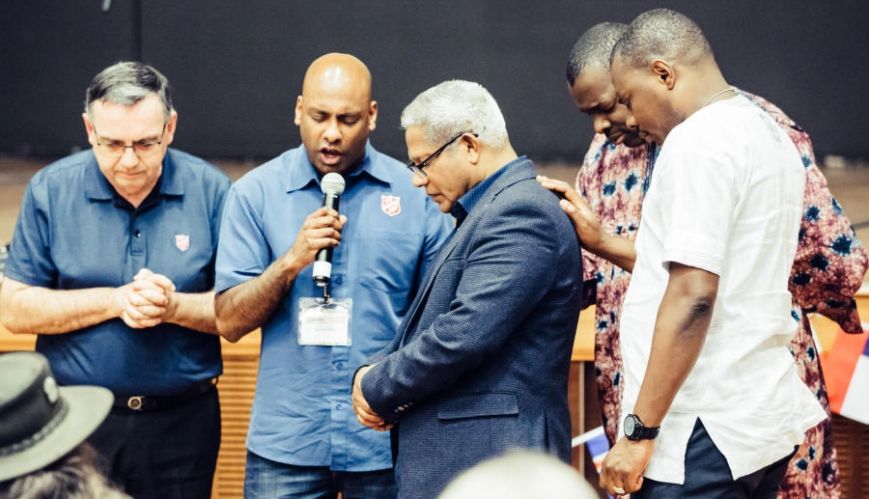 Diversity and Inclusion Team on a mission
19 June 2020
Adrian Kistan leads prayer at The Gathering, a Salvation Army conference that celebrates diversity and multiculturalism. Photo: Cazeil Creative
By Nicky Gangemi
"We dream of a truly inclusive Salvation Army where everyone belongs, develops and has the opportunity to contribute to the mission!" That's what Adrian Kistan and his Diversity and Inclusion Team want to see happen across Australia.
Is The Salvation Army Australia Territory an inclusive organisation? In many ways, yes. The Army's social expressions care for people from all cultures and backgrounds, without discrimination. There are more than 100 different ethnicities represented across our different social services.
But, according to Adrian (General Manager, Diversity and Inclusion), we are not seeing that same diversity and inclusion in our corps, with only nine per cent of attendees born in non-English-speaking countries, compared to the Australian population's statistic of 23 per cent (National Church Life Survey NCLS, 2016).
"Why are people who we serve and care for in our services and programs not also worshipping with us at our corps?" says Adrian. The Diversity and Inclusion Team wants to tackle this issue.
"Research conducted by the National Church Life Survey shows churches who engage with cross-cultural opportunities are the ones who are growing and flourishing," says Adrian. "Our team wants to harness The Salvation Army's unique position in Australian society to engage with a large cross-section of people and see diversity across our whole organisation.
"Our coordinators have already been able to engage with a number of corps who have found it beneficial having our team come alongside them. We've been able to help them to fulfil the mission they want to achieve. We're not about assessment but helping to find spaces where tweaks and changes can be made to have a significant impact."
Adrian leads a team of five diversity and inclusion coordinators, who are based across the country. Each coordinator works closely with divisional leaders and area officers to formulate what diversity and inclusion looks like in their specific location. They work with any expression of The Salvation Army, be it corps, Salvos Stores or even different teams and streams. The Diversity and Inclusion Team strongly rejects the notion that there is one cookie-cutter way to do ministry and mission in an inclusive and diverse way. The team is agile and flexible in its approach, which helps each individual expression achieve the best results.
"It is not about having a set diversity and inclusion program. It is about looking at how we do ministry and mission in our diverse contexts," Adrian explains. "Our coordinators can offer insights and suggestions to help with existing programs so that they facilitate a more inclusive and more diverse culture."
Adrian has a passion to see the Word of God shape his approach to diversity and inclusion. It is his desire to see all people part of the Kingdom of God and it is this conviction and the Gospel of Jesus that drives him and his team. The new national structure of The Salvation Army in Australia has resulted in an expanded focus for the team.
Now their scope has broadened from 'multicultural communities' to include all people no matter their social or economic status, disability, ethnicity or background. With the team geographically dispersed across the country, it is better able to respond to front-line requests for help.
"Diversity and inclusion goes further than just welcoming people and having a diverse representation," says Adrian. "It goes deeper to understanding that all people are created in the image of God and are invited in to belong and contribute."
Nicky Gangemi is a resource writer with the Territorial Mission Support Team.