Divisional commanders agree: 'Don't rush back'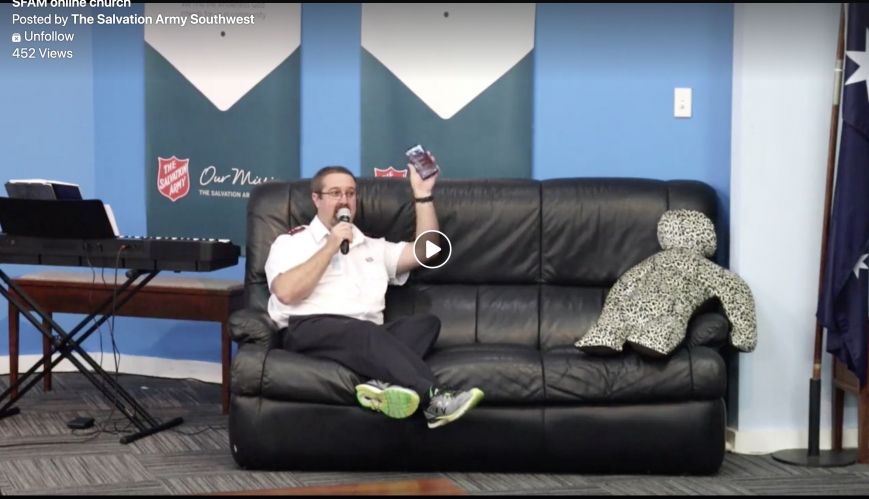 Divisional commanders agree: 'Don't rush back'
23 June 2020
Bunbury Corps Officer Captain Mark Schatz interacting with both his digital and live congregation on Sunday 21 June.
By Lauren Martin
As COVID-19 restrictions on church gatherings continue to ease in stages across Australia, corps officers are being encouraged not to rush back to the way things were before coronavirus.
The 'Pray it Forward' nationwide prayer initiative*, which ended on Sunday 21 June, called for The Salvation Army in Australia to hear the heart of God as the nation moved beyond COVID-19. 
In other words – what will the 'new normal' look like for The Salvation Army?
New South Wales/ACT
Lieut-Colonel Miriam Gluyas, Divisional Commander, has urged corps officers to "hasten slowly" and not rush back to "the way things used to be" when further restrictions ease on 1 July.
"COVID-19 has made clear the fact that we don't need a building to be the church," she said. "As we have been seeking the heart of God, we have been drawn to the Old Testament book Numbers, verses 13 and 14. The people of Israel could see the promised land, a land flowing with 'milk and honey' that God was calling them into, yet, fear of the 'new' took hold and some desired to go back to Egypt, back to slavery.
"What we believe God is saying is that we can't go back to our 'Egypt', our old ways of church. We have had our time to reset and pray. Now we need to be obedient in following God into what he is calling us to. What are we going to stop? What are we doing to start? And what are we going to change?"
Corps across the division have reported a calling to increased discipleship, more small groups, and an emphasis on being an 'outward-looking' local Salvation Army, building on the intentional outreach that increased with the onset of COVID-19.
"Instead of a traditional style of service, we feel like God is leading us to create a 'Jesus community,'" said one corps officer. "Sitting around tables, sharing a meal, much like the early Church, and reading Scripture and talking about how it impacts us and our way of living."
Another corps has been called to step into the recovery space, focusing its Sunday meeting around the needs of people in recovery and 'doing life together' instead of having a formal church gathering.
Queensland
With the state's restrictions due to ease on 10 July, Lieutenant-Colonel David Godkin, Divisional Commander, has told corps officers that they can resume worship services at that point, "but only if you choose to do so".
He has encouraged them not to rush through this moment, saying they should instead "take a deep breath, pray, seek the Lord and ask for a vision of the new". He has urged them not to rush back to the old way of doing things because the Church has been in decline for years.
"Now, we have an opportunity to change direction and make history," he said. "Before we consider reopening our worship gatherings I want to encourage us to do a few things. The first, of course, must be to pray and seek the Holy Spirit's guidance and direction. The second is to reflect on the positives we experienced as a church during the lockdown. What worked? What didn't? Going forward after COVID-19, let's ask ourselves what needs to start ... stop ... continue ... or modify?"
He said corps leaders were seeking God's heart and many were thinking outside the box, "which is really encouraging".
Like their counterparts in NSW, many are believing that discipleship is the emphasis that is needed in the post-COVID-19 Salvation Army. "This is a perfect opportunity for our church to not just focus on gathering together," said David. "Not that we shouldn't gather together – of course, we should – it's Biblical. But there is also great emphasis in the Bible on making disciples."
He said one of the lessons that COVID-19 had taught people was that relationships were precious and how important it was for us to focus on those relationships. "I think that's why discipleship needs to be one of our focuses because that's about a relationship with Christ and sometimes a worship gathering can distract from that because we unintentionally make it all about us."
As well as increasing small-group participation, some corps are considering a hybrid model of home churches that meet and do life together on a regular basis, then come together as a whole congregation less frequently. "It's a time to reset, be different and most of all, seek the heart of God together."
Western Australia
Some Sunday worship services in the west have already resumed, albeit with social distancing and other restrictions in place.
Perth Fortress Corps has resumed its Sunday worship service. "We are excited to return to gathering together for worship and to have our congregation in the room," said Corps Officer Major Deborah Robinson.
The corps is adhering to State Government COVID-19 guidelines and will also continue to live-stream its services, recognising the global reach that it has and how it is beneficial for those who are unable to attend or don't feel comfortable coming back to worship in person just yet.
Deborah said COVID-19 was a huge period of growth within the corps with regards to the way people connected intentionally. "COVID forced us to be more intentional about how we connect with each other. Moving forward, we want to ensure we don't lose that connectivity," she said. "There may be members of our corps who choose to continue to worship at home. We are also wrestling with how we minister in the online space."
Further south, in Bunbury, Corps Officer Captain Mark Schatz said his corps was now transitioning to being a "fully digital church, with a physical presence, rather than a physical church with a digital 'add-on'."
What that looks like is still taking shape, but those who want to gather for Sunday worship at the corps will notice the addition of production equipment, breaks for video-clips in order to change camera angles, and the corps officers and other leaders on stage checking and responding to comments that ping through on their mobile phones from the online congregation (the corps streams its services through its Facebook page @thesalvationarmysouthwest )
Mark said the realisation that staying digital was the way God wanted the corps to go came after he preached his Easter Sunday message.
"Easter Sunday is the day I gave my heart to Jesus 21 years ago. It's a huge day for me and I put a lot of effort into my message on that day," he said. "But when I got off the platform this year, I realised I preached to two people – my wife and the tech guy. I was kind of feeling really weird and really a bit down.
"It wasn't until about Thursday of the next week that I actually realised I had preached to more people on that day [through the corps' Facebook live-stream] than I ever had in my entire life. We had 1600 views! If everyone's online at the moment, that's where we would be as well."
He said corps attendance since restrictions eased had been down because people were choosing to stay at home and view the service online. Bunbury Corps members are being encouraged to visit each others' homes in small groups and watch the service together. "In that way, people are still getting the fellowship and enjoying each other's company but doing it in smaller groups where they can journey deeper and do life together," said Mark.
"We have seen people give their hearts to Jesus online. We have been using 'hand raising' emoji's online," he said. "I'm not sure we have the best production out there but it's very authentic and real ... and God can take anything and still accomplish what God wants to accomplish."
* The NSW/ACT Divisional 40 Days of Prayer continues until 9 July.