Kingdom building across The Salvation Army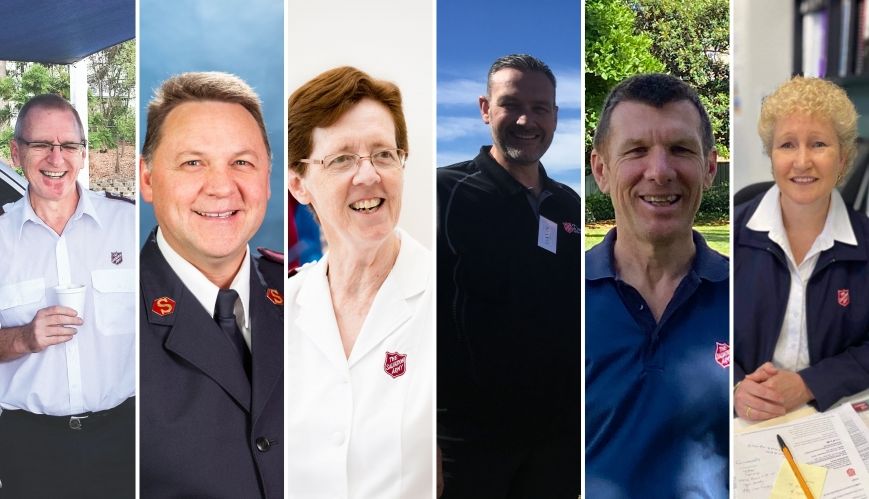 Kingdom building across The Salvation Army
8 January 2021
Divisional Commanders across Australia share similar visions for 2021 – seeing God's Kingdom come on earth by partnering with the work of the Holy Spirit, (from left) Lieut-Colonel David Godkin, Major Lance Jeffrey, Lieut-Colonel Miriam Gluyas, Major Gavin Watts, Major Brad Potter and Captain Kim Haworth.
Compiled by Darryl Whitecross, Jessica Morris and Lauren Martin
Others asked The Salvation Army's Divisional Commanders from across the Australia Territory to share their vision of where God is leading the Army in their states for 2021.
VICTORIA
Lieut-Colonel David Godkin
Divisional Commander
Although brand new to this division, I believe the Lord has prompted my heart in relation to our future as the people of God.
It's been an extraordinary 12 months for Victoria, and I believe The Salvation Army in this wonderful state is positioned perfectly to serve our local communities, engaging with the vulnerable, marginalised and broken-hearted with a sincere desire to serve and bless others with kindness, compassion and generosity.
The Victorian vision must be a shared vision, one where all officers, soldiers, adherents, members, employees and volunteers partner to seek God's preferred future for us all.
I acknowledge the leadership of Lieut-Colonels Bruce and Debra Stevens and their strong emphasis on the prayer life of this division. This must be our starting point. Seeking the face of God together, positioning ourselves at the foot of the cross and adopting a Kingdom agenda above all others, resisting the temptation to put personal desires first. Always asking the question, what is God saying to us?
No vision, plan or strategy is achieved alone; it requires the passion, dedication and development of people, our richest resource. When we foster a dynamic spirituality that demonstrates Christlike behaviours, it creates a servant culture and positions us to engage in effective discipleship and local mission delivery.
I see a united Army, where all expressions work together to overcome hardship and injustice with love, mercy, forgiveness and grace. Where generations, diversity and background are opportunities and not barriers. Where an increasing number of people from all walks of life can confidently say "I belong", "I am loved" and "I'm a child of God".
So let's seek the heart of God together, put aside the distractions that divide us and focus on the Kingdom of God.
SOUTH AUSTRALIA/NORTHERN TERRITORY
Major Lance Jeffrey
Divisional Commander
Anne and I have served as officers within The Salvation Army for 17 years across Western Australia, Victoria and now South Australia and the Northern Territory. We have a passion to see people come into a personal relationship with Jesus and create environments and opportunities where people can experience the life of freedom and fullness that God has intended for them. While we never could have foreseen where God would lead us, we have a strong sense that we were called to partner with him towards a future that he designed. 
We wonder what it would be like if the SA/NT Division could be people who see with 20-20 spiritual vision into 2021 and beyond; people able to see with clarity what is immediately before us while also holding a hope, a vision and a prayer for what could be if we placed our lives into the hands of God. We believe Jesus had this kind of 20-20 vision. He was able to engage fully in the lives of the people who were immediately before him, meeting them right where they were without stepping back or remaining distant. He remained totally present with people while, at the same time, always holding a vision for who they could become through the life-transforming power of God.
Our hope, our vision and our prayer is that we would be people of this kind of 20-20 vision as we leave an unusual 2020 behind and step into 2021. May our hope, vision and prayer be aligned with that of Jesus as we seek to be people of rich fellowship and unity. May we hold a vision for each other and see each other with the same redemptive eyes and mind of Christ. May this be the vision we hold for all those we serve as we seek to transform Australia – one life at a time with the love of Jesus.

NEW SOUTH WALES/ACT
Lieut-Colonel Miriam Gluyas
Divisional Commander
We continue the journey of seeing people transformed with the love of Jesus.
We see our people:
Taking the journey of spiritual renewal
Living a Jesus culture
Partnering up to see transformation and real community – every Salvo is on mission
Joining discipleship huddles, reading the Gospels, and asking, "What is Jesus saying and what will we do about what he is saying?"
We advance by giving permission to new ways of being church:
Gathered worship communities
Communities of Hope
Community tables
(No half-strength lattes – all are valid forms of corps!)
We are committed to health, mission and sustainability. The Kingdom is advancing!
QUEENSLAND
Major Gavin Watts
Incoming Divisional Commander
It is a blessing to be able to share with all who are part of The Salvation Army in Queensland.
I was born and raised in Orange (NSW) before moving to Brisbane with my family. It was while attending Carina Corps (now Carindale Corps) that I met my wife Wendy, and we entered The Salvation Army Training College in 1992. During my ministry as an officer, I have seen the power of God's Holy Spirit at work to powerfully transform lives.
As I'm preparing to leave my current appointment and look to what God has planned for 2021, I give thanks for the lives that have been changed and transformed by God in 2020, as all Salvationists have engaged differently with their communities.
The focus for 2021 for all expressions of The Salvation Army will highlight the areas of:
Caring for people
Creating faith pathways
Building healthy communities 
Working for justice
In all these areas of focus, it will be vital that those whom we walk alongside are introduced to the One who brings transformation, Jesus.
I look forward to seeing how God builds on the foundation that Lieut-Colonels David and Sandra Godkin laid down in their time as leaders in Queensland. Together with the Queensland divisional team, we will discern the way God wants the Army's vision to be lived out within the context of Queensland in 2021.
WESTERN AUSTRALIA
Major Brad Potter
Divisional Commander
Western Australia is a vast land full of beauty including arid desert places. On a visit to Karratha earlier in the year, I caught a glimpse of this arid vastness from the air as we made our 1600km trip from Perth. However, to my surprise, amid this seemingly arid place was life in places I would have never expected. On one occasion it came through seeing the flower, the Sturt Desert Pea. This stunning, red leaf-like flower with a black bulb gifted to me an experience of life blooming in what is on the surface a lifeless setting.
My vision for the Western Australian Salvation Army is that we will find the Spirit of God at work in the what can seemingly look like arid places of spirituality in our communities. That as we seek to go about transforming communities one life at a time with the love of Jesus, we will see where God's Spirit is already at work and will join the Spirit of the Living God in this work.
We are already starting to see this with mission expressions refocusing, resetting where they will put their focus. We are seeing opportunities for collaboration to work across Social Mission streams, corps and the division. We are seeing people choosing to accept the invitation to follow Christ.
I am really excited to see what God is going to do in 2021 as we, The Salvation Army, stop, discern and respond to where God is already at work and join him in this great work of proclaiming the Kingdom of God on earth.
TASMANIA
Captain Kim Haworth
Divisional Commander
The journey for Tasmania over the past two years has been marked by the promise of spiritual renewal through the provision of a vision given by God. In this vision, we see a wave of Holy Spirit-led transformation coming across Tasmania.
As we seek the Lord together in wholehearted repentance, we will allow him to purify and lead us as his 'Jubilee' people, living out his call to bring freedom and restoration to this beautiful island.
As a division in 2021, we will continue to intentionally seek the Lord in order to become the people of God that we were always intended to be. As partners in building the Kingdom, we will allow the fresh wind of the Spirt to renew, empower and unite us for the Lord's purposes.
We will dare to try 'new things' as the Lord directs (Isaiah 43:19). We will be a people ready to pioneer mission, stepping out where God is already working and joining him there. We will be faithful as we continue to walk through the doors the Lord is opening, knowing that he is and will continue to bring the provision.
We will be good stewards of all that the Lord has entrusted to us, pruning both fruitful and unfruitful vines in order to maximise the harvest. We will work diligently, alongside others, to fulfil our commitment to reconciliation with First Nations Peoples and seek the transformation of all Tasmanians through the love of Jesus, especially those experiencing hardship and injustice.