Defence force says thanks to Army's gun contributors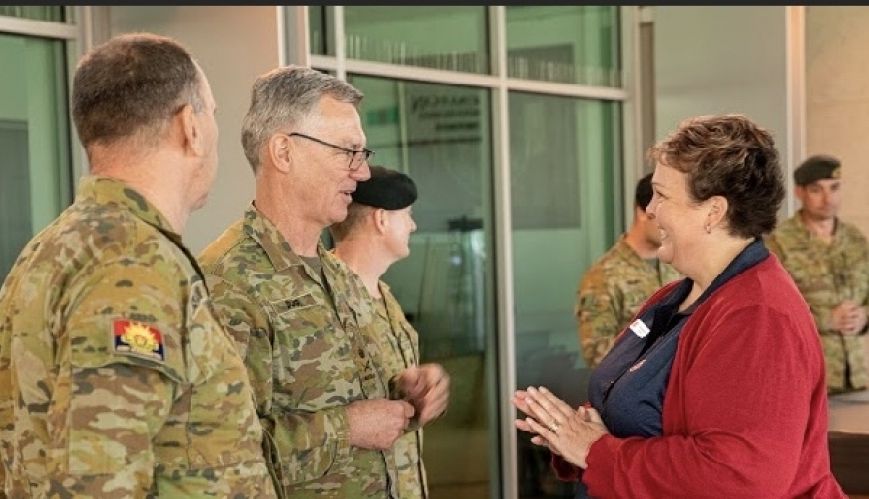 Defence force says thanks to Army's gun contributors
23 April 2021
Sallyma'am Captain Gai Cathcart chats with Chief of the Australian Army, Lieutenant General Rick Burr, when he dropped into the Edinburgh Barracks in South Australia to congratulate her on her nomination for an ADF Women in Defence Award. Regimental Sergeant Major Grant McFarlane OAM looks on.
By Darryl Whitecross and Jessica Morris
The contribution made by Salvation Army personnel around Australia within the armed forces has been recognised by the Australian Defence Force (ADF) with a series of awards. 
Major Nigel Roden with his long service medal.
At Townsville's Lavarack Barracks, Major Nigel Roden became the latest Red Shield Defence Services (RSDS) representative to be recognised when he was presented with an ADF long service medal, which is awarded to a serviceperson on completing 15 years of service. 
Nigel, who has been a Salvation Army officer for more than 20 years, was posted to the 2nd Battalion Royal Australian Regiment (RAR) at the Lavarack Barracks in 2014 as the RSDS officer in charge.
In 2019, Nigel moved across to 1RAR, where he says he is "as happy as a Sallyman in mud" and serves there alongside his wife, Penni, who is an RSDS family support officer with the 3CER and 4CER (Combat Engineer Regiments). They joined the RSDS in 2005 with the 6RAR at Gallipoli Barracks at Enoggera in Brisbane. 
Nigel, who spent three years at the Royal Military College (Duntroon) and Australian Defence Force Academy, was deployed to Timor Leste from September 2005 to February 2006 and has spent time in the Middle East as part of recent operations.
At Lavarack, he supported the unit through the transition from land-based warfare to amphibious capability.
Nigel said he preferred to acknowledge receiving such awards as the result of a team effort or collaboration rather than being a personal accolade. He said that while being honoured to be recognised for his service, "beneath what it represents is not what I have done but is reflective of the journey I have done with many incredible people and the amazing spaces that God has led me to in those years".
"I have a saying [when he engages with soldiers that come to speak to him] that my job's not to think I'm bringing God with me but to quietly acknowledge and point out where he already is and is working.
"In the 'good, old days' when people used to call us Milo Bill or Captain Cordial, they missed the point that the brew and the bikkie is the start and the end is inviting people to see the love of Jesus in action."
Nigel was presented the award by the commanding officer of 1RAR, Lieutenant-Colonel Scott Holmes, and Regimental Sergeant Major Warrant Officer Class One Scott Krum at a 1RAR parade on 4 March.
In South Australia, Captain Gai Cathcart reached the finals of the 2020 Australian Defence Magazine Women in Defence Awards program in the 'People and Culture' section. A Women in Defence Award is the highest given for women in the ADF. 
There were six finalists drawn from all areas of the defence force and defence industry and not-for-profit organisations such as The Salvation Army. 
Now based at the Edinburgh Defence Precinct on the outskirts of Adelaide, Gai is part of the RSDS attached to the 7th Battalion Royal Australian Regiment. She serves there with her husband, Peer. 
She described it as a privilege to serve alongside people who were willing to give up their lives to give Australians a secure place in which to live – "that's not just the serving members as their partners are serving right along with them – and their families".
"I just get a kick out of being able to be out [in the] field with the members which is fun; hard sometimes but fun, and then I get to hang out with their partners and the children if they have children.
"The confidence that people put in me, the trust they have in both myself and my husband to be in this space is overwhelming, humbling and a huge honour and privilege to be able to serve those who are serving. It's been a challenge but it's been worth it."
Gai said the Army was "valued in this space". "The soldiers, the military, they want us there and like us there. It's important for us to be there." She added that in such a male-dominated environment, to have a woman – a civilian woman – recognised with such an award is "pretty big".
Gai was nominated for the award by the 7RAR commanding officer, Lieutenant-Colonel Adam Gower, and was publicly congratulated on her achievement by the Australian Army Chief, Lieutenant General Rick Burr, when he made a special visit to the base.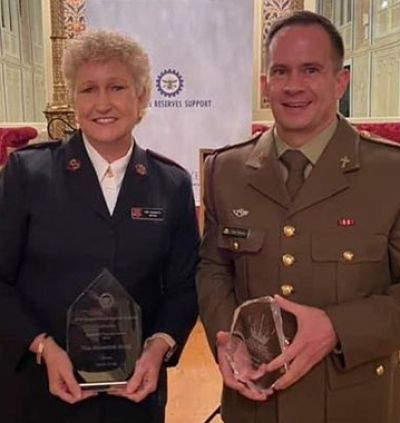 Captain Kim Haworth, Divisional Commander of Tasmania, and defence chaplain Major Brad Watson with the Defence Reserves Support Award.
In Tasmania, The Salvation Army has received a Defence Reserves Support Award as the leading employer of reservists in the not-for-profit category.   
Divisional Commander Captain Kim Haworth and defence chaplain Major Brad Watson were presented with the award at Government House in Hobart and were honoured among the public sector, large and small corporations.   
"[This award recognises] that The Salvation Army typically releases reservists for training, support and career development," said Brad, who is posted as a chaplain for the Australian Army. "This positioned us alongside other supportive businesses and agencies and shows we are a good place to work."    
As well as employing reservists across our various mission expressions, the Army in Australia has at least six defence or ADF cadet chaplains, with two posted in Tasmania. Each chaplain is enlisted with the ADF as a reservist or cadet chaplain and partners their appointment in The Salvation Army with chaplaincy at their unit.  
Fun day in Brisbane
In Brisbane, the RSDS's senior representative at the Gallipoli Barracks at Enoggera, Major Lauriee Arthur, said Sallymen and Sallyma'ams were involved in "a cracker of an event" when an open day and inaugural 'Run Army' fun run was held on 18 April.
Lauriee said the three RSDS trucks were kept busy during the event, which was opened to defence force members and their families. As well as providing an opportunity to see and touch much of the equipment – including heavy vehicles such as tanks and various guns and canons – the event also raised $40,000 for Legacy, the defence force charity. 
Lauriee said it was the first time in several years that the base had been opened to the public and because of its success was to become an annual event around Australia. 
The Army's Veteran Support Program also had a stall at the open day. The program's senior case worker, Johnathon Dyer, and two of his team, Jillian Noakes and Bethany Wilding, manned the stall.
Johnathon said having a presence was "an excellent opportunity" not only for those serving in the army but for the defence community as a whole to learn what support and services were available to them. "We all enjoyed the experience and the large number of people that came through," he said.
Darren Chester, Minister for Defence Personnel and Minister for Veterans' Affairs, said that more than 800 Australian Army personnel, defence workers and civilians took part in the fun run over either a 5km or 10km course on the base.
Lieutenant General Rick Burr, who was joined by champion marathon runner Robert de Castella to send the runners on their way, said 'Run Army' would be an annual event and opened to the general public to enter.