Territorial calendar captures Pam's passion for Australia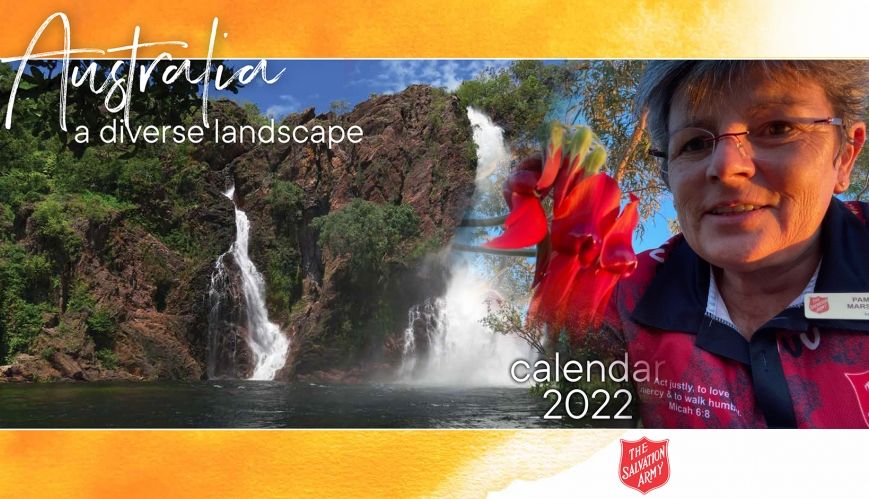 Territorial calendar captures Pam's passion for Australia
11 October 2021
Karratha Corps Officer Major Pam Marshall and the cover of The Salvation Army Australia Territory 2022 calendar. Artwork: Darryl Whitecross
By Darryl Whitecross
Growing up on the family sheep and wheat property near Ararat in country Victoria, Major Pam Marshall developed a deep love of the outdoors – a love that has grown into a passion for photographing the Australian landscape.
Her current appointment as the Corps Officer at Karratha in the Pilbara region of Western Australia provides many opportunities to capture Australia's natural beauty. In fact, she says she never leaves the house without her mobile phone and trusty blue digital camera.
Pam posts many of her photos on Facebook, and one of her avid followers is the Army's Publications Manager, Cheryl Tinker. Earlier this year, Cheryl approached Pam about using a selection of her photos in the 2022 Australia Territory calendar.
The calendar has been printed [35,000 in A4 size, 23,000 in A5] and is about to be distributed to corps, centres and various Army supporters around the country. Pocket diaries have also been produced featuring Pam's photo of the Sturt's Desert Pea. (Ordering link below).
"I do not have any claim whatsoever to being a photographer," Pam says. "I just like to capture moments that I see that are beautiful."
Pam says her photographs do not come from a "fancy camera" ... "they're just from my iPhone and my other camera, which is not much bigger than the iPhone [a Canon PowerShot]. It's a cute little thing. It's a little blue one, and it's old. "I like to go walking, and so I will have the iPhone and the little camera in the back pocket of my shorts," she said. "Sometimes I use both."
The images on display in the calendar were taken mainly when Pam was on holiday or in an Army appointment. "Up here, I've got to drive a few hours before I get somewhere where I can just switch off. I just love to get out there. I love to capture moments that I do not want to forget."
Major Pam Marshall has contributed some beautiful images of the Australian landscape in the 2022 calendar.
She lists Millstream, Python Pools, Broome, Karijini National Park as some of her favourite spots around Karratha: "I like going walking in the bush and by the beach just to unwind."
Pam's appointment at Karratha is on the land of the Ngarluma people – arid land that not many people choose to travel to or live on.
In a small article in the calendar, Pam writes: "There is dust and more dust, but I love the vastness and the beauty this land has to offer. When the wildflowers come out, they are like a carpet rolled out on the ground. As I walk the land, I have that accepting spirit of thankfulness to the beauty that surrounds me and pause and give thanks to the Creator. God said, in the beginning, he created the heavens and earth. All I can say is: 'Wow! What an awesome Creator'. I encourage you to pause a few moments and watch a sunrise or sunset and capture that moment and give thanks for the day."
"That's what I'm on about," says Pam. "It could be from a small flower to the great big gorges of Karijini to the magnificent waterfalls up in the Northern Territory. On a Friday night, I will go down to Dampier, which is about 20 minutes away, and I will sit there and watch a sunset or get up early in the morning just to watch the sunrise. When the sun begins to climb up onto the horizon, it's beautiful.
"As a young child, I loved to go walking. Even as a little kid, before I was even a Christian, I loved the flowers, the grass. I loved to climb the trees. I just loved nature in general. I didn't understand that there was a Creator then. In my Christian walk as a teenager, I found out about Jesus, and that changed my perspective to a deeper love of the land or the sea. It's just nice to switch off and spend time with our Creator God, walking and giving thanks."
Pam said there were so many more photographs that could have been included in the calendar. She says she loves all the photos in the edition, but particularly liked the Sturt's Desert Pea for May: "They're just great memories."
Although she has often been encouraged to publish a book, Pam says she has never had any serious plans for her photos but was honoured to have her images on display in the calendar.
She said she looked forward to the day when she could buy "a nice camera" to be able to photograph birds: "With my little PowerShot, you don't get really good quality photos of birds in flight so, one day, I may be able to afford to buy one of the nice quality cameras with big zooms – but, at the moment, it's an iPhone and a little Canon PowerShot."
To place an order for The Salvation Army Australia Territory 2022 Calendar (before 15 November), click here.