Emma the engine behind Centenary's food drive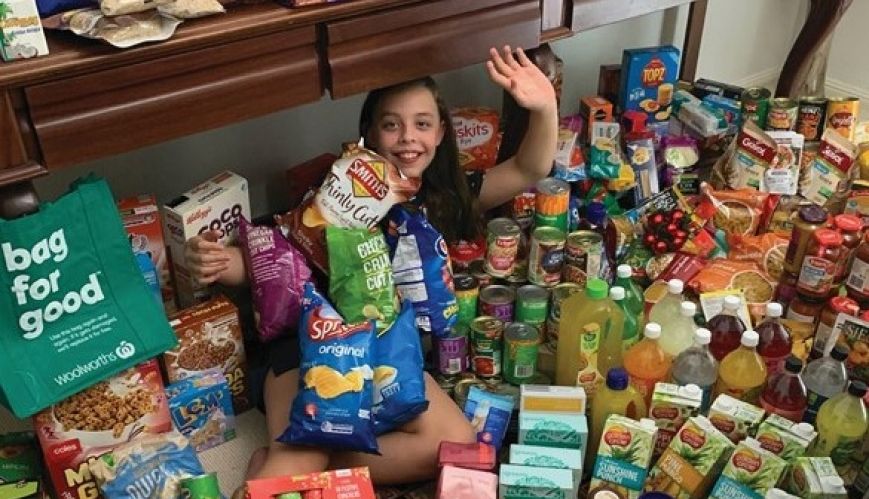 Emma the engine behind Centenary's food drive
8 December 2021
Emma's can-do attitude helps families in need over the Christmas period.
By Darryl Whitecross
The dining room in young Emma MacDonald's house in Brisbane looks more like a giant pantry leading up to Christmas.
For the past three years, the Grade 5 student at Brookfield State School has asked her neighbourhood and school community for donations of non-perishable food items, which she then sorts with the help of her mother, Nicola.
The items are then handed over to Aux-Lieutenant Catherine Philpot at the nearby Centenary Corps for distribution to vulnerable families as part of its Christmas food hamper program.
Emma, 11, said she came up with the food donation idea after a discussion with her mum about how fortunate she was to always have a meal on the table, go to a good school, and always have the things she needed.
"I collect the food for people who couldn't afford to give their children the Christmas they had dreamed of," Emma said. "I have a passion for helping people."
Last year, Emma gave 1000 food items to The Salvation Army. "This year, my goal is to collect 2000 items," she said.
Emma's first year of collecting the donations coincided with the introduction of the Christmas food hamper program at Centenary Corps. "If it hadn't been for Emma, we probably wouldn't have had enough donations," Catherine said. "She does an amazing job. Christmas would look very different without Emma."
Each year, Emma produces flyers on her home printer and does a letterbox drop with her mum around their neighbourhood. Emma also addresses her fellow students at school about her project. The donations then roll in.
Her efforts have not gone unnoticed by the wider community, having attracted media attention and the eye of Liberal MP Julian Simmonds, Member for Ryan. Julian was so impressed with what Emma was doing that he presented her with a community leader's award and opened his electorate office to accept donations on her behalf.
Woolworths at Kenmore is helping, too. Last year, it donated 100 green shopping bags to help Emma sort the food items. This year, the store has given her 200 bags. But Emma's role doesn't stop at sorting. Emma and her mum help on the day Catherine and other volunteers from Centenary Corps hand out the food donations. "I don't do this for the recognition. I do it for others. It helps me to know how lucky I am," Emma said.
"I really value the opportunity to work with Emma and Nicola because it's our chance to share Jesus with them [the community] every year, talk about the joy of loving others and how much better life is when we live for God and others," Catherine said.