EPlus Local on the job to support refugees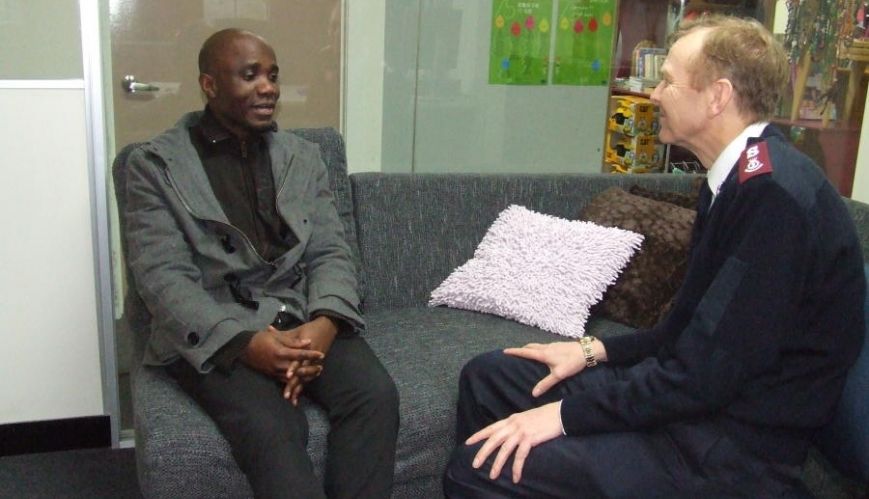 EPlus Local on the job to support refugees
17 June 2020
As a chaplain, Major Colin Elkington (right) is part of the EPlus Local program, assisting asylum seekers at the Brunswick Asylum Seeker and Refugee Service in Melbourne.
By Simone Worthing
Mary is a single mother who arrived in Australia from Africa after persecution and threats of continued violence. She was living with her two young children in cramped and unsafe conditions and was unable to find work to support her family. Mary, like other asylum seekers, had limited access to support and government-funded job seeker services. 
Through the Salvation Army EPlus Local program at the Asylum Seeker and Refugee Service in Brunswick, Melbourne, Mary has now completed studies in childcare and aged care, has full-time employment and is securing a better rental property for her family. Mary feels that her life is finally turning around, and she is grateful to The Salvation Army for all its support.
EPlus Local is a holistic mission initiative between local corps and centres, The Salvation Army Employment Plus (EPlus) and the Diversity and Inclusion team to assist people seeking asylum to find paid work and help meet their practical and social needs while they await the outcomes of their visa application.
In Melbourne, the program runs from both The Salvation Army Asylum Seeker and Refugee Service under Major Karen Elkington, and at the Dandenong Corps under Captain Fleur Hodge and Major Scott Smallacombe.
The EPlus Local pilot was developed by Majors Paul and Robbin Moulds at Auburn Corps in partnership with Employment Plus. Local corps volunteers and visiting EPlus staff commenced the service in May 2018 and over the following year supported more than 90 local people, 67 of whom secured meaningful work. The service expanded into neighbouring Fairfield Corps in early 2019.
At Fairfield Corps, employment consultant Aditi Sharma works with Aux-Lieutenants Russell Brown and David Delany and conducts outreach programs at the Campsie and Liverpool Corps. The program here primarily assists people seeking asylum and extends to refugees and other vulnerable members of the community. There is a focus on providing holistic care for job seekers including access to affordable food items, conversational English classes, referral for financial counselling and pastoral care.
"We always provide spiritual support to job seekers who come to Fairfield," Russell says, "by showing the love of Jesus and by offering to pray for them."
EPlus Local assists asylum seekers from all walks of life.
The EPlus Local initiative was extended to two Victorian locations in July 2019. A national EPlus Local Community of Practice, coordinated by the Diversity and Inclusion team, held its first meeting in August 2019 and provides ongoing peer support for front-line practitioners and to enhance national collaboration.
Focus on Victoria
Specialist support
At each of the two Melbourne locations, EPlus Local employs a part-time Employment Specialist. These consultants – Shabnam Oad at Dandenong and Natarla Reid in Brunswick – have access to the full suite of Employment Plus resources, and also leverage their knowledge of the local labour market to assist people into jobs.
"The consultants have access to the EPlus databases and labour market portal, and if we see suitable vacancies or any updates from the [Industry and] Employment Minister, we share that information with them too," explains Mary Beth Melton, EPlus North East Melbourne Regional Manager.
"We are here to support our consultants in the employment space with specialist tools while Karen and Scott run the day-to-day operations of the program on the ground. There is a huge community and humanitarian need for this program, and it aligns so well with the mission of The Salvation Army. This is a perfect partnership and we couldn't be happier to be a part of it."
Asylum Seeker and Refugee Service
EPlus Local at this multi-faceted service is continuing, with all COVID-19 recommendations firmly in place. Against the backdrop of this pandemic, the need to support people seeking asylum is even more pressing.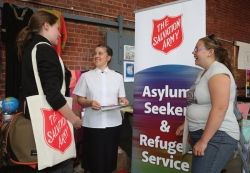 Major Karen Elkington oversees the Brunswick EPlus Local program.
"When asylum seekers come to our service, I conduct a basic intake interview with them, do a visa verification to make sure they have the right to work and find out what kind of work they would like to do," says Karen.
"This conversation around work brings them to life! We see who they are, the skills they have and some of the options open to them. Natarla and her five volunteers then work with them through the 'job club'."
In non-COVID-19 times, Natarla meets with people individually and works with them intensively on their resume, job applications, and other employment needs. She and her team also regularly call local employers to identify relevant job opportunities, introduce participants and advocate on their behalf.
In the past few months, most of this work has been done remotely through emails, phone calls, and online appointments.
Many of the program's volunteers, and the businesses that offer jobs to people seeking asylum, are connected to Temple Beth Israel, a progressive Jewish Synagogue in St Kilda that partners with the service to assist those finding a new life in Australia.
The service has also developed a unique partnership with Deakin University's Centre for Refugee Employment, Advocacy, Training and Education [CREATE] that provides a similar service for people with university degrees.
"They work with the highly-skilled and qualified asylum seekers and offer career clinics and pathways, mentoring, and a range of professional networks and connections," explains Karen.
"We have referred 30 people into this program – people who come to us hungry and desperate, and who happen to have PhDs and other post-secondary qualifications. At least half have found work through CREATE.
"Natarla, and Shabnam in Dandenong, are doing the same thing with all our asylum seekers – helping them tailor their resumes to get initial jobs wherever they can, and then consider future options. We also assist those who have disabilities and women with young children who are separated from violent partners and have never worked before."
Dandenong Corps
When Shabnam first started with the program, she found that her first challenge was to change the perspective of potential employers.
EPlus Local assists participants in securing a range of different jobs.
"Many of the asylum seekers didn't speak English, were single mums, had no transport, and no support," she says. "Many employers were reluctant to give them jobs and had certain preconceptions about them.
"I had to convince them that people seeking asylum would be an asset to any company as they wanted to work, would be reliable and were ready to do anything. I also worked with the asylum seekers and, with God's grace and strength, helped prepare them for interviews and how to respond to the needs of each employer. This was successful and we are seeing more of our participants find work."
Two local volunteers assist Shabnam with intake assessments, writing resumes and coaching participants in what to expect in a job interview.
Assisting people seeking asylum to enrol in vocational study or courses to open additional employment options is another part of the role. One participant, who completed a free sewing alterations course, is today running her own business and mentoring others.
Pre COVID-19, face-to-face assistance was part of the program.
So far, more than 75 people seeking asylum have found work, including several who lost their jobs during the early days of the COVID-19 pandemic but have now sourced alternative work.
EPlus Local also has a partnership with the Monash University 'Fast' program, which helps new university graduates and undergraduates find employment. "One of our candidates, an accountant in his home country, completed a finance brokering course through Monash," shares Shabnam. "He is working in that field today."
Most of the initial roles for those seeking asylum are entry-level positions or seasonal roles, which gives them time to get other qualifications recognised, improve their English, enrol in further study or engage in an additional job search. It also gives them local work experience to include in their resumes.
Scott and his team see EPlus Local as a good partnership model for corps and social programs. "Programs like this embed specialist services into a corps based site that already offers a range of community relationships and other services," he says. "Everyone benefits."