Everyone on board the Ingle Farm express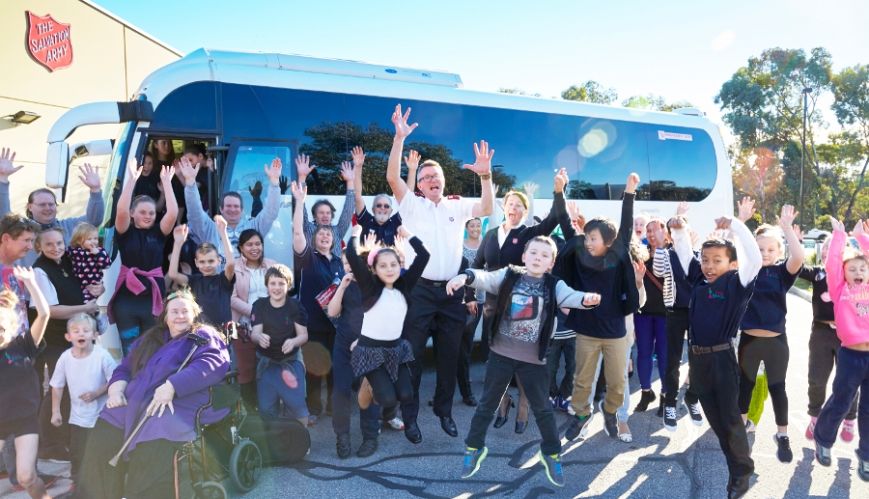 Everyone on board the Ingle Farm express
18 August 2017
The word unique is often over-used, demeaning and devaluing its impact and importance. Dictionary definitions, generally, describe unique as "a one off ... one of a kind ... unlike anything else ... the only one". Having said that, we're going out on a limb here to suggest that Ingle Farm Corps, in Adelaide's north-eastern suburbs, is unique in The Salvation Army – certainly in Adelaide – and probably Australia. Maybe, some say, in the entire Salvation Army world.
The first startling statistic in support of Ingle Farm's uniqueness is that it has 90 full-time and part-time employees, supported by three weekly worshipping congregations totalling about 350 people.
A second startling statistic is that Ingle Farm has an annual mission budget exceeding $8 million. Thirdly, Ingle Farm operates 56 houses and five shelters, accommodating up to 200 young people who are homeless or at risk.
It has three profitable thrift shops, 255 registered volunteers and up to 400 children and young people passing through its buildings each week. But one of the most inspiring things that happens at Ingle Farm is the encouragement and enthusiasm of the older people for its endeavours.
Much of what happens at Ingle Farm is youth-centred. Yet, Ingle Farm is, to a significant degree, traditional in The Salvation Army sense. It has a substantial brass band and songsters, who provide most of the music in a conservative-style Sunday morning meeting. There are "lots of uniforms and older people" in that service.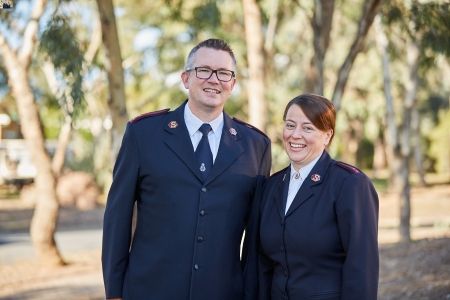 There's a Friday night service called Rev, where there are "no uniforms and exclusively younger people", mostly from the youth shelters and local schools. There's also a Sunday night service for young people. The older people are 100 per cent behind the youth services.
Captains David and Kylie Collinson lead the Ingle Farm Corps (pictured right).
They believe the more traditional people are supportive because many of them "built" the corps and agreed to its direction since inception just over 35 years ago. "They own this concept. It's theirs," Captain David says.
As well, Assistant Corps Officer, Envoy Nathan Casey, has been involved in youth work at Ingle Farm for 15 years. He is respected. Although responsible for Rev and development of other youth services, he plays in the brass band every Sunday morning.
Nathan was invited into the Melbourne Staff Band as a teenager, but withdrew a year later because of his commitment to youth ministry.
Ingle Farm is a corps that entwines spiritual and social, young and old, in a significant way. "Actually, we try to avoid saying corps and social here," Captain David says. "We just say The Salvation Army Ingle Farm."
Corps in full flight
Captain David is fond of a quote from Salvation Army founder William Booth on the subject.
General Booth likened The Salvation Army to a bird with two wings. With one wing, General Booth said, The Salvation Army preached the Gospel of Jesus Christ. With the other wing, it met human need in Jesus' name without discrimination.
Unless both wings were in operation at the same time, General Booth declared, The Salvation Army "bird" would not fly. "We are like that bird at Ingle Farm, I believe," Captain David says.
In a 2015 publication on the history of Ingle Farm, the then South Australian Divisional Commander, Lieutenant-Colonel Ron Clinch, said: "Ingle Farm works because they have blurred lines and no clear divide between corps and social.
That can be hard to fit into The Salvation Army system, but we're happy for it to be that way."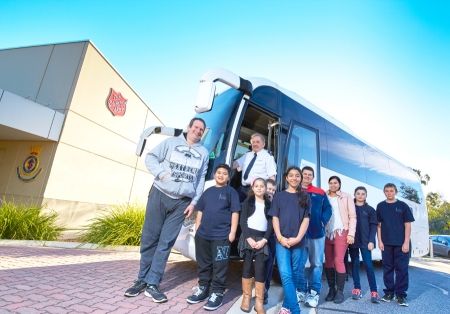 Ingle Farm, he said, is held up as an icon of good integration. 
Also in 2015, Ingle Farm's work with young people at risk was commended by the South Australia Royal Commission into Child Protection Systems as a "preferred option".
Consequently, the South Australian and Australian governments have been generous in their funding support of Ingle Farm projects.
In fact, two of Ingle Farm's youth-at-risk programs are run in the South Australian regional cities of Whyalla and Port Pirie because government asked Ingle Farm to establish and operate them, even though they are hundreds of kilometres away.
Crossing Salvation Army corps boundaries was a big issue for the Army, at the time, according to Captain David. But the government's "insistence" and the "understanding attitude" of divisional officers ensured it happened – and continues to happen.
Ingle Farm is built on change. Maybe that's why change is not a challenge, even after 35 or so years of service to the local community.
It was formed out of the old Prospect Corps, which was a few kilometres closer to Adelaide city than Ingle Farm.
Immigration and an ageing population presented Prospect with concerns about its future growth. Young couples were moving in the direction of Ingle Farm, at the foothills of the Mt Lofty Ranges.
Prospect leadership took the plunge and followed the population trend, opening the new Ingle Farm operation in 1979.
Coincidentally, a Salvationist family from Norwood – the Rowes – had some years earlier sold land to the South Australian Government to establish the suburb of Ingle Farm.
It's unlikely the Rowe family, at the time, would have imagined the size of the future Salvation Army presence on their former property.
Huge operation
The Ingle Farm building is a sprawling complex, with main worship centre, smaller worship and meeting rooms, playgroup rooms, café, an impressive avenue of staff and counselling offices and a large pantry and store room for emergency relief food supplies.
About one kilometre away is another set of large warehouse buildings housing a thrift shop, men's work shed and emergency services vehicles. In addition to the Whyalla and Port Pirie youth shelters, there are three more in the Ingle Farm area, as well as 56 houses for homeless youth.
The shelters and houses account for 70 of the 90 people employed by Ingle Farm.
Four of the shelters are called Muggy's, in honour of David Mugford, a pioneer of Ingle Farm's youth accommodation before he was killed in a road crash. Each Muggy's houses about 20 young people under government guardianship – taken from their parents due to abuse issues.
The 56 houses are used to accommodate homeless young people referred to Ingle Farm from various government and community agencies. Most of the tenants stay several weeks while they are assisted to find longer-term accommodation and cope with more immediate concerns.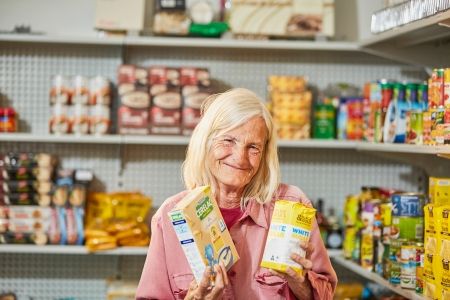 Ingle Farm has a substantial emergency relief program (Doorways) providing material help to a needy community (Ingrid, a volunteer is pictured right) , financial counselling service, playgroups involving 100 families, and an impressive Just Brass initiative involving weekly music classes by corps people at three local schools.
Three Ingle Farm members are employed as school chaplains. The corps has a modern (donated) 30-seater coach it uses for, among other things, transporting the 55 Just Brass students from their schools to the Ingle Farm building for rehearsals each week.
Ingle Farm also has two smaller mini-buses at its disposal. Among all of this youth activity, there is a thriving Home League of 45 members. "This community loves our Home League," Captain David says.
There's also an active Companionship Club of almost 100 members.
Captain David is, in his own words, a networking person. "When I wake every morning, I'm not thinking about how many emails I have in my inbox," he says. "I'm not thinking of how many emails I have to send today. What I am thinking about is who can I talk to today."
As we drive between the corps buildings and thrift shop complex, he points to a lounge factory and says: "That guy gives us lounges."
Along the road, he keeps pointing: "That guy over there gives us ... that guy there gives us ... he gives us ... that guy gives us ... I need to see that guy because he wants to give us ..."
Beacon of light
While her husband is out and about networking, Captain Kylie prefers to "journey with individuals".
She is more a "back-office person". "Our gifts are different," she says. "But we complement each other. David is a visionary person, a dreamer. He sees the big picture. I'm more an admin person, making sure the big plans become reality."
Back at the corps building, Captain David escorts me through the avenue of offices, entering each one and introducing me to the occupant.
"Tell Bill your story," he invites everyone. In addition to the Collinsons, there's assistant officer Envoy Casey, two ministry assistants, a director of finance and administration, business manager, director of youth services, director of family and community services, and their support staff.
I even met a quality control officer who was in the office to ensure the corps was keeping up with government regulations.
In the worship centre, Captain David points to a sign on the wall. "See that sign," he says. "It says Hope for All. That is what we provide at Ingle Farm – hope for all. We're like a lighthouse; you know, like in Booth's Darkest England and the Way Out. We're a beacon of light and hope for the Ingle Farm community. People come here because they see what we do through our mission. They are attracted to Jesus because they see that our people really do care for them."
After six hours of inspiring Captain David-led explanation, inspection, introduction and enlightenment, I am exhausted.
He is, indeed, a networker. I've been introduced to dozens of people today. But he has more networking to do. "I need to get started on my sermon for Sunday," he says.
Bill Simpson is a contributing writer for Others magazine.