Feasting with friends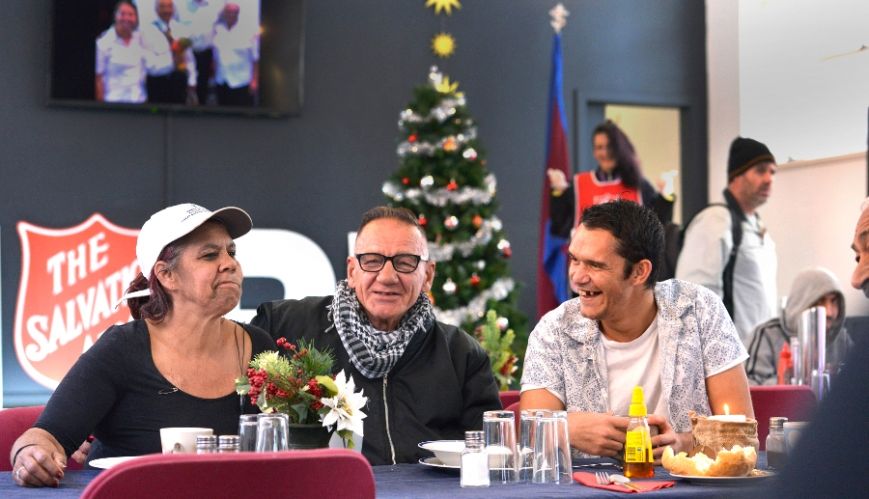 Feasting with friends
21 December 2018
Volunteers are the lynchpin of community Christmas festivities, which seek to offer joy and companionship to those who may be alone or isolated.
By Faye Michelson
Prawns for entrée, with main course options including turkey, chicken and ham, or maybe lamb, plus roast vegetables and assorted salads. As for dessert—how does a choice of plum pudding, trifle, pavlova, fruit salad, ice-cream or custard sound?
Menus for Christmas Day lunch are being finalised at Salvation Army corps (churches) around the nation.
While the food is no doubt delicious, that's not the main reason thousands of people are so happy to be there to share in the festive meal.
"It's because they feel loved," says Lincoln Stevens, Salvo officer (minister) at Inala in Brisbane's south-west.
"And it's a joyous time. Many people would otherwise be alone and it's a highlight for them to share Christmas Day with others, enjoy a beautiful meal served by smiling people, hear a short message about Jesus, the reason for the season, and of course have a visit from Santa."
It's a hectic time from Christmas Eve onwards for the 30 or so volunteers as they set up and decorate tables at the church and prepare piles of vegetables ready to roast with the chickens on Christmas morning.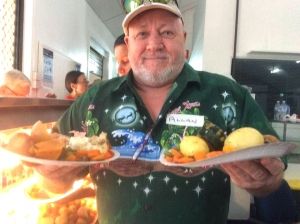 "Volunteers are from our church, other churches and the community as well as corporate volunteers who ask to come back and help out year after year," Lincoln said.
"They love the atmosphere and really feel a sense of doing something good for other people. They feel they are giving back to their community and to people that are less fortunate."
Ben and Rachel Knight, The Salvation Army officers at Batemans Bay (NSW), started liaising with local businesses in October to prepare for their Christmas Day lunch. Catering for around 100 guests, this is the eighth year the lunch has been held.
"We receive sponsorship from many local businesses in the form of donated food—including 15 kg of prawns for our entrée—and source decorations and Christmas trees from our local Kmart," Rachel says.
"We also make sure every person gets a gift on Christmas Day."
Lloyd Stanimirovic and his team from The Salvation Army Northside Hornsby Gateway Corps have been preparing for months. With around 140 registered guests, there's a lot to organise—and it's even more of a challenge when the numbers can change almost while they're carving the ham and turkey.
"We've been taking down numbers for those attending so that catering can be planned, but there's always a number of people who don't let us know in advance," he says. 'But we cater for them." 
Volunteers are the lynchpin of these community Christmas festivities. Salvo officer Angela Czoban, says 20 dedicated volunteers make the day run smoothly The Salvation Army Belconnen Corps (ACT).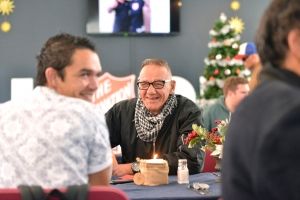 "We have lists for every imaginable requirement," Angela smiles. "Our volunteers are 'allocated' jobs, from purchasing food, meal prep, cooking, serving, clearing up to set-up and décor.
"Our Christmas lunch will be an international event, with folk from Sierra Leone, India, Nigeria and other countries attending, and this makes it especially wonderful.
"We want to bring 'the joy of Christmas' to our guests and it is a great opportunity and privilege for us to serve our community because they matter to God and they matter to us."
Rachel says the 25 volunteers who bring the Christmas spirit to the 100 guests at Batemans Bay Salvation Army always have a great time.
"We develop such camaraderie on the day as we serve; seeing smiles and experiencing the gratitude of those who come for lunch is a gift in itself for each of our volunteers," she says.
"Our guests love the carols, love the food, and love the leftovers they can take home. Those who come are considered our family."