Finding hope in East Gippsland's flames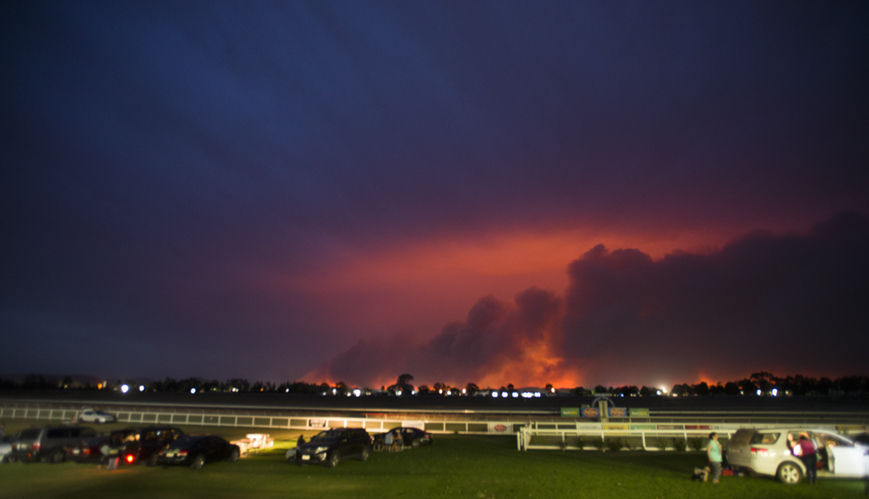 Finding hope in East Gippsland's flames
6 January 2020
The evening glow of bushfires in the distance casts an eerie shadow over the Bairnsdale football ground where an evacuation centre has been set up. Photo: Major Bruce Harmer
By Jessica Morris
When Iven Martinovic and Dianne Avdullah entered the Bairnsdale evacuation centre in Victoria's East Gippsland on New Year's Eve, they feared the life they knew would soon go up in smoke.
Bushfires had grown to a threatening level and, stranded with no transport, they were evacuated from their unit by police at 5pm. The only possessions in hand were their beloved budgie, named Ned Kelly, a few bags and the clothes they were wearing.
Anxious and uncertain of what the next few days would hold, they were relieved when they saw a familiar red shield at the evacuation centre – the Salvos were here.
"The Salvos have been fantastic to everyone here," said Dianne. "I met Major Bruce Harmer when I was waiting for a gluten-free meal, and he's been fantastic. Everyone here has gone above and beyond."
Iven and Dianne are just two of the 150 people currently living on the Bairnsdale football oval – the makeshift evacuation centre for the small town in Victoria's east.
The Salvation Army Emergency Services (SAES) were called out to the centre more than a week ago in response to the East Gippsland fires, and have since fed more than 1200 meals to firefighters and evacuees.
Joined by the Red Cross, St Vincent de Paul, the Sikh community, local council members and a police presence, they are part of a collaborative effort to give the people of Bairnsdale hope. And even though Iven and Dianne don't know when or what they will return to, this hope has come in spades.
"We've got our lives – we are simple people, we make do, and I don't want to take Dianne back until they say it's safe," said Iven. "Everyone is keeping up their spirits up as best they can."
The couple has called the Bairnsdale area home for the past eight and a half years, and are as much a part of the community as the old town hall. As the story goes, they met during a karaoke night and their lives forever changed.
Six months into their relationship, Ivan, who called himself a 'chronic alcoholic', gave up the drink and has been sober for eight years.
"Dianne is my Aboriginal rock – my little Uluru. That's what I call her," he said.
When Dianne moved interstate to Bairnsdale, she soon found a connection with the Aboriginal Aunties at the local Salvos Store and corps. Now, it is the norm to receive chocolate cakes from the volunteers on her birthday, and a warm hug.
During Australia's worst bushfire season in history, the Salvos have come through for the couple again – and they know their 'red shield' friends will stay long after the fires are extinguished. 
"The Salvos have always been there ... we can't thank everyone enough," said Iven.
Incredible sacrifice
In a recent video update, Major Gary Grant, Area Officer for South East Victoria, called the situation "the worst I have seen in my lifetime."
"I am incredibly grateful to The Salvation Army teams who have kicked in all over South East Victoria," he said.
"They have made an incredible sacrifice, people sleeping in cars and wherever they can to help and support [people in need]."
And that is the key to the hope on display at Bairnsdale evacuation centre; the presence of the Salvos and countless other volunteers, and the spirit of locals like Dianne and Iven.
The couple's message for Australia is simple: "We need to learn to get on a bit better" – because they've seen what it means first-hand to overcome differences and receive help in our nation's time of need. And they know they can survive anything – especially when they have a little help along the way.