Four-part harmony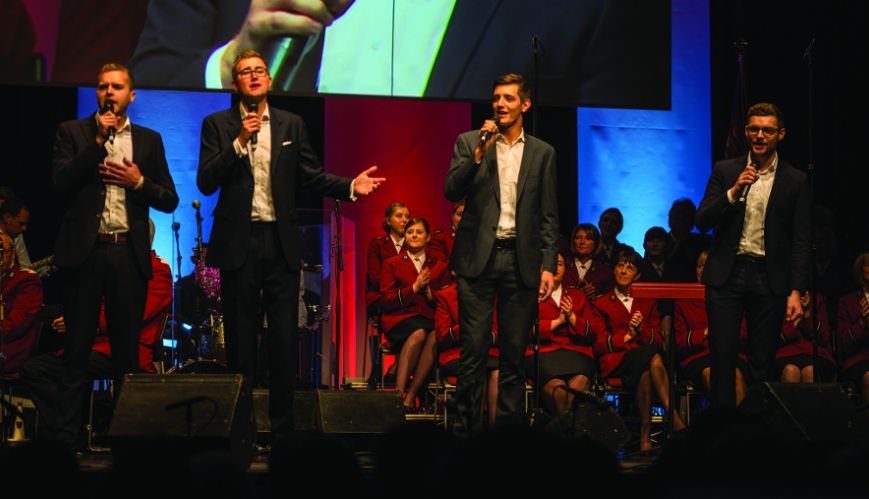 Four-part harmony
13 January 2017
When it was suggested to Joe, Karl, Nathanael and Nick that they should perform as a quartet at a concert arranged by their corps, they could not have imagined that in just a little more than a year they would be singing in front of 5,000 people at the Royal Albert Hall – but that is just part of the incredible story of FourHymn, the boy-band-style quartet of Salvationists from Regent Hall.
Since their first appearance they have sung at corps across the UK and Republic of Ireland Territory, performed at the recent Prepare to Dare congress in Harrogate and released their first CD. However, when Bandmaster Steve Hanover first suggested that they sing together at the Expressions evening last year, the four of them were not immediately struck on the idea.
'We were a bit dubious about doing it at first,' admits Nathanael. 'If I'm honest, I thought it was a bit cheesy. But as we rehearsed together we realised that it was something we could do.'
It helped that each of the four's vocal range complemented the rest of the group. Nick Hampton sings top tenor, Nathanael Watchorn second tenor, Joe Rose sings first bass while Karl Westwood completes the range with bottom bass.
The four, whose CD refers to them as 'boys' are aged between 20 and 27 and their appearance at the congress fringe festival drew the largest crowd of the weekend – although they are baffled by the interest shown in them.
'It does seem a bit ridiculous to us,' laughs Nick. 'We're just four guys who have fun doing what we do and we hope that this comes across in our performances and when we're leading worship as well.'
'It seems strange to have someone you've never met before come up to you and buy your CD,' agrees Karl. 'It's funny because we've tried to find a target audience to focus on, but the age of people buying our CD is across the board.'
One element in the success of FourHymn could be the friendships they had with each other before they started singing together. 'We really enjoy hanging out together,' says Joe, the youngest member of the group. 'We're all good friends – but we also all have a strong faith that we want to share.'
As the boys talk about their singing and their motivation for being part of the group it becomes clear that their faith – and their wish to communicate it – is the number one priority in all they do.
'I do a lot of work with youth and young people,' explains Nick. 'Sometimes it's really hard to get them to engage with our faith, but being a Christian should be about having good fun and it's should be cool because it's counter-cultural.
'For me, singing with FourHymn is about making what we do look fun and engaging. We're just having a good time worshipping God because it's what we want to do. By the end of each of our concerts, we want people to have heard the Christian message and to see that we are pretty normal, so they're encouraged to look into Christianity and see it's not stiff and starchy with a load of rules.'
Reaching out with the Christian message is also important to Karl, who works for the Army as a music editor in Central Services.
'I'm passionate about the Army using new styles of music to attract new people,' he enthuses. 'Different people like different things and not everyone wants to hear a brass band – although not everyone will want to hear us either!
'This is a new expression of music in this territory. It could have been a complete flop, but once we'd sung at Expressions (Regent Hall's annual music concert) last year we had a few people emailing and asking if we would go to different corps and centres around the territory. I feel our music could bridge some gaps.'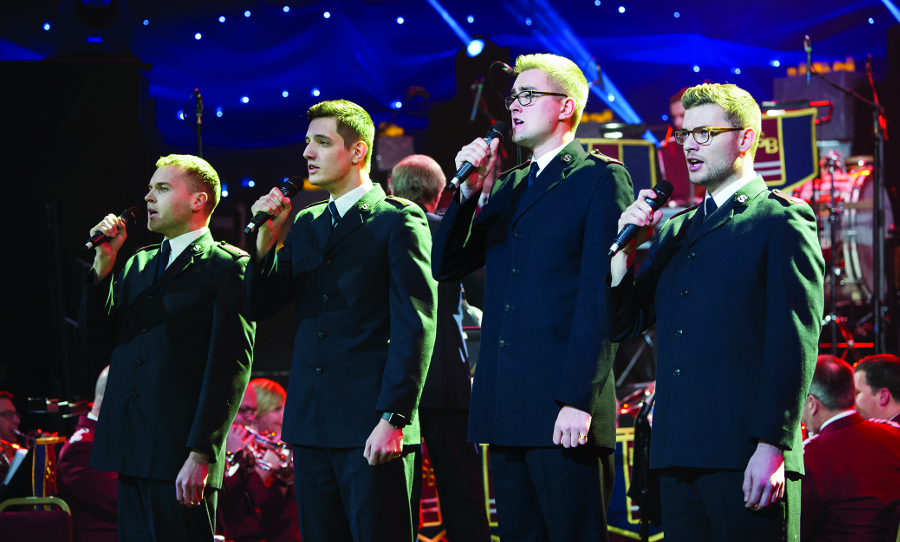 The band are hoping their music will open even more opportunities for outreach in 2017. Photo: Paul Harmer.
That music is now more widely available with the release of FourHymn's new CD This Is Amazing Grace. The tracks were recorded after a lengthy process to select the dozen songs included on the disc.
'Choosing the tracks seemed like a long, drawn out process,' reveals Karl. 'We all came along with about 15 ideas each and so we had rounds of voting to see what we recorded.'
The end result of the voting process was a collection of songs that cover a range of different musical formats, as Nathanael explains: 'Some of the songs are string based, some are classical and some a bit more modern. It's a good mix of all the things we wanted to include.
'There are also a couple of tracks on the album from Transmission, who we saw at the Boundless Congress. We all thought they were such an amazing group for the Army to have – great musicians and great Christians and Salvationists. A lot of what they do is to keep Army heritage by taking old Army tunes and reworking them. We were all really inspired by this concept.'
'On the CD we wanted to keep that link to Army music because we are Salvationists – it's who we are,' adds Karl. 'So we included I'm In His Hands and To Be Like Jesus but with some of the tune reworked.'
The CD sales are going well and dates for more concerts are already in FourHymn's 2017 diary. The four boys are determined to continue to develop the group and its ministry, as Karl explains: 'We're always on the lookout for gigs within the Army, but we would like to start branching out into areas other than the Army – perhaps even secular gigs – to find new ways to minister and evangelise.'
This article was first published in UK-based Salvationist magazine. Captain Andrew Stone is editor of Salvationist.