Friday night meat and greet sizzling in western Queensland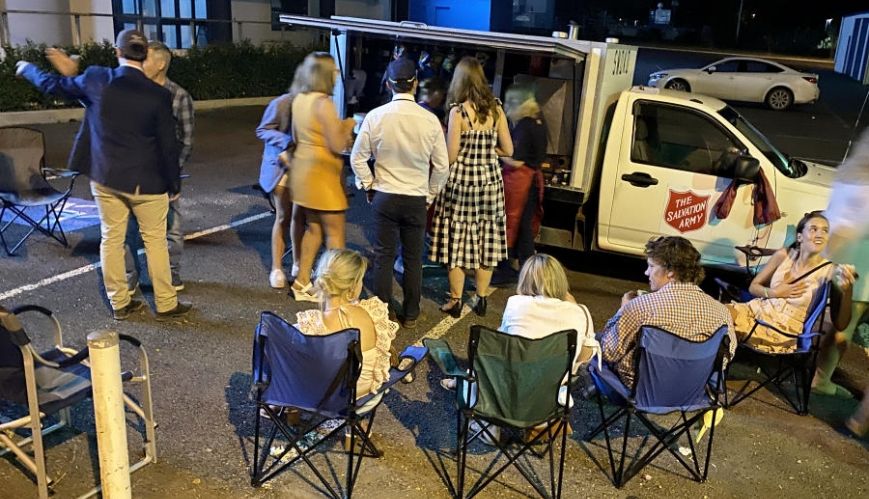 Friday night meat and greet sizzling in western Queensland
29 January 2021
The regular Salvation Army Friday night outreach ministry in the small western Queensland town of Dalby, based around a sausage sandwich and a chat, is growing in popularity.
By Darryl Whitecross
It has been described as light in the darkness but Christine Brooks and her right-hand woman, Heather Wilson, can be seen on most Friday nights on the streets of Dalby, on Queensland's Western Downs, serving well-watered pubgoers with a sausage and onion sandwich, and lending a listening ear.
By day, Christine runs the Dalby Corps and Heather has her own Smoko Van business and professional kitchen.
Christine is not an officer but put her hand up to head the Army's mission, ministry and outreach in the tiny community, 200km west of Brisbane – and embracing the even smaller community of Kogan, which is about another 45km west.
Just as the hotels begin closing their doors, Heather hitches up her van about 11pm, puts a couple of magnetic Army red shields on the side doors and Christine jumps into the passenger seat to head out with the pre-cooked sausages, onions and bread to offer to the patrons on their way home.
They set up about halfway between the popular Criterion and Country Club hotels, and they begin packing up about 2.30am after handing out up to 60 sausages.
"We catch the young people as they walk past us and offer them free sausages on bread and a bottle of water," Christine said.
For the special Dalby races event on 31 October, the pair switched from Friday night to Saturday night so they could capitalise on the larger crowds expected out on the town – they weren't wrong. The last sausage went out at about 1.30am.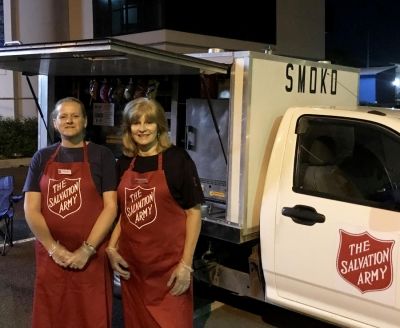 Heather (left) and Christine, suited up in their Salvo aprons, ready for another Friday night of street ministry in Dalby. 

Heather said they've been called angels by the people who avail themselves of the food, some describing the ministry as Sausages on Wheels – not Meals on Wheels.
She said the initiative had the support of the police who saw it as an intervention because, after a sausage or two, "they are more inclined to settle and go home rather than converge on McDonald's or in a group somewhere getting into fights".
Christine said the ministry had been running for several months and, so far, the pair has not had "a bad experience".
"Some people think we're crazy – two women coming out at that time of night to give sausages out to a bunch of drunks," Christine said.
Some weeks, Graham, a former member of another church in town, comes along to help with the outreach.
Heather said there was plenty of colourful language in the interactions and interesting and raw topics of conversation "but we love them anyway".
While they rarely saw the same people twice, many were happy to take a seat – they put out a few chairs – and talk. "Some of them just walk by, grab a sandwich and keep going but, lately, we're getting more and more people coming and talking," Christine said.
The two say they are not 'night owls' but are energised by the opportunity to be part of the outreach: "I never get tired when I'm out there," Heather said.
Also on board are sleeping bags, some warm clothing and specific packs for the homeless if the scenario is more serious. Christine said they were considering adding tents for those "sleeping rough".
"We always do a run around town to look for those who are sleeping rough and to offer them support," Christine said. "We are finding that we are not only connecting with young people and building relationships with them but now we have the taxi drivers and the police stopping for a chat and a sausage also. There has been very positive feedback from the people we meet."
She said the ministry was about "building relationships and connecting with these people" without judgment: "If God prompts us to say something, we will. When they do have their problems and when they've got no one to turn to, they'll remember us; they're going to come to us. They'd be really confident in sharing with us."
Christine said the ministry was also about "lifting the profile of The Salvation Army in Dalby".
"We've got to be The Salvation Army to the people. You can't just go to church expecting people to come," she said. "We've got to be out there among them building relationships."
While some of the people have asked when worship services are run at the corps, none have attended, "but that will happen", Christine said.
"If Jesus was living in Dalby, He'd be right there with us. We should be doing what Jesus did when he walked on this earth and that wasn't 'let's just go to church', let's get out there amongst the people."