Global lessons in ending forced marriage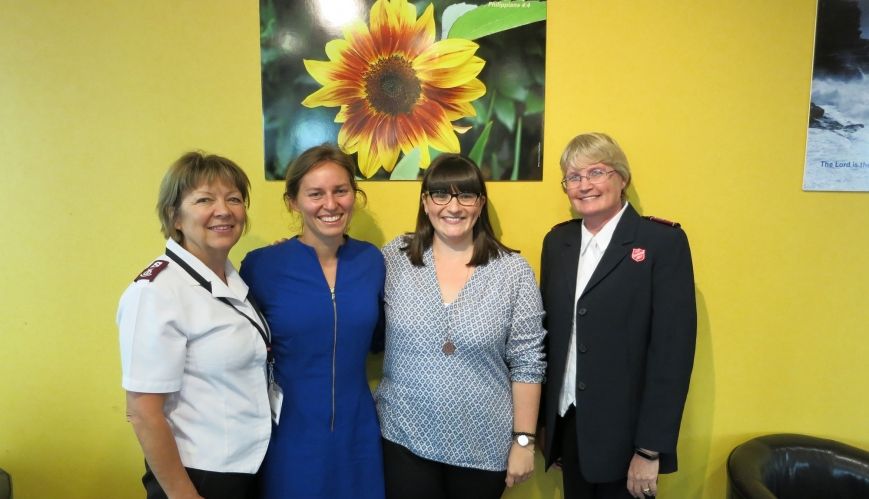 Global lessons in ending forced marriage
23 August 2017
Sri Lanka, Canada, Kenya and Denmark are just some of the countries Laura Vidal, Salvation Army Freedom Partnership's National Projects Coordinator, has been visiting, as part of her Winston Churchill Memorial Trust Fellowship – to develop policies, practices and strategies to help end early and forced marriage in Australia.
Laura, one of just 106 Australians who have been awarded a Churchill Fellowship, is using her time overseas to "research these nations' response to early and forced marriage, build international networks to benefit and uphold the rights of individuals at risk, learn from others with advanced practice in the field and develop nuance and holistic responses".
"The size and scale of early and forced marriage in Australia has significantly increased since it was criminalised in 2013," explained Laura. "Criminalising the practice to prevent it is only one part of a complete response, but a great deal more work needs to be done, particularly for 15 to 18-year-olds, who are most commonly affected."
Laura is currently in New York for the next stage of her journey, and spoke to Others magazine about her journey. You can follow her blog through The Salvation Army's Freedom Partnership Facebook page.
Others magazine: What are you doing travelling the world – and why?
Laura Vidal: I was granted a Winston Churchill Memorial Trust Fellowship in November 2016, to "Develop Innovative, Best Practice Solutions to address Forced Marriage in Australia" Australia criminalised Forced Marriage as a practice of slavery in 2013. The Salvation Army Trafficking and Slavery Safe House has been responding to cases like this for almost the last 10 years and, more broadly, The Freedom Partnership to End Modern Slavery has been looking at the policy framework under which those at risk of early and forced marriage are able to access support and protection. Through this work I identified some significant gaps and applied for the opportunity to conduct broad based, action-based research in six countries to compare and contrast responses to address forced marriage, with the aim of developing a best-practice model that could be implemented in Australia.
OM: Which countries are you going to, and why those particular countries?
LV: The trip started on 10 July and I return to Australia mid-September. During that time I am visiting six countries – Sri Lanka, United Kingdom, Denmark, United States (New York), Canada and Kenya. Each country was selected because I had identified that there were opportunities to learn something specific and unique there. For example, in Sri Lanka my focus was really understanding the role of marriage in South Asian communities; the United Kingdom has one of the most established western responses to forced marriage, so their perspective has been important – including understanding the workings of their "Forced Marriage Unit" which is often suggested in Australia to be a model of best practice and something we should consider implementing. Denmark is home to one of the only cross-cultural dialogue experts who has been working with families to resolve conflict and prevent forced marriage for over 20 years.
Laura (left corner) spent time in Sri Lanka training the Sri Lankan Human Trafficking Committee led by Lieutenant-Colonel Vijaya Senarathene with the support of Chief Secretary, Lieutenant-Colonel Suresh Pawar.
OM: What are the main focus areas of your trip?
LV: I have several research questions for the trip, but they are all grounded in three key areas. The project aims to:
1. Address gaps and challenges to Australia's current approach toward forced marriage;
2. Develop and implement a stronger framework that enhances protections and access to rights for vulnerable individuals;
3. Strengthen policy responses and look at inter-disciplinary and cross-agency collaboration in framework development.
OM: How do these issues differ in Australia from in the places you have been visiting?
LV: In many of the places I have visited so far, the way the issue presents is quite similar – the primary presentation of individuals at risk in Australia are individuals from culturally diverse backgrounds being forced into a marriage overseas. Denmark introduced a new dynamic to the discussion and that was the concern about refugees arriving in Denmark already in a marriage that may be understood as forced, or underage. This is something we have been thinking about for some time with the increasing refugee population in Australia. However, it is not something that we are yet to see in practice.
OM: What have you been learning as you travel?
LV: I'm not sure there is enough space! My brain is really full, and I'm working through a process of consolidation and thinking through what it is that I have learned and how we can work to improve practice in Australia. In a very short summary, what I am learning is that we need to really increase our response in Australia, which is going to require an entire about-face on our current approach. Something we have long lobbied for is the de-linking of support from cooperation with law enforcement and this cannot be any more true now than it has been before; furthermore, there needs to be greater recognition among our state child protection frameworks as this issue being something that they need to be mandated to respond to in every state without condition.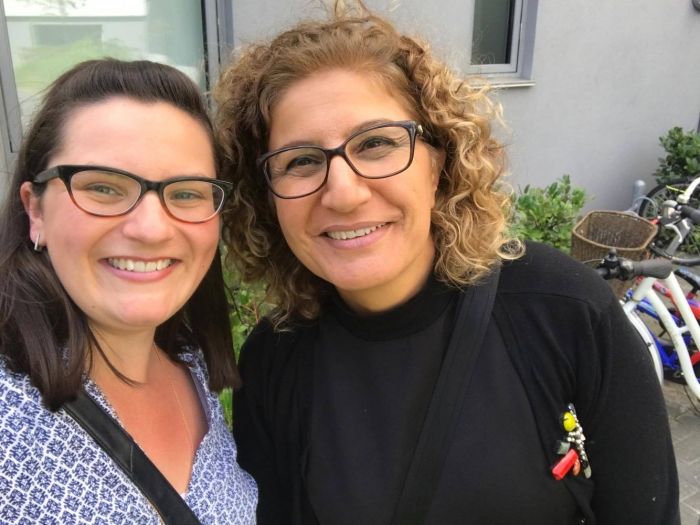 Laura (left) with Ms. Farwha Nielsen, Denmark State Specialist on Cross Cultural Dialogue, CEO Ethnic Womens Consult.
OM: Is there something you have learned that you've never heard of or seen anywhere else?
LV: What has been one of the most encouraging conversations of the trip to date was with Farwha Nielsen in Denmark. Her practice of engaging with families in cross-cultural dialogue is something that has significant value when there is an adequate framework to ensure safety and ongoing monitoring; and is a model that works to create safer communities and stronger families. Having always been trained to view engagement with families as perpetrators of violence as an incredibly risky activity, I am encouraged to see that there is a way that this could work, and I will be looking into how this could work in a local context.
OM: What do you hope to do with your experiences when you return to Australia?
LV:My plan on returning to Australia is to first write up the findings and make some concrete recommendations for improving Australia's response. From there, I will be putting together a strategic advocacy plan to work with our partners and various levels of government to advocate for change.
OM: How will this trip impact your work for the Freedom Partnership?
LV: The Freedom Partnership is highly engaged in policy advocacy and working on strategic change, to improve the situation for individuals who are at risk of, or who have experienced human trafficking, slavery and slavery like practices. This work in many ways will set the roadmap for The Freedom Partnership in how we both respond in cases, and also how we will work at a policy advocacy level.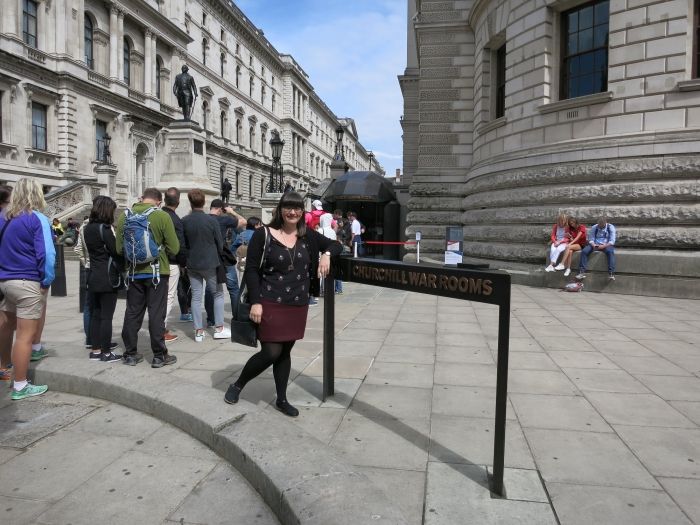 In London, Laura visited the Churchill War Museum, learning about the legacy of Sir Winston Churchill.
OM: What have been a couple of the highlights of your journey so far?
LV: I have had so many great experiences – the professional connections, networks and information sharing has been really fulfilling. This has included connecting with The Salvation Army in various different places, sharing our work and looking at opportunities to collaborate.
I had the opportunity to deliver a training to the Sri Lankan Anti-Trafficking Taskforce, and speak with The Salvation Army in Denmark about how their family workers on the frontline may be able to identify and respond to individuals at risk of forced marriage, and trafficking and slavery more broadly.
On a personal level, I have been able to see cities that I am not sure I would have had the opportunity to without this experience. I appreciate good food, and being able to dive into different culinary experiences is always a highlight for me! Sri Lanka is such a hidden gem – climbing 1200 stairs to top of Sigiriya Rock where you get a bird's-eye view to the Dambulla region was incredible!
Like many, I am a Harry Potter fan, so visiting the Warner Bros Studios to get a behind-the-scenes look at how the movie was made was a fun way to spend some time – and experiencing the "magic" was a welcome break from all the research!