God's light pierces black hole of expectation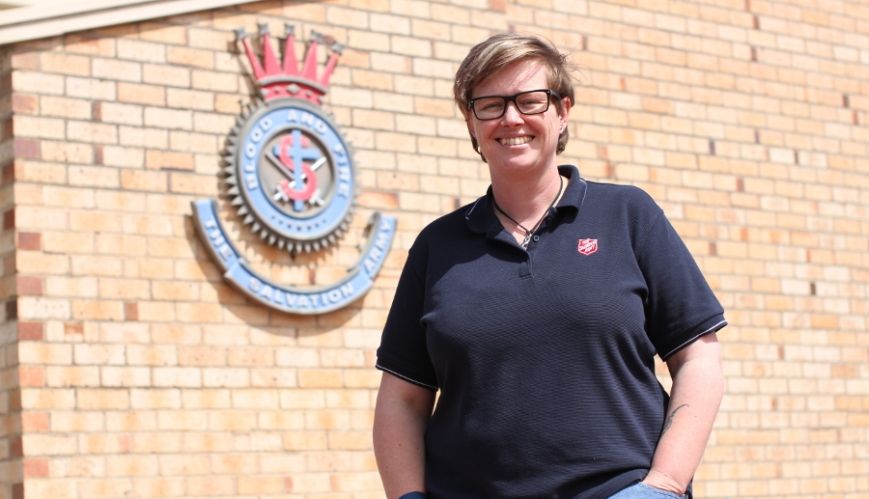 God's light pierces black hole of expectation
25 August 2017
Seeing Lieutenant Amanda Hart in action, filled with natural empathy and confidence, it's difficult to comprehend the journey she has taken to reach this point.
The recipient of a Vice Chancellor's Scholar Award from the University of Divinity earlier this year, and in her second appointment since being commissioned as a Salvation Army officer in 2012, she has made her mark on a denomination that strives to be the hands and feet of Jesus.
Yet her path to officership – and indeed the remarkable woman she is today – didn't come without its share of diversions. In fact, you might say that she is the most unlikely officer you've ever met.
An officers' kid, Amanda gave her heart to the Lord as a child, asking her mother to go to the mercy seat with her at Port Melbourne Corps. When her parents (now Majors Gary and Lorraine Hart) moved to Melbourne and entered The Salvation Army's officer training college in 1984, the course of her life was inevitably mapped out – at least through her childhood and teenage years.
Her life was rudimentary, consisting of attending school (extraordinarily, even with her parents' change of appointments she only moved schools once), going to the corps twice on Sundays for services, and taking part in weekly activities including timbrels, junior soldiers, corps cadets, band and songsters.
Once she became a senior soldier, Amanda had become the quintessence of the Army, and she was comfortable in it. "I'm not sure that my relationship with God ever grew past the childlike phase. I didn't really question stuff," she says. "It was a 'this is just what you do' kind of thing."
Road to depression
Things began to shift for Amanda in her late teens when her parents were appointed to Divisional Headquarters in Ballarat.
Unable to complete Year 12 at school, and without a job, she moved with her parents, becoming a leader in various capacities at the Ballarat Corps and living what was perceived a godly lifestyle.
However, some difficult situations began to cast a shadow over Amanda's life. "A black hole had been developing inside of me, and it was starting to consume me," she says. "I was living the life everyone else expected me to live, but it didn't sit right with me."
Amanda walked away from the church – and God – when she was 30. Realising her faith was more in The Salvation Army than God, she could not understand why he wouldn't "pull her out" of her struggle with not-as-yet-diagnosed depression.
"I replaced my old crutch, The Salvation Army, with smoking, drinking and other bad habits," she explained to Warcry in 2013.
While she now recognises that depression "had been stirring for a while", it was only after she survived a dramatic car accident, miraculously without injury, that she sought help and things began to change.
"I had a friend who pretty much dragged me to a doctor and from there I ended up seeing a psychologist and ended up on anti-depressants," she says. "Now I look back and think, 'God obviously had more in store', and it took me a while to realise that."
It was the turning point in Amanda's life, but her path back to the Army, and ultimately God, still took some time. Now back in Melbourne, she gained a part-time job working for The Salvation Army.
During this time she saw firsthand the Army's emergency response to the 2009 Black Saturday bushfires in Victoria. Wanting to lend a hand, she helped organise a kids camp in Bacchus Marsh for children who'd lost everything in the fires.
Rebelling against officership
Developing a passion for social justice, Amanda joined The Salvation Army's Social Justice Department based in Melbourne.
The department was headed by then-Captain Danielle Strickland, who became a mentor to Amanda. Before long, the path back to God was evident, and after reading Crazy Love by Francis Chan, she succumbed to a friend's prodding to attend a night service at Box Hill Corps.
Within a few weeks, she had surrendered her life to God. One thing was clear, though, in Amanda's mind. She had no intention of becoming a Salvation Army officer and, if she had anything to do with it, God wouldn't let it happen either.
"I started going to Bible studies and had this growing feeling [about officership]," she recalls. "I got to the point of thinking, 'I don't want to be at Commissioning [that year] because I'm going to have to respond'."
The feeling was so strong that she jumped at the chance to oversee the Salvos' booth at Sexpo (Health, Sexuality and Lifestyle Exhibition) that was being held on the same Sunday as Commissioning.
However, her opportunity to be at Sexpo fell through and Amanda's choice was clear – she would go to Commissioning. When the call went out for future officers at Commissioning, she finally relented.
"I sat there fighting it for as long as I could, and in the end I got up and made my way down the front. You can actually see me on the Commissioning video – I wasn't very happy walking down the front!" she laughs.
If there was any doubt left in Amanda's mind that officership was God's calling on her life, it dissipated when she was accepted into the following year's session of cadets and found out its title: Proclaimers of the Resurrection.
"It was new life and being raised up in Christ. It was really clear," she says.
Life began to change dramatically for Amanda. She came full circle when she entered training college in Melbourne. Never an academic, she took on the required Advanced Diploma of Ministry.
Then Catherine Booth College merged with the School for Divinity, and given the chance to drop back to a diploma or step up to a bachelor's degree, she realised something quite profound – she liked studying and was actually good at it.
"There's not a great deal that I've managed to stick at throughout my life," she says. "I didn't finish junior soldiers or corps cadets, I quit recruits classes the first time round and I dropped out of Year 12 twice. So graduating, when my biggest fear going into college was study, was pretty huge." 
Thriving in God's service
Amazingly, Amanda didn't just graduate from the Army's training college, but earlier this year was also named as a Vice Chancellor's Scholar at the University of Divinity (Amanda is pictured right at the graduation with her parents, Majors Gary and Lorraine Hart, and her brother Simon).
"Above all, though, I think it really is a testament to how the power of God can change someone's life when they open themselves up to following his will," she says. "There is no way I could've achieved anything I have in my own strength. It's only through God that any of this has been possible."
After being commissioned as a Salvation Army officer, Amanda was appointed to Victor Harbor Corps in South Australia for four years. She was also the Social Justice Secretary for the South Australia Division. Amanda thrived.
Adamant that she did nothing spectacular at Victor Harbor – "I was just open to God using me however he saw fit while I was there" – she focused on community engagement, highlighting the presence of the Salvos and working with locals to combat issues affecting the area.
This cultivated a deep love and trust between both parties. In fact, upon her departure last year, the Victor Harbor Times reported that she "had become ingrained in the local community and has helped to raise the profile of The Salvation Army".
No small feat for a first appointment. Now the Corps Officer at Warragul Corps in rural south-east Victoria, Amanda is content knowing she is living in the centre of God's will.
While unsure what the future holds, she knows that God's guidance is enough to continually bring purpose from her pain. "I'm not in this to climb ladders or make a name for myself. I'm simply following God's will for my life," she says. "My hope for the future is that I will continue to be open to his leading and that he will continue to use me wherever I am."