Going the extra yard during COVID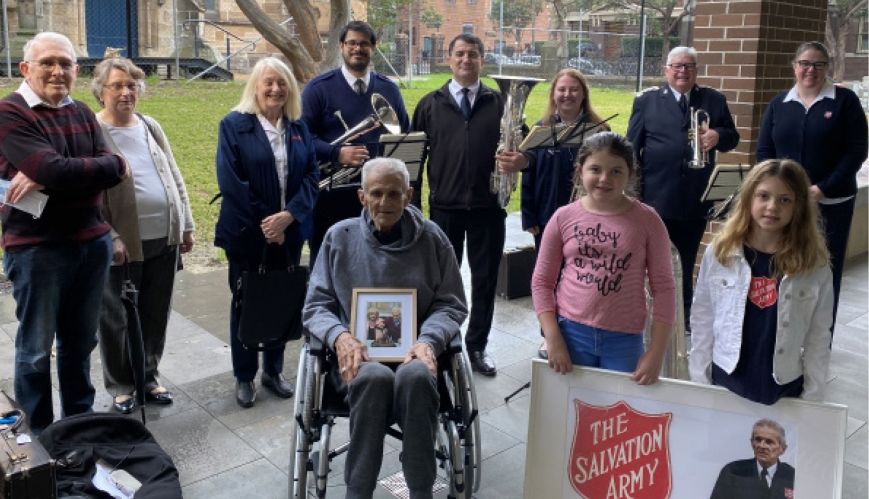 Going the extra yard during COVID
18 September 2020
Congress Hall 'Yard Brass' band and other members of the corps visit Tom at his nursing home. Photos supplied.
By Bill Simpson
He wasn't expecting it. That's what made the surprise all the sweeter. Tom Connah is used to giving out rather than taking in. He prefers life that way.
It's the way life has been for 81-year-old Tom for the past 30 years – since he passed through The Salvation Army's William Booth rehabilitation program in Sydney a changed man. Tom linked with Sydney Congress Hall and, at times, Waterloo Corps, became an adherent and made himself available for anything – no matter how menial – that needed doing.
He ran errands for corps officers and others, helped out with homeless people, made food-parcel deliveries, collected for The Salvation Army at Sydney's Central Station, did a bit of cleaning. It didn't matter to Tom; he just wanted to be helpful.
And, he was. Recent entries on the Sydney Congress Hall Facebook page from past corps officers and others paying tribute to Tom's friendship and assistance testify to his value. The comments related to something special that corps people did to recognise Tom. He's at a nursing home now. He's not well. His partner died a couple of months ago.
Corps Officer Major Matt Reeve telephoned Tom and asked if a few people could make a visit. Tom said that would be okay. "We wanted to recognise Tom for his many years of service; to thank him and let him know that we loved him," says Matt.
Matt arrived with a few people, mostly members of what the corps calls Yard Brass. This is a collection of usually around half a dozen brass players. During COVID-19, the group has been visiting mainly older people of the corps isolated by health regulations. They call themselves Yard Brass because they play a few tunes on the front lawn of their audience's home, a bit like, says Matt, the old-fashioned 'open air' meetings of last century.
"Our people love it. They really appreciate it," he says. "All we do is make it known that we would like to play at somebody's home and the hands go up from band members willing to lend a hand."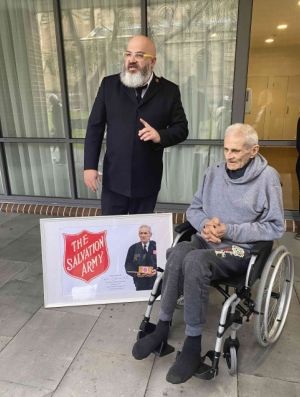 Staying in touch
The Yard Brass group plays at corps members' homes every fortnight. The ministry started about a month into COVID-19 – so about the start of April. Corps band members, isolated from usual activities by COVID, began meeting online via Zoom every Wednesday night (band practice night) to share tea, coffee and cake, with a chat, just to keep in touch.
There was a suggestion that maybe they could play – maybe in a group of six each time – at the homes of older corps members who were not able to participate in normal activity, like Sunday morning meetings. Sydney Congress Hall live-streams its Sunday meetings, but the Yard Brass visits put people in touch in a face-to-face situation.
"As well, some of our older people are unable to watch the meeting live-streams on Sundays, so having Yard Brass visit helps our older people to still feel connected," Matt says. "We have a saying that even though things are different [under COVID-19], we are still open at Congress Hall. While we can't meet on Sundays, our ministries still exist.
"We can still be a blessing to the people of our corps and community. That's why we started things like Yard Brass. And when we go to play to our people, their neighbours come out to listen and get involved. When we played to Tom, there would have been maybe 50 people watching from balconies at Tom's nursing home or passing by. So, there is definitely a ministry there, despite the COVID restrictions."
New ministries
Back at the corps building in central Sydney, the Congress Hall crew have replaced a regular sit-down meal with takeaway food in the foyer, supported by a chat room where people passing by can call in for some company.
"The chat room has been invaluable," says Matt. "People are coming in not asking for anything except to talk with somebody. People are lonely in COVID. Some stay five minutes; others stay for an hour. I think we're busier now than we were pre-COVID. We have more opportunities, I think, because people are looking for somebody to talk to." A ministry has also developed with staff at cafes around Congress Hall.
"We have been able to add a question or two when one of us calls into a cafe to order a coffee," Matt says. "Instead of just placing an order and saying hello, we now ask the staff and owners how things are going for them.
"It brings a response and we can offer our support and encouragement. COVID is showing us that there is much more we can do to speak into people's lives." Congress Hall is also continuing with other activities online, like Corps Cadets and small groups (Bible study). Its outreach teams are still on the streets.
"In fact," says Matt, "I think we are more connected with our corps and the community than we were. The commitment from our corps people has been incredible. I think we are proving that COVID-19 doesn't have to stop us doing anything we want to."