Havens of hope in Western Australia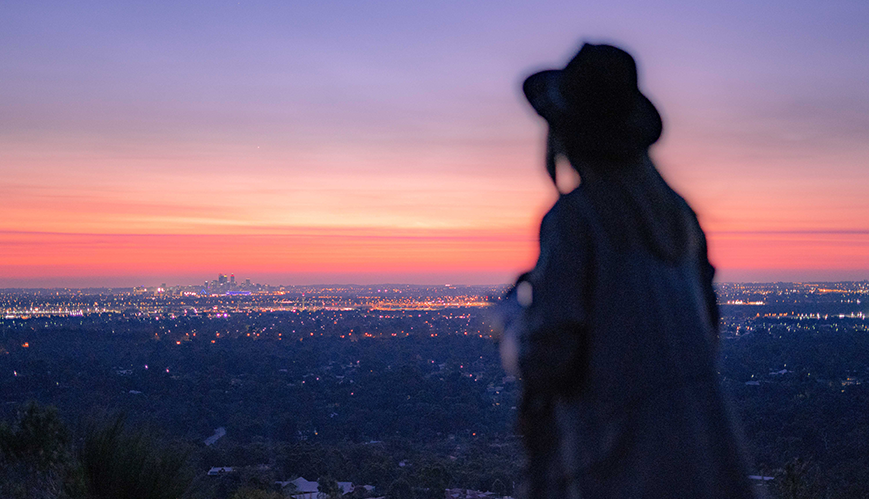 Havens of hope in Western Australia
24 June 2021
Women in Western Australia who experience domestic and family violence are being given hope and a future at one of two Salvation Army refuges – the Graceville Women's Centre in Perth and the Karratha Women's Refuge in the Pilbara. Photo of Gooseberry Hill, overlooking Perth by Harry Cunningham on Unsplash.
By Jessica Morris
The Pilbara and Kimberley regions of Western Australia are vast and remote. So, finding secure and stable accommodation is crucial for women and children fleeing domestic violence in this part of Australia.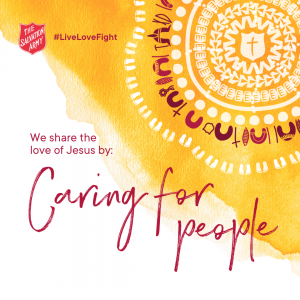 That's why The Salvation Army women's refuges at Karratha in the Pilbara and Graceville Centre in Perth stand like beacons in Western Australia. Last year, they housed women and families from across the state impacted by domestic violence and homelessness. And while COVID-19 created a unique set of challenges for staff and clients, they've risen to develop an even more life-giving service.
"Back in March, when we had state borders in lockdown, going interstate was such a high risk. And we experienced that in the Kimberley, Pilbara, and even the mid-west Gascoyne region," says Kristy Staples, State Manager for Family Violence with The Salvation Army in Western Australia.
"The demand on our staff was tough ... as it was for the traumatised families and children we work with. Our program delivery ceased, so we had to tackle creating safety for women and children in a therapeutic way."
Graceville spreads its wings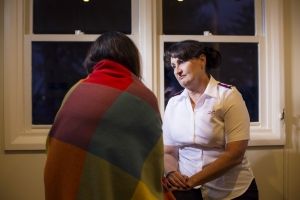 The Salvation Army offers a safe and supportive service at the Graceville and Karratha women's refuges for women and children in their care.
Renovations in recent years to the Graceville Centre, which The Salvation Army has owned since 1894, made it ideal for catering to the needs of clients during the lockdown.
The centre is now split into three separate wings.
The Byanda wing provides two families with independent units. Big enough to house nine children plus a parental figure, case workers focused on delivering meals and activities to the families.
The Nunyara wing, built in 2011, provides six women (unaccompanied by children) with an independent unit each.
Managing isolation is extra challenging when you have limited space to shelter vulnerable people. That's where the addition of the third wing, Cornelie Court, came in handy. Consisting of two units, usually used as transitional housing, this wing allowed staff and clients to isolate themselves while waiting for COVID tests.
"Graceville functioned at some level of normal," Kristy says. "We saw our clients' mental health impacted significantly because they were isolated. So, in August, when numbers eased, we opened the communal areas for solitary use, and their mental health improved."
The use of Graceville's green space, barbeque, pool, playground and 'path of hope' lifted everyone's spirits. And when additional services were reintroduced, including counselling, an outreach worker, financial advice, and a general practitioner, it meant that clients could do more than survive – they could heal.
Karratha thrives on care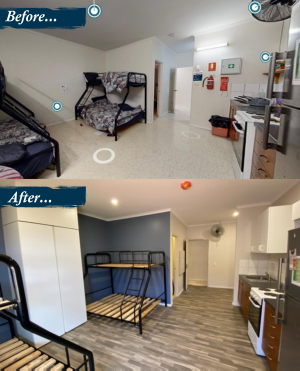 Families at the Karratha Women's Refuge feel safe and comfortable in the updated rooms. It's amazing what a fresh coat of paint, some minor renovations and a nice floor can do!
Graceville's 'sister site' at Karratha is more than 1500km north. The Karratha Women's Refuge team works on a smaller scale, but the need is just as large. Situated on the land of the Ngarluma people, the building was old and run-down and, due to COVID-19 restrictions, could only house two women or families at a time.
It was a challenge for the community when the nearest refuge is more than two hours away by car. But soon it was 'all hands on deck' to transform the Karratha facility into a 24/7 women's refuge, suitable for families and people of all abilities. And the staff particularly wanted it to feel like home for the Aboriginal and Torres Strait Islander families who came through, which make up 88 per cent of the client base.
"On the first day of lockdown, we began working to align a 24/7 service across both centres. We had over $750,000 worth of donations come in to renovate," says Kristy. "Now it is disabled accessible, there is a secure sleepover room for staff, and the floors were replaced, and we have new linen. The whole point is we want people to feel at home."
All six rooms at the Karratha refuge were given a fresh coat of paint in colours that related to local Aboriginal communities. Comfortable furniture was put in place, security doors were updated, and the whole building made to feel welcoming.
And they're not done yet. Kristy and the team have plans to fill the hallways with Indigenous art from the Ngarluma and Yindjibarndi peoples. And they will soon start transforming the outside. The kids will have a sandpit, while parents can walk along a scenic path. The addition of shade sails will also give some respite to Karratha's hot climate, with temperatures often sitting in the 40s.
"I spoke to one mum who often comes through the Karratha centre. She is blown away by how nice it is. It has made clients feel good. They feel valued and supported," says Kristy.
The list of organisations and places that donated to the refuge upgrade is ongoing and includes the City of Karratha, Lotterywest, Rio Tinto, Horizon Power, Woodside and Rotary. It also indicates the community's generosity towards the wider Salvation Army in Karratha, where Corps Officer Major Pam Marshall plays a vital role as refuge chaplain and provides a link to other Salvation Army services.
"Residents come in for clothes, as many can't return home. We get the kids school equipment and uniforms, and we resource them with gift vouchers from Coles so they can cook," says Pam.
Together with a Doorways worker, they provide women and children with a holistic approach to recovery, enabling them to get back on their feet, find permanent housing, and find hope. And many people want to give back. "We even had some of the ladies sit and collect for the Red Shield Appeal with us!" says Pam.
Offering peace and hope
Karratha Corps Officer Major Pam Marshall is the chaplain at the women's refuge and says God is moving in the remote community.
Staff at the Graceville and Karratha refuges have a complex job. And it often takes more than one stint in crisis accommodation for women and children to start a new life for themselves after experiencing domestic violence. Yet by creating a safe, secure home away from home, they show these families that they deserve comfort, peace, and hope.
And through it all, Pam says that God is moving. "Yes, the spirit of God is alive. People are searching," she says. "People are disillusioned. The world can't promise what people are looking for, that is, life in fullness which we know is Jesus."
There is always more to do, and the need is still great across Western Australia. But there is hope for women and families fleeing domestic violence, and the Salvos are determined to play their part.