Heaven, Earth and our Business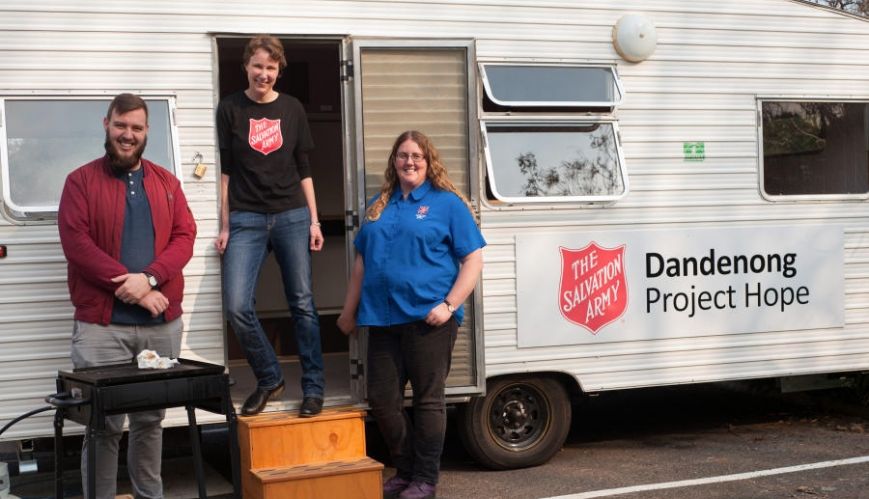 Heaven, Earth and our Business
12 January 2020
Dandenong Corps in Victoria operates a range of corps-based social programs, including 'Project Hope'.
Paul Knight, Senior Writer, Mission Resources, explains the National Framework for corps-based social programs.
Our founder, William Booth, once said: "Making heaven on earth is our business." He was expressing Jesus' teaching that "the kingdom of heaven has come near" (Matthew 3:2), and Jesus' teaching in the Lord's prayer, "Your kingdom come, your will be done, on earth as it is in heaven" (Matthew 6:10).
This biblical truth about heaven, earth and our business is woven deep into
our new framework for corps-based social programs. This is a framework developed by our territorial Community Engagement team. A corps-based social program is a local service to the community that corps oversee. It covers things like playgroups, English conver- sation classes, homework clubs and meal programs. The national framework encour- ages our programs to be intentionally missional, relational and professional.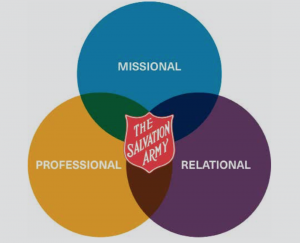 When we engage with the community, we need to ensure that we are missional. We are looking to care for people holis- tically and communicate God's love to people in both word and action. We also need to ensure that we are relational. This means genuinely building and maintaining good relationships with 
community members. We will welcome and actively listen to all people without discrimination. And we also need to be professional – to do what we do well and provide quality care and service for people.
When we are doing all three together, we are living out our mission at its best. If we are not missional, we are not true to our Salvation Army identity as a Christian movement. If we are not relational, we see people only as clients, and we are not true to our identity. If we are not professional, we can put people at risk of potential harm. This, too, is inconsistent with our identity as a Christian movement.
We must always ask the hard questions about the quality of our community engagement work. Are we hitting the mark? Is our work leading to real change in individuals, families, groups and society at large?
Claire Twivey is a Community Services Specialist for the Mission Department. She has been compiling a snapshot of corps-based social programs around the nation. Here are some great examples:
Dandenong Corps has partnered with Employment Plus to run an 

employment program for asylum seekers who receive no income due to Status Resolution Support Services cuts. Since August, the program has helped 22 people find employment.
An Alice Springs Corps member volunteers each week at an Aboriginal nursing home. It is an opportunity for thriving social engagement as well as spiritual input. This volunteer has translated a number of hymns into four local Indigenous dialects, helping residents maintain a connection to their culture and faith.
Bonnells Bay Corps has partnered with a Seventh-day Adventist church to put on a weekly community day. They provide meals, pop-up op shop, food market and a space for community members to meet new people and connect with each other.
Dalby Corps has partnered with a veterinarian clinic to provide support to community members who have lost a pet. This might not seem important to people living in urban centres, but it is valuable for regional and remote Queenslanders.
Perth Fortress Corps supports The Graceville Centre (family and domestic violence service) through the provision of a Mainly Music program. The program is volunteer-led and supervised by staff at the centre.
The Salvos Sunday dinner, established by Hobart Corps, has become a place of significant connection, acceptance, safety, transformation and community for the marginalised of the city.
Claire has been trialling a discussion tool, based on the national framework, with corps officers. It has been helpful in facilitating clear discussion of strengths and weaknesses; building and maintaining communication and trust between Salvo leaders; allaying fear of professionalism in corps, to show how quality and compli- ance enhances rather than detracts from 
mission; and promoting organic conver- sations about collaboration with other mission expressions. These conversations start to paint a clear picture of what it looks like for a corps to be operating at its best when engaging with the community.
The national framework for corps-based social is about giving proper weight to missional, relational and professional dimensions, using tools that encourage respectful collaboration. In a complex and highly regulated society, it is how we can stay true to Booth's vision of making heaven on earth our business.
To access our new national framework on corps-based social programs, contact claire.twivey@salvationarmy.org.au