Holiday Hobbies: Paul gets his vintage dream into gear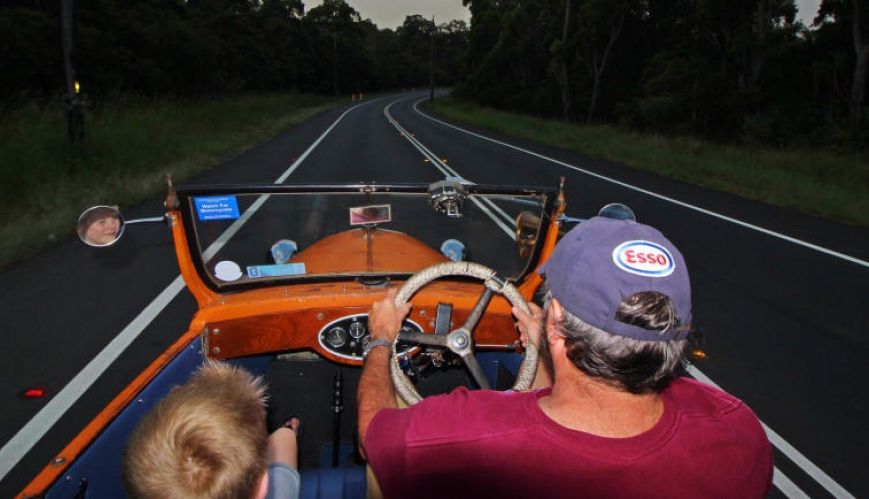 Holiday Hobbies: Paul gets his vintage dream into gear
13 January 2021
A view to the future: Major Paul Kinder takes his nephew for a ride in Morrie. The young motoring enthusiast has indicated he would like to be the next owner of the car.
By Darryl Whitecross
Retired Salvation Army officer Major Paul Kinder has just clicked over 35 years of marriage to Romona.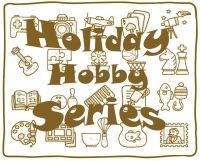 The other love of his life has just clicked over 33 – thousand miles that is. That love is his Morrie, his orange 1934 Morris Minor four-door tourer.
Romona has aged far more gracefully than Morrie but that doesn't stop Paul loving them deeply and wanting to spend as much time with them as possible – and there's no third-wheel issue when they're all out together.
For Paul, owning Morrie was the realisation of a 50-year-old dream.
"My parents gave me a Matchbox Model of Yesteryear car for my seventh birthday and, from that day on, I was determined that one day I would have a vintage car," Paul said. "When I became an officer, the vintage car got relegated to 'I would have a vintage car when I retire.'
"About five years ago, well after the kids had finished school and we stopped paying school fees and that sort of stuff and actually started saving money, Romona said to me: 'You know, maybe you could have a vintage car before you retire."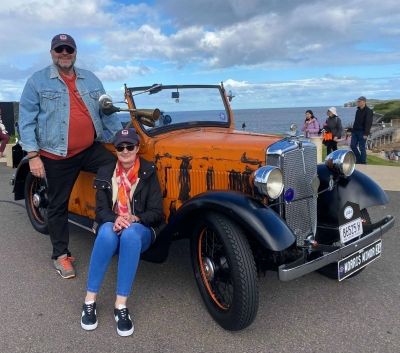 Majors Paul and Romona Kinder by the ocean with Morrie.
It was around that time that Paul had rekindled an old mateship from youth group days. We kind of connected after 30 years and we were chatting over dinner about what had transpired in the intervening years and I shared that I had a dream that maybe one day I'd own a vintage car. He said: 'Come and have a look and see what's in my garage.'"
He had inherited Morrie from his father but, being a "Volkswagen Beetle man", had not done much to it.
"I said to him that: 'If you ever find a Beetle that you want to restore, and want to get rid of the Morris, give me first refusal.' About 10 years later, we met again at a conference and it took us about five minutes before we shook hands on the deal."
When Morrie joined the Kinder family, the chassis and running gear was "preserved" but the engine had only been kicked over to keep it lubricated.
"The first time I saw it, it was in pieces. By the time I got it, it was in one piece plus six document boxes with the parts.
"It took me two years to get the engine running. We've had the interior done and we got it registered for the first time in 37 years. It wears historic rego plates, which means we're allowed to drive the car 60 days a year for personal use – that's a day a week plus, so it's ideal.
"It will cruise all day at 45 to 50km/h. It's the only car that you have to speed up to go through a school zone!"
Paul briefly considered returning Morrie to its original navy blue colour: "The second owner had an Esso service station and the slogan was 'Put a tiger in your tank'. When he stopped using it as his daily drive, he used it to promote a service station so, in 1959, it gained its tiger stripes. The consensus is that we will preserve the orange because it just stands out and it tells a great story. It would just be another vintage car if it were blue."
He said that, while his children were "fascinated by it and love going for a drive in it" neither were keen to inherit it, but his great-nephew, who is 10, had said he wanted first option when it was time for Morrie to change hands: "I guess that when I'm ready to hand it on, he'll probably be old enough and rich enough to be able to take it on."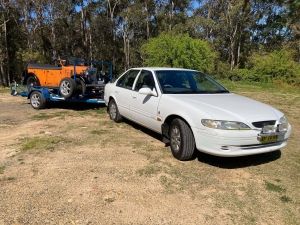 Henry the 'tow tug' with his mate Morrie behind.
This article can not be published without mentioning Henry the faithful "tow tug". Henry is a classic 1994 Ford Fairmont Ghia. Morrie would not be able to go to many of the places it does without Henry and a made-to-measure trailer.
Paul said he is blessed Morrie gives him the opportunity for "faith chats" or "mechanical gospel sharing" with passers-by.
"We have a fairly busy road [at Beverly Hills in Sydney] and the railway station is at the end of our street so there's constant pedestrian traffic. If I've got the garage open people will walk up the driveway to have a look and have a chat – more so if I've got him out on the driveway."
He said that not many conversations finish before there is a faith element to the discussion when the topic comes around to passions.
Paul said he joined the car club for getting access to "people with know-how" and for the concessional registration scheme.
"The very first Christmas function we went to, someone had already worked out I was a pastor and asked me to say grace. Then about three months later, the committee came to me and asked me if I'd become the chaplain for the club, which I was privileged to do.
"I said: 'I do not do this alone. Romona is also a member of the club and we minister together so I think it should be both of us', so they decided we'd be the welfare officers."
Recently, Paul was approached by the president to visit a club member who was "having a bit of a tough time". "As he was turning away – and this is a president who's not a Christian and nervous about having chaplains – said 'You are going to pray for him aren't you?' That's a huge privilege we have as welfare officers."
Blessing of the fleet
Rockdale Corps held a church parade and "blessing of the fleet" recently: "A lot of members of the club who are Christians came along. We had 30 cars and about an extra 60 people at church that morning. A number of members of the club who are Christians or active Christians or barely active Christians were just so moved by that and so blessed by that; the number of folks who said how good it is that God smiles on their hobby.
"I just think that's just a reminder that God smiles and blesses us in all things including our hobbies. He's not the God to be frightened of; not the God of Wrath. He is the God of Grace, and through our chaplaincy we're able to say to these folks: "You know, God enjoys this as much as you do. He loves to see his children enjoying themselves and blessing others."