Housing ends homelessness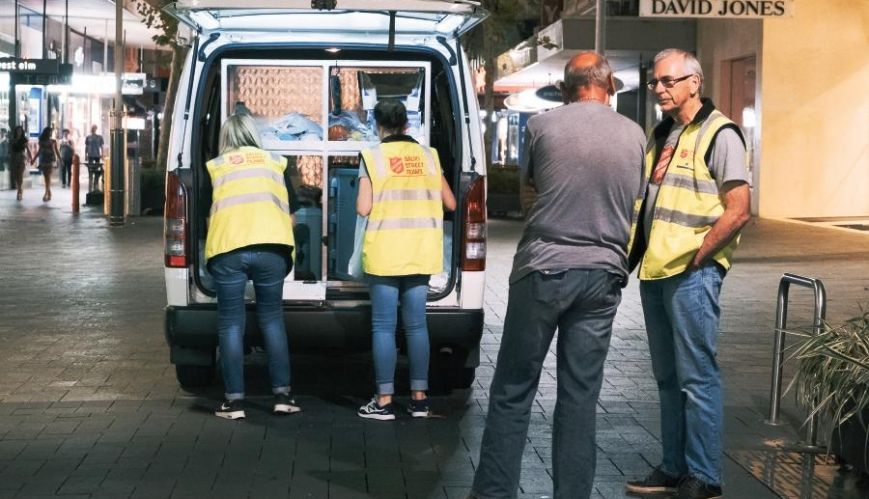 Housing ends homelessness
7 August 2019
The Salvation Army is a visible presence on the streets of towns and cities all over Australia, Iike this one in Perth, meeting the needs of people experiencing homelessness and hardship.
By Paul Knight
Livia Carusi, The Salvation Army National General Manager of Homelessness, really needs some strategic career advice.
Ask her what the Army's policy on homelessness is and she replies without hesitation: "It shouldn't exist! We have the resources, knowledge and skills in Australia to end rough sleeping. It is unacceptable!" Talk about planning your own obsolescence!
"Rough sleeping is the pointy end of homelessness, and it is well within our capacity as a nation to end it," says Livia. "We require acceptance that it shouldn't exist, recognition that a solution is possible, and leadership. Our political leaders need a bipartisan approach to bring about sustainable structural changes to end rough sleeping by 2024."
"Visiting the [Army's] state programs, I've been impressed by the enthusiasm and professionalism of management and staff. Everyone I have met wants to be a part of an organisation that can end rough sleeping. No one has said it is impossible. I have also appreciated the privilege of meeting our clients and hearing straight talk about what needs to be done to end homelessness and improve services."
Livia points out that few could have predicted how dramatically society's attitude to smoking would change over just a few decades. The economic and social cost of homelessness is no less devastating, so why not aim for a similar paradigm shift in our attitudes to homelessness?
For The Salvation Army to play its part in the process there needs to be a balance of direct assistance, partnership and advocacy.
The Army's homelessness team is well advanced on the national agenda process and has already identified some key potential areas of focus:
1. First response. Research shows that treating people with dignity and respect at the moment of their first contact is critical to continue to connect with them, and have the opportunity to stay in contact, shaping and influencing their experience. Conversely, a negative first contact makes it likely that they will be lost to the organisation.
2. Rough sleeping. Livia envisages a future of need-based, rather than time-based, transitional support and accommodation. "If we can divert homeless people away from the service-based cycle, where they return over and over to a series of three-week programs, towards long-term housing with support attached, we take away so much cognitive overload of uncertainty," says Livia. "A pattern of resorting to rough sleeping is replaced with a stable environment where people can thrive. If it were your family, what would you prefer?"
3. Case management. By looking at the entire cycle of connection with clients, from first knock on the door to being settled, and involving partnerships with other organisations, homelessness can be ended.
This week is Homelessness Week (4–11 August) and its theme is Housing Ends Homelessness. Anyone can be involved and contribute to uniting around our homelessness policy and supporting the team.
"The good thing about Homelessness Week is that it raises awareness, draws attention to the problem and makes it seem solvable," says Livia. "But let's face it, the other 358 days of the year you need organisations like The Salvation Army, soldiering on alongside others, including the government. Get yourself engaged. Be the best informed advocate, from the dinner party to when you front up to church on Sunday."
To get more active, consider volunteering, connect your corps with a Salvos accom - modation service in your area, or get involved in the advocacy space. Last year, Salvos mission expressions in Geelong united behind a Homelessness Week event called Walking Home.
Corps, chaplaincy, social mission staff and 90 volunteers were involved. South Barwon Corps ran a trivia night and there was even a pop-up Salvos Store. This year, mission expressions are collaborating to host an awareness-raising display at Frankston on the Mornington Peninsula, an area where issues of homelessness are acute.
The idea of 'home' – whether rental, social housing or ownership – is a value all humans understand and share.
Livia concludes that Christians have Christ's example as 'the best advocate'.
This Homelessness Week, let us commit to serve, demand a better deal, and reflect the infinite value and dignity of all people made in God's image.