You are here:
Home › Features › India Northern Territory A Spiritual And Missional Link To Australia
India Northern Territory - A spiritual and missional link to Australia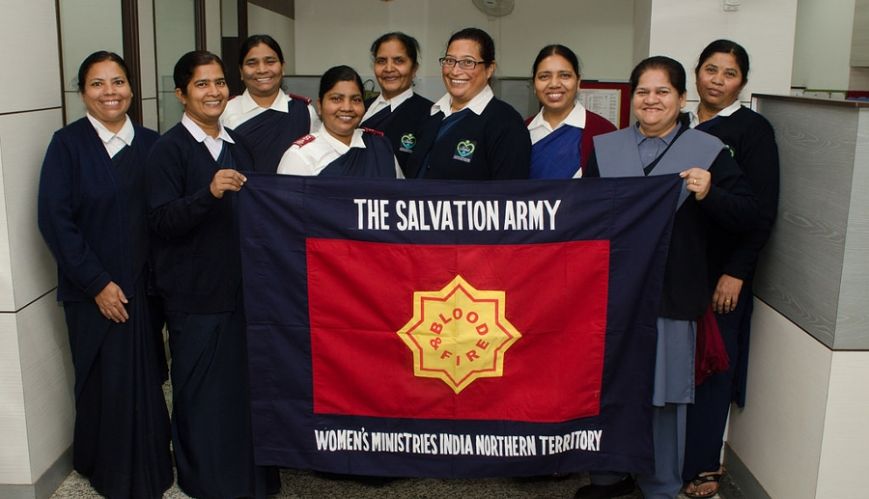 India Northern Territory - A spiritual and missional link to Australia
30 April 2018
The India Northern Territory has been brought together in mission by the 2017 territorial theme, "Arise and Shine", based on Isaiah 60:1. During the year, the territory held a social seminar, under the theme "Working Together", at Sevakendra, Kolkata.
Additionally, all officers and local officers attended self-reliance seminars and have made the commitment to implement self-support in their appointments wherever possible.
Officers councils for senior leaders made a huge spiritual impact. On the last day of the seminars, the Whole World Mobilising flag was introduced as part of the Whole World Mobilising, Go Forward! initiative. An impressive march of witness followed.
In villages, awareness is being raised of social, economic and health issues through almost 1000 active self-help groups, giving women the opportunity to develop skills in sewing, embroidery and tailoring, enabling them to make an income. Women's Ministries members provided blankets as Christmas gifts to people in desperate need by making and selling pain balm, peanut butter, aprons, flowers and decorative stars. Home League rallies focused on the international theme "Transformed in God's image", and the training college led a seminar on Women's Ministries and its importance, described by the cadets as "eye-opening".
As part of Australia's spiritual relationship with the India Northern Territory, retired officers, Lieutenant- Colonels John and Pamela Hodge, led the territory's first Soldiers' Brengle Institute last November (delegates pictured right). Eight women, many of whom are local officers, were among the group who attended. One young man travelled two days to get there.
"It is always a privilege to encourage others towards spiritual maturity," said Lieut-Colonel John Hodge. "The 24 delegates were really keen to learn what holiness is about and its application to our everyday life. Their response reminded me that in every culture there are different responses to Christ and his teaching.
For me in Australia, it is apathy and secularism. To our Indian brothers and sisters it is often direct opposition and distinguishing Christian principles from tradition."
Another retired Australian officer, Lieut-Colonel Olive Lucas, was one of the leaders supporting a two-day officer retreat at Central Corps. Also last year, Angul Divisional Commander, Major Joseph Khan, invited Lieut-Colonel Lucas to help lead a retreat for the young people of the division, as well as the Jasidih District. Lieut-Colonel Lucas gave each of the youths a Bible to use throughout the retreat and keep afterwards. She led sessions on spiritual formation, meditation, prayer and spiritual disciplines. "The retreat helped them in their spiritual journey as true soldiers of Jesus," said Major Khan.
Interview with Australia's Salvation Army International Development (SAID) team about its projects in India Northern Territory.
What projects do you have in the territory?
We are involved with the Community Empowerment Program, a large-scale program that aims to empower over 5000 women in four Indian states, through the Self-Help Group (SHG) model. We are also involved with a research and scoping project in a community in West Bengal, which is investigating a widespread serious drug and health problem. This research will provide us with an evidence basis on which we can design an intervention/project in the future. And we are involved with a Young Women Skill Development program, which is focused on providing vocational tailoring training for disadvantaged women.
How are these projects building sustainability, improved lives, capacity, and hope?
The SHG model is one that has large potential for sustainability of impact. The field organisers of an agency, after facilitating the formation of groups, then input resources, expertise and support into the groups until they can function independently. This input includes community organisation, loans, awareness of health and social issues, as well as the development of savings capacity, income-generating skills, networks, and education. Improving lives and giving hope is done in a multifaceted and holistic way, from economics and health, to education and strength in communities. These projects specifically aim to also build capacity in India Northern Territory's state, through training, resources, and supporting professional staff.
Is there a particular project that stands out in terms of its impact in people's lives?
The Community Empowerment Program. This empowers groups of women through facilitating intra-group loans and making available resources, loans and services from different stakeholders such as local governments, microfinance institutions, health service and banks. This program strengthens the capacity of the groups until they are able to operate independently without an external facilitator, and as a part of a larger "federation" of SHGs. The women are empowered to sell their product through online and offine marketing to increase their income, develop networks, access public and private resources, and it also builds awareness on health and social issues.
How do you see the relationship with the India Northern Territory going forward?
We will continue our long-term partnership through community development projects, mission support, ongoing capacity building and training of India Northern Territory projects staff and participants. We are always looking for additional creative ways to mutually connect on a spiritual and relational level as well. Our strategy for developing relationships with our partners in mission matches that of the strategy and vision of Australia One.